Frederick Wiseman On The Making Of His Latest Works, Reaching Audiences — And A Ballet
Whether seasoned or just starting out, when documentarians imagine a successful career they often reference Cambridge's Frederick Wiseman. He turned his lens on Bridgewater State Prison for 1967's "Titicut Follies" and has seemingly never turned it off, focusing in great depth on a new subject or institution almost every year since.
London's famed museum of paintings receives close scrutiny in 2014's "National Gallery," which airs on WGBH 2 and PBS stations nationwide starting Friday, Aug. 21 at 9 p.m. Meanwhile, Wiseman's latest film, "In Jackson Heights," as well as a sneak peak of a ballet based on his 1967 classic will debut at the Toronto International Film Festival (TIFF) in September.
Wiseman recently spoke to The ARTery about all three projects on the phone from Maine.
Erin Trahan: A few years have passed since you shot and edited "National Gallery." What about it rises to the surface for you today — the paintings? The characters? How art is seen or exhibited?
Frederick Wiseman: It was certainly a wonderful experience to be in a gallery every day for three months, to look at the paintings over and over again, and pursue them in film terms. ... I had enormous admiration particularly for the work of the restorers and their capacity as painters to respect the original work and restore it.
Is preservation something you've thought about in regards to your own work?
The switch from film to digital has meant that there's a real problem preserving film; the film negative, under the right conditions, will last 100 years while an HD master, your basic document, will last only five years. So you can constantly make copies of the HD master or spend the money to make the film negative, which is extremely expensive.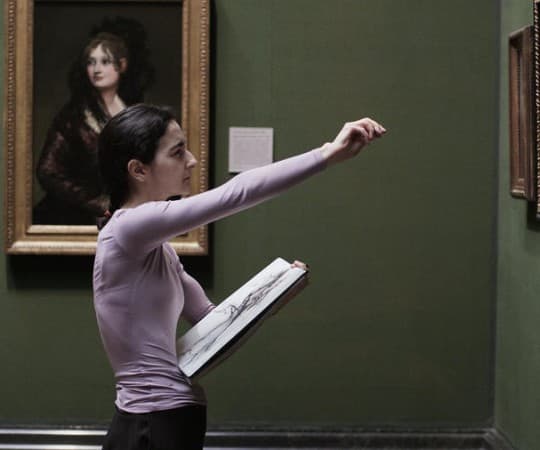 At what point did you decide to shoot exterior shots such as the protesters unfurling their anti-oil, "Save the Arctic" sign or the people waiting in their winter coats for the Gallery to open its doors?
First of all, it's necessary to get some shots of exteriors to provide a context. ... You need those kinds of shots so I always collect them. The sequence involving Greenpeace was just by chance. We were finished shooting one night, we'd put all the equipment away and came out in the street and saw a crowd and people trying to climb up to the top of the building, and I thought, "Well, we should shoot this." Then of course it happened to work with themes of movie as they developed. It was chance but also acting on the chance.
A British publication called you a "Methuselah prophet" and a "tireless, methodical monk" who compiles "a vast Alexandrian archive of the Way We Live Now." Are you interested in the ways people from different parts of the world respond to your work?
A little bit. I've never really studied it. Of course I read the reviews, the critics are different in each country, the way they write about the film: In France they're extremely intellectual, often, and in England it is much more literary … and in America it's often less literary and less intellectual and more literal.
Are there aspects of your films that are frequently misunderstood or missed by American audiences?
I think my point of view is made very clear both through sequences I choose and the order in which I place them. The technique is more literary, more novelist, than journalistic. In journalism you say who, what, when, where, why. The expression of my point of view is more indirect, through an accretion of sequences and characters. No novels that I like tell me what I should think about somebody; I have to learn it by information that the novelist gives me and that's the approach that I take.
Are you reading any novels right now?
I'm reading Elena Ferrante, one of the best contemporary writers I've read in years; it's beautifully translated from Italian. She has five or six great novels that are going to last.
You're about to release "In Jackson Heights," about a neighborhood of Queens. What new did you learn about New York City where you've shot seven other films?
What you see in the film — and that's not a wise guy answer! Jackson Heights is a very multiracial, multilingual place with 167 languages spoken and people from every country in South America, also Mexico, Bangladesh, Pakistan, India, Thailand, Nepal, Tibet … it's a bit like the Lower East Side of New York at the end of 19th century.
What I learned is … what the life of an immigrant is like. There's the need on one hand to integrate and on the other to assimilate all while maintaining cultural and religious ties to the country of origin. ... The movie has a number of sequences that show what it's like for immigrants, documented or not, trying to get work and the extent to which they are exploited by employers. Their employers could be from their country of origin, they are not always Americans, but in any case it's about the difficulty of "making it," so to speak.
Does it make you nervous to present new work?
No, no … at the risk of sounding pompous or presumptuous, I know what I think works and doesn't work in a film. I get nervous when I'm working in the editing room. That's when all kinds of problems come up and you want to solve them.
Do you ever sit down and think, "This film is not going to happen"?
I think it's not going to happen today or this week then I go take a walk or have a shower … the best way to solve an insoluble problem is to have a good dinner and go to sleep. Then you wake up and find what should've hit you right in face the day before.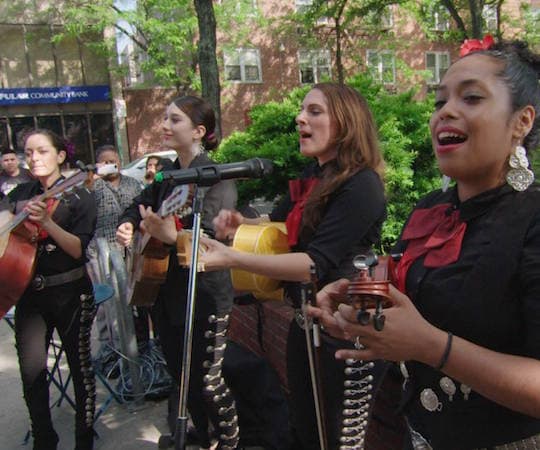 A restored 35mm print of "Titicut Follies" will play at TIFF and there's also a first-look at the ballet based on the film that will be staged in 2016. Can you talk more about both?
The choreographer James Sewell runs a company in Minneapolis and I asked him if he'd do the ballet. For the 40th anniversary of TIFF, they asked us to put on the first 20-25 minutes ... on an outdoor stage on Sept. 12. The ballet is not finished, it's a work in progress and this is basically a workshop presentation.
What role have you had in the creation of the ballet?
I've been functioning as the dramaturge. I know what I was trying to do with the movie so I've participated in picking out which sequences we're going to use … I'm going to Minneapolis two weeks before Toronto to participate in rehearsals and express my view and have done that from the beginning.
Ballet has been a subject you've returned to again and again, including briefly in "National Gallery." Should the documentary film community worry that it may lose you to the ballet?
No… my heart is making movies.
This interview has been condensed and edited for brevity. 
Erin Trahan writes regularly about movies for The ARTery and is the editor of The Independent. She'll be reporting from the 40th Toronto International Film Festival in September.