MBTA Looking To Privatize Bus Routes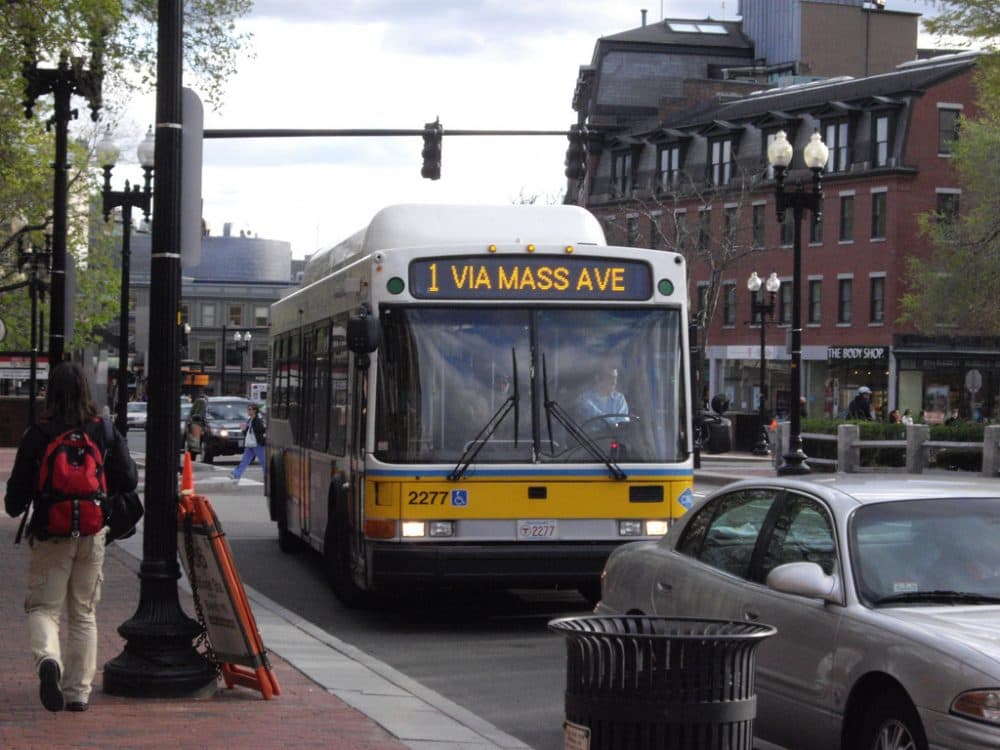 This article is more than 6 years old.
The MBTA plans to test the appetite among private bus companies to provide service on all of the express bus routes, the lesser-traveled routes in Boston and the suburbs and late night service.
All 93 buses and their 65 drivers that would be taken off of those 32 routes if service is privatized would be re-deployed to other areas of the system that need more service, MBTA Interim General Manager Frank DePaola told reporters Thursday.
"From this particular effort we're guaranteeing there won't be any layoffs," DePaola said. Throughout the system the MBTA has about 1,000 buses and 1,550 drivers.
Despite DePaola's guarantee, the head of the MBTA Carmen's Union has objected to the proposal.
"When the private carrier comes in the private carrier is going to want to make a profit," Boston Carmen's Union Local 569 President James O'Brien told the News Service. He said, "Privatization will lead to cuts in service and higher fares."
Under the plan, which would undergo a public process before being realized, the private operators would need to maintain the routes, service and fare structure, DePaola said.
O'Brien lobbied against a law passed with the backing of Gov. Charlie Baker and stronger support in the House than the Senate that freed MBTA management to privatize MBTA services without first vetting the privatization proposal with the state auditor. O'Brien claimed that Baker's statement before the three-year exemption passed that he did not want to "privatize the T" would be violated by the privatization of some bus service.
"If the governor decides that his word doesn't matter, then he'll have to accept the consequences that his actions will provoke," O'Brien said. Asked what those consequences might be, O'Brien said, "We'll deal with that when that occurs."
If the privatization plan moves forward, MBTA officials said that while it would improve the efficiency of bus services, it would also likely increase the total costs to the MBTA because private carriers will likely require some public subsidy. It would also increase the amount of transit service and the number of jobs in the transit sector, as private operators supplement T service. Those facts did not sway O'Brien.
"It's our work. We're doing the work right now," O'Brien said.
The MBTA has not yet determined what routes would be supplemented with the 93 buses and 65 operators that would be shifted away from routes covered by a private carrier.
MBTA Chief Administrator Brian Shortsleeve said privatization could prompt the private sector to come up with efficiencies such as the use of smaller vehicles.
"We're going to test with industry a little bit here," Shortsleeve said. He said, "We're going to test to see if industry can come up with some more creative solutions to serve these routes. Maybe it's smaller vehicles."
DePaola said there has already been interest from some local carriers. The MBTA plans to hold a conference for members of the bus industry in a month or so, then issue a request for information to gauge private-sector interest. After that the service could be put out to bid.
Asked whether the MBTA would have been prevented from moving forward with the project under the "Pacheco Law," which lawmakers suspended for the MBTA for three years, DePaola said he thinks it would probably have been a "successful" request for privatization. He noted private bus operators already provide service into Boston from the South Shore.
Shortsleeve said a company that found success in taking over some MBTA routes might be interested in expanding service in that area.
Bus companies would have their work cut out for them on some of the routes, which include hefty subsidies.
The bus routes with fewer passengers have a net subsidy of $3.51 per ride and the routes cost $8.9 million annually while they bring in only $1.9 million in revenue annually, according to the T. The express routes - whose regular passengers include MBTA Chief Financial Officer Jonathan Davis commuting from Medford - have a net subsidy of $1.19 per ride, which is closer to the system-wide per-ride subsidy of 98 cents.
The total subsidy for the bus routes slated for privatization is $9.1 million.
For low-ridership routes and express routes -- which bring people into the city along highways to the north and west -- DePaola is hoping fare revenue would cover the cost of providing the service for a private operator. For late night service, he said, the MBTA might need to pay a private operator a flat fee as many of the passengers are monthly pass holders who don't pay any extra per ride. Express bus trips are more costly than regular bus rides.
The people who ride the bus service that the MBTA is looking to privatize account for less than 2.5 percent of weekly ridership, and each service has significantly fewer riders per bus trip than the norm.
Systemwide, an average weekday bus trip has about 31 passengers. Express routes have an average of 17 passengers, lower-ridership routes have 14 and late-night has 10.
DePaola said the process will be undertaken in the public eye and with public comments. The plan is for companies to provide the same service on the same routes that the MBTA currently provides, and the T could potentially include incentives in the contracts to make companies comply, DePaola said.
"We're going to get people who are concerned about it, people who are generally resistant to change," DePaola said. He said he hopes the public process will allow concerns to be aired and dealt with.
The proposal will be presented to the MBTA Fiscal and Management Control Board on Monday, and the control board's chairman, Joe Aiello, has been working with MBTA staff on the concept, Shortsleeve said.
A list of the bus routes that would be privatized is below:
Lower ridership routes:
5 (South Boston area),
18 (Dorchester area),
52 (Watertown-Dedham)
68 (Cambridge)
70A (Waltham-Cambridge)
99 (Malden area)
201 & 202 (Dorchester)
210 (Dorchester-Quincy)
212 (Quincy)
351 (Bedford-Cambridge)
439 (Revere-Nahant)
451 (Beverly-Salem)
465 (Salem-Danvers)
Express routes with highway portions:
325 (Medford-Boston)
326 (Medford-Boston)
352 (Burlington-Boston)
502 (Watertown-Boston)
504 (Watertown-Boston)
505 (Waltham-Boston)
Late night routes:
1 (Dudley-Harvard)
23 (Ashmont-Ruggles)
28 (Mattapan-Ruggles)
32 (Readville-Forest Hills)
39 (Forest Hills-Back Bay)
57 (Watertown-Kenmore)
66 (Harvard-Brookline-Dudley)
111 (Revere-Haymarket)
116 (Wonderland-Maverick)
117 (Wonderland-Maverick via Beach St.)
SL4 (Dudley-South Station)
SL5 (Dudley-Downtown Crossing)
Correction: An earlier version of this story misstated the number of routes the MBTA is looking to outsource. It's 32, not 40.
This article was originally published on August 21, 2015.