Defendant In N.H. Prep School Rape Trial Wrote He 'Used Every Trick' To Have Sex With Girl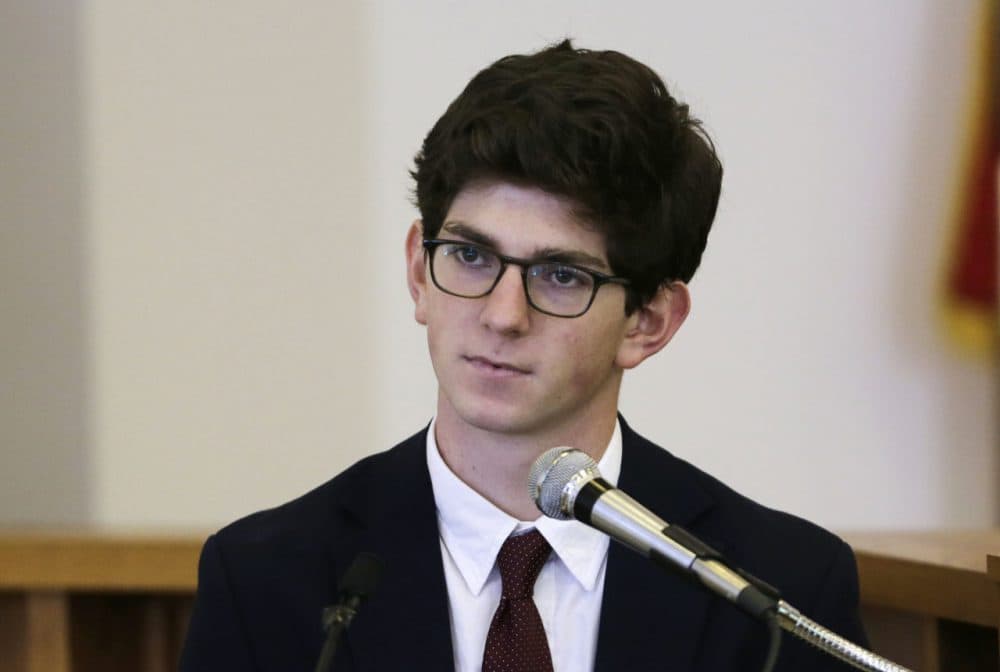 This article is more than 7 years old.
A former student charged with raping a freshman girl two days before he graduated from an elite New Hampshire prep school acknowledged Wednesday that he deleted a Facebook message to a friend in which he wrote he "used every trick in the book" to have sex with her.
Owen Labrie, now 19, took the stand as the first and only witness to testify for the defense. Labrie was an 18-year-old senior at St. Paul's School when a 15-year-old girl accused him of raping her on campus last year as part of Senior Salute, a school tradition in which seniors try to romance and have intercourse with underclassmen before leaving campus.
Labrie, of Tunbridge, Vermont, has maintained that the two had consensual sexual contact but not intercourse.
Labrie testified Wednesday that he sent the girl an email inviting her to Senior Salute because he liked her. He had previously told detectives that seniors competed to have the most sex, keeping score on a wall behind washing machines.
"I wanted to ask her out," he testified Wednesday. He described their relationship as "flirty."
The girl had testified last week that she initially thought Labrie's intentions for asking her to Senior Salute were "really wrong," but she relented when a friend convinced her that Labrie was sincere in trying to pay attention to her. She said she was prepared for kissing at most but did not expect Labrie to become aggressive.
The girl left the courtroom in tears as Labrie began reading from messages they exchanged just before their encounter. The emails and Facebook communications were projected on a screen in the courtroom. In one exchange, the girl says Labrie's plan to meet "sounds perfect."
The Associated Press generally does not name people who say they have been sexually assaulted.
Labrie said when they were together that night, the girl never indicated she was in pain or uncomfortable with the contact. He said he was the one who chose to end their increasingly sexual contact.
The girl testified last week that she twice told him "no" during their encounter and that she felt "frozen" when he became aggressive. She acknowledged on cross-examination that she helped Labrie remove her shirt and pants and said she didn't protest because she didn't want to be offensive.
Labrie also acknowledged asking the girl whether she was on birth control pills -- to give himself "peace of mind," he said. He said he was concerned some sperm might have gotten on her underwear as their sexual encounter escalated.
He acknowledged on cross-examination that he never told Concord detectives about having ejaculated during his encounter with the girl. He said Wednesday that it was "embarrassing."
Other students testified this week that Labrie -- then 18 -- was competing with friends to see how many girls they could "score" with before graduation and described a range of sexual encounters from kissing to intercourse that were part of Senior Salute.
One said Labrie initially told friends "with a smirk on his face" that he did not have sex with the girl but later told him privately that he did.
Labrie said Wednesday that he told other students he had sex with her to make himself look better. He said he regrets lying to his friends when he bragged less than an hour after his encounter with the girl that they had sex.
He acknowledged under cross-examination that he later deleted more than 100 Facebook messages between him and his friends, including one in which he says he "used every trick in the book" to have sex with the girl.
The defense rested Wednesday after Labrie got off the stand. Closing arguments in the case are scheduled for Thursday.
The case has cast a critical light on St. Paul's School, one of eight members of a prep school Ivy League of sorts that boasts as alumni an international roster of senators, congressmen, ambassadors, Pulitzer Prize winners, Nobel laureates and other notables.
This article was originally published on August 26, 2015.