Valerie Martin Dives Into The Head And The Heart In Short Story Collection, 'Sea Lovers'
Opening Valerie Martin's "Sea Lovers: Selected Stories" is a bit like unbolting a treasure chest. In this collection that spans 30 years of writing, the chosen stories read like exotic riches from faraway worlds, obtained by someone more adventurous than you.
Martin, currently a professor of English at Mount Holyoke College, is the award-winning author of numerous works, including 10 novels and three short story collections. Her novels may be grounded in history ("Property" and "The Confessions of Edward Day") or cultural myth ("Mary Reilly") or events both in and beyond this world ("The Ghost of the Mary Celeste"). Whatever the realm, Martin mines multiple layers of human psychology and the human heart to explore how profoundly difficult it is for one person to truly know another's inner life.
The unknowability aspect is evident from the book jacket. The top half of the front cover shows a tailfin above waves, the water below a deep blue-green. Only when held in full light does the embossed silhouette of a mermaid shine through. On the back cover, a man in a white shirt gazes across a field. But in direct light, the blue-green shadow shows the lower half of a horse where his human legs would be.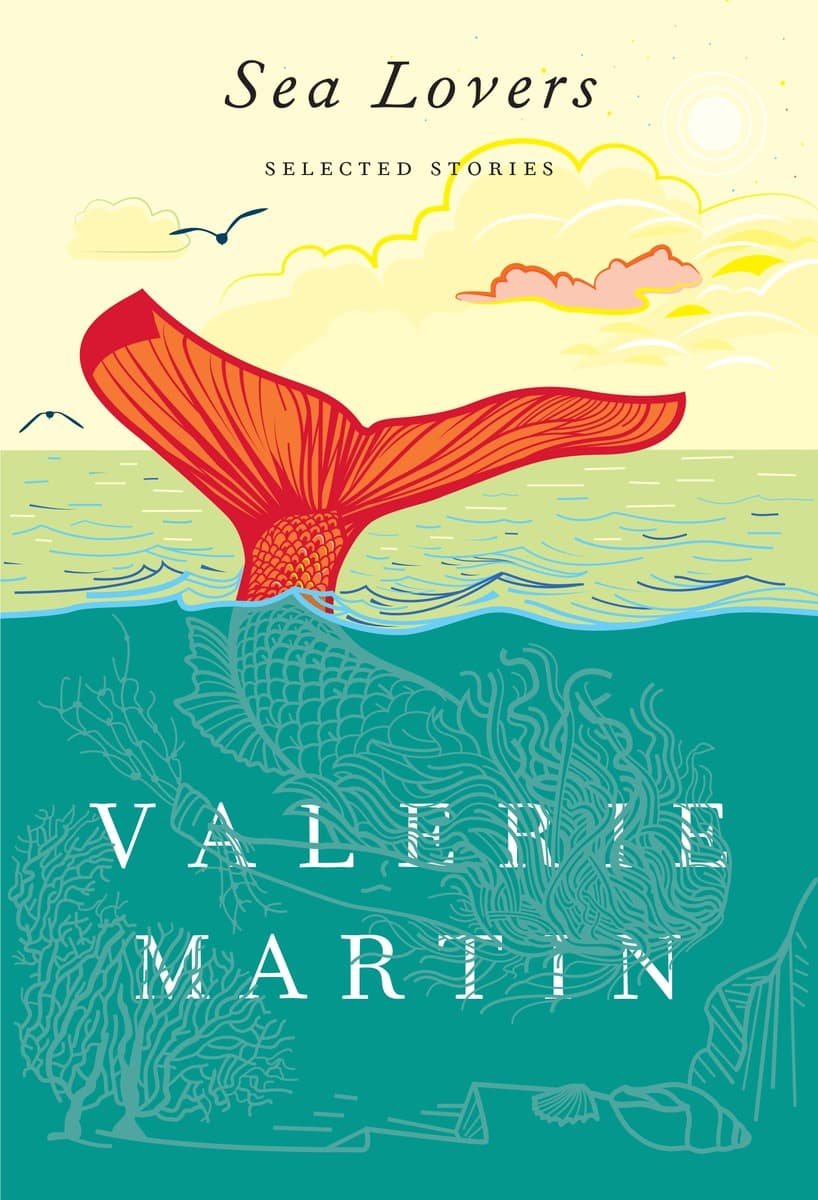 "Sea Lovers" is divided into three sections: "Among the Animals," "Among the Artists" and "Metamorphoses." As she states in her introduction, the sections reflect Martin's "childhood fascination with a magical world in which animals and humans changed forms or merged," and, as a grownup, her interest in the lives of artists.
Martin, who grew up in New Orleans, has set many of the stories in its unrelenting heat and humidity. Here the air is so heavy it can obscure thought; where you could believe someone could change, at will, into an animal, and an animal could take on the characteristics of a human.
Some stories that feature a woman as the primary character are written from a male point of view. This is the case in "The Change," in which a husband becomes annoyed and then bewildered by the increasingly erratic behavior of his menopausal wife, a well-known painter. He has grounds for bewilderment, because there's much more than hormones shifting here. Paragraph by paragraph, details that anchor ordinary life are subtly altered. The climactic scene is not a total surprise, there are clues along the way that Martin has woven in like a skillful mystery writer. What gives the final scene its power is that you're now looking at the commonplace from a wholly new perspective.
"The Unfinished Novel," a nearly novella length story, chronicles the profound repercussions that flow from an unexpected meeting between Maxwell, a moderately talented and comfortably successful author, and Rita, an exceptionally talented but impoverished — and now desperately ill — writer. It has been decades since Rita ended their grad school romance in an abrupt and ruthless fashion, and decades since she'd astonished everyone in their writing seminar with the pages of her brilliant unfinished novel.
Written from Maxwell's perspective, you initially view Rita only as Maxwell had viewed her, but, the more he learns about her, the recollections he'd considered firm as granite begin to waver. This is an absorbing, multifaceted immersion into the unreliability of memories, and how complicated new reactions to these unearthed memories can be. Maxwell's responses, of course, are not just to Rita, but to himself — as he is now compared to how he was long ago.
Some stories, like "Beethoven," about the evolving relationship between an aspiring painter and his younger girlfriend, feel more conventional, almost predictable. Some stories are thoughtful, convincing dives into a particular world. There is "The Open Door," a university-themed story about Edith, a highly regarded, highly self-contained poet and her partner Isabel, an emotionally extravagant dance instructor. Their 10-year relationship is at the edge of some churning emotional and career white water, with no safe course visible. The weight of the story is leavened by some comically acerbic scenes of academic antagonisms; notably, one in which Edith sourly contemplates a bookstore table that displays old and new editions by her arch rivals, but somehow none by her. This spins off into drolly caustic musings about her colleagues and writing peers.
Many of the stories carry unforeseen, sometimes astonishing, turns of plot: the literary equivalent of a caffeine rush. This singular jolt perhaps applies most strongly to the title story, which shakes inside out the traditional myth of the beautiful mermaid benignly watching, or helping, humans. Well before the last sentence of this short but potent tale, you'll reaffirm your deference to the nighttime ocean, and all that it holds that can't be seen. Especially from the water's edge.
In the book's introduction, Martin poses a question that she says has informed her entire writing career: "Are we animals, or are we something else?" The stories in this collection glide back and forth across that question, as Martin merges the inexplicable with the everyday in a highly believable, often disquieting — and strikingly compelling — way.