Photos: Caribbean Carnival Brings The Islands To Boston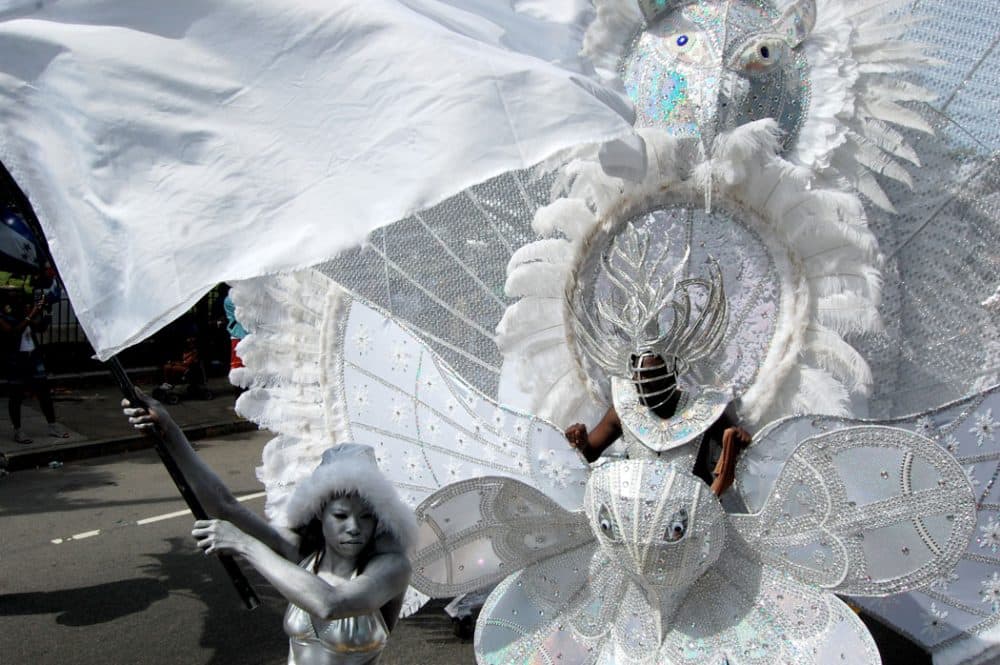 This article is more than 5 years old.
"This is a celebration of all the cultural diversity that's in Boston," said Derick Sealey, who is a hospital anesthesia technician at work, but transforms into golden, feathered, leopard-print royalty as a section leader for the Socaholics when Boston's annual Caribbean Carnival rolls around. "The different islands get together and we hopefully have safe fun."
He was one of thousands of masqueraders, stilters and revelers who filled the streets of Roxbury and Dorchester for the 42nd annual Caribbean Carnival Parade Saturday afternoon.
They shimmied to the deep beats of soca music thumping out of stacks of speakers atop semi trucks that led the mas bands (masquerade groups) from the Roxbury YMCA on Martin Luther King Boulevard down Warren Street toward Franklin Park. They came dressed in dazzling feathers and sequins and glitter. Some costumes rose like peacock plumage 15 feet high—so giant they were held up by armatures that rolled down the street on wheels.
People came waving flags or outfitted and painted in the colors of Trinidad, Puerto Rico, Jamaica, Barbados, Haiti, Cuba, Honduras, Grenada, St. Vincent, the Dominican Republic.
The Boston Carnival is part of a tradition that emerged in the Caribbean, spread across the islands, then to North America, and Europe. By some accounts, it arose from the parties of 19th-century French plantation owners in Trinidad as well as celebrations by African slaves there after they were emancipated in 1833.
The Carnival also has roots in the Catholic celebrations (think carnival in Rio, Mardi Gras in New Orleans), before the Lenten period of ritual fasting and prayer that precedes Easter. (In the Caribbean and Latin America, Carnival is usually celebrated around February, but in deference to Boston's chillier weather, here it's held in August. Cambridge Carnival follows this year on Sept. 13.)
The first Boston Carnival parade, with a few dozen dancers, a DJ and steel band, bounced from City Hall Plaza to Boston Common, in August 1973. They held it downtown in part to assert the rising clout of the Caribbeans who had come to Boston in the 1960s and '70s. The next year, the Carnival more than doubled in size. By 1977, the event had moved from downtown to Dorchester to be in the heart of the city's Caribbean-American community.
Today it is one of the largest annual public celebrations in Boston, up there with First Night and Fourth of July on the Esplanade.
Sealey says he came to Boston from Barbados at age 26, following his sister. He had brothers around New York. But 32 years later, he's still in Boston. "A lot of my friends I went to school with and I know from home, they settled here. It's like a home away from home."