Police: Millis Officer Fabricated Story About Shooting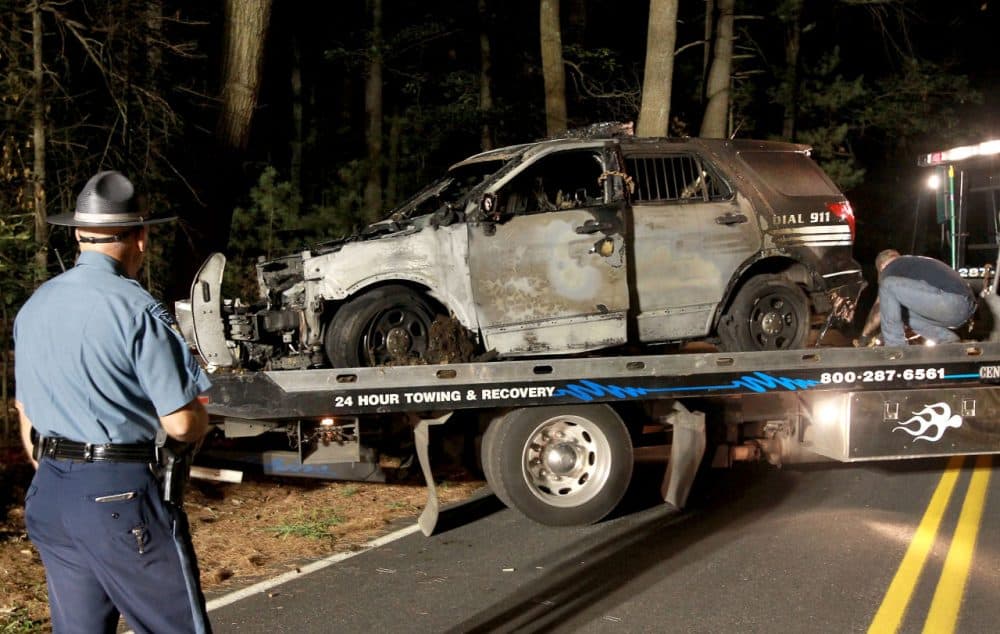 This article is more than 5 years old.
Police in Millis say an officer's claim that a gunman fired at his cruiser was fabricated.
At a press conference Thursday afternoon, Millis Police Sgt. William Dwyer said the part-time officer fired shots at his own cruiser Wednesday and made up a description of a suspect. The officer had described the "suspect" as a white man, 25 to 40 years old, in a maroon pickup truck.
The cruiser also crashed and caught fire. Dwyer said authorities don't know yet whether the fire was intentionally set.
The 27-year-old officer, whose name was not released and who wasn't seriously hurt in the incident, was a part-time employee of the Millis Police Department.
Dwyer would not comment on a possible motive or the officer's employment history. He said the officer would be fired and is facing criminal charges. Authorities have not detailed possible charges.
Dwyer said authorities aren't sure if two threatening phone calls made to a middle school in the town on Wednesday were connected to the officer.
Schools in Millis were closed Thursday, in the wake of the threats and as police searched for a suspect in the shooting.
This article was originally published on September 03, 2015.