Ortiz Goes On Road 2 Away From 500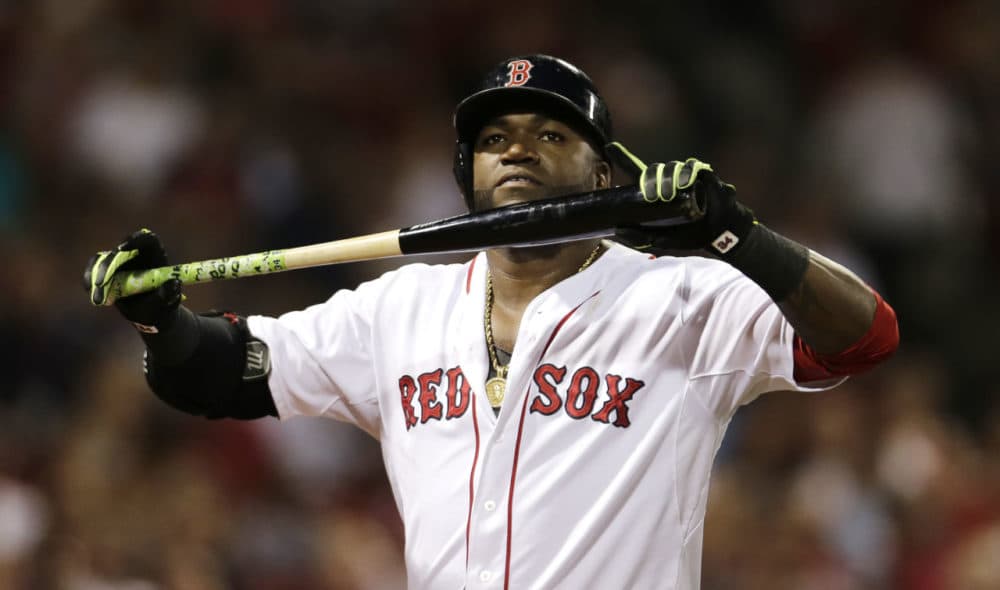 This article is more than 5 years old.
The next time David Ortiz sees Fenway Park, he might be a member of baseball's exclusive 500-home run club.
Big Papi hit his 498th career homer, a three-run shot to cap a four-run third inning, and the Boston Red Sox beat Toronto 10-4 on Wednesday night, taking two of three from the AL East-leading Blue Jays.
"I know David has a real special bond with the city," Boston interim manager Torey Lovullo said. "I know it would mean a lot to him to have it done here, but he's just so professional and so locked in it might just happen on the road.
"It's going to be a great accomplishment wherever it happens. We're all behind him. We're all excited by what he's done."
Ortiz drove a 2-0 fastball from Drew Hutchison (13-4) into the bleachers in center field. It was his 32nd of the season, and 59th in his career against the Blue Jays, most by any opponent. He's looking to become the 27th player all-time with 500 homers.
The Red Sox open a nine-game trip against Tampa Bay on Friday night. They don't return to Fenway until Sept. 21.
Mookie Betts had a solo homer and drove in three runs, and Ryan Hanigan had three hits and three RBIs for Boston, which posted its ninth win in 13 games and sent the Blue Jays to just their second series loss since late July.
Joe Kelly (10-6) won his eighth consecutive start, the longest stretch by a Boston pitcher since Hall of Famer Pedro Martinez won nine straight in 1999.
"To see David hit his 498th is fun," Kelly said. "It puts him closer and closer to 500."
Kelly gave up one run and six hits in 5 2-3 innings.
Despite the loss, the Blue Jays maintained a 1 1-2 game lead over New York, which lost 5-3 to Baltimore. Toronto heads to Yankee Stadium for a four-game series, beginning Thursday night.
The Blue Jays are 28-9 since July 30, going 9-2-1 in 12 series.
Toronto's Edwin Encarnacion had an RBI single and reached base for a club-record 39th straight game, surpassing Carlos Delgado's mark of 38 in 1998. Chris Colabello hit a three-run homer.
Hutchison was tagged for six runs and six hits in 3 1-3 innings for his second straight rough outing. He gave up six runs in five innings in a loss at Baltimore last Friday.
Betts and Hanigan had RBI doubles in the fourth. Hanigan's two-run double keyed a four-run fifth.
Betts had an overturned replay review for his homer.
TRAINER'S ROOM
Blue Jays: LHP Mark Buehrle was back after traveling to Toronto for a cortisone shot in his pitching shoulder. ... CF Kevin Pillar ran into the wall trying to make a catch and was flexing his left knee, but stayed in the game.
Red Sox: 2B Dustin Pedroia was in the lineup for the second straight day after missing seven weeks with a strained right groin. He was 1 for 5. . 3B Pablo Sandoval left in the sixth inning with back tightness.
PAPI POWER
Ortiz has six homers in his last 12 games.
EXTRA PAPI POWER
Ortiz collected his 1,093th extra-base hit, tying him with Hall of Famer Dave Winfield for 20th all time.
UP NEXT
Blue Jays: LHP David Price (14-5) is set to start the opener of a four-game series against New York RHP Luis Severino (3-2) on Thursday. Price is 5-1 since being acquired from Detroit in late July.
Red Sox: They are off Thursday. LHP Wade Miley (11-10) is scheduled to face Tampa Bay's Chris Archer (12-11) when Boston opens the nine-game trip.