WBUR Poll: Sanders, Clinton Locked In Tight Contest In N.H. Primary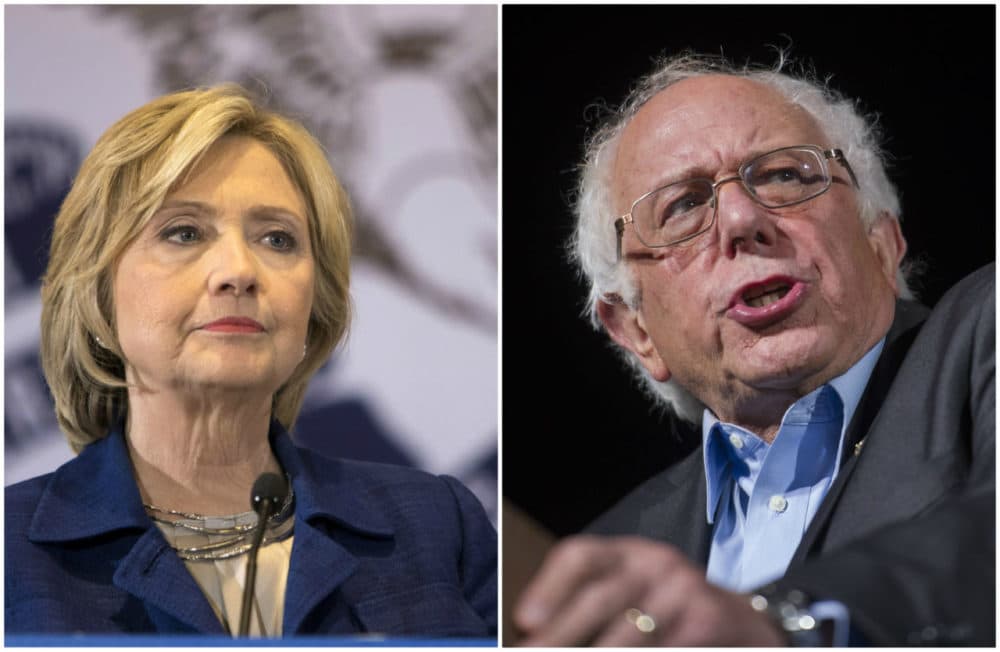 This article is more than 6 years old.
Vermont Sen. Bernie Sanders and former Secretary of State Hillary Clinton are locked in a tight contest for the New Hampshire Democratic primary, according to a new WBUR poll (topline, crosstabs).
The survey finds Sanders edging Clinton by a narrow margin, pulling 35 percent support to Clinton's 31 percent. Joe Biden would earn 14 percent support, were he to jump in the race.
Sanders' lead is within the poll's margin of error, but it is the fifth consecutive poll of New Hampshire showing Sanders with at least a nominal lead. The survey also looked at support for Lincoln Chafee, Jim Webb and Martin O'Malley, and found them largely unfamiliar to voters and drawing little support.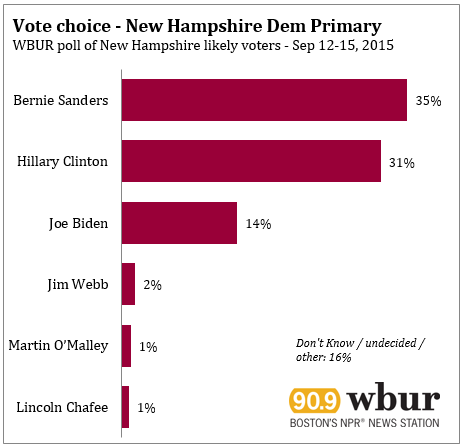 Clinton has been unable to shake off the effects of the scandal related to her use of private email while secretary of state. Now, just over half (56 percent) view her favorably, and just 51 percent say she is "honest and trustworthy." While either figure would be a decent showing among general election voters, it is surprisingly low among Democratic primary voters. Both Biden and Sanders have higher favorables, and far more call them honest and trustworthy.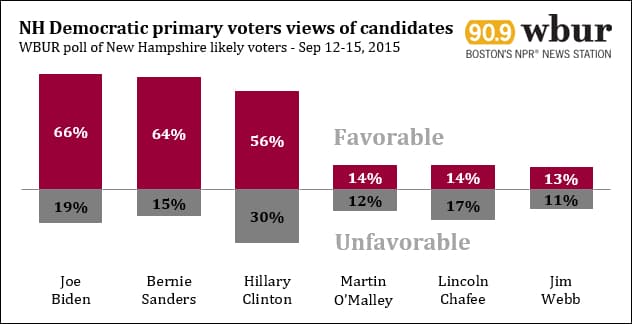 Even so, the contest remains tight, in part because voters see Clinton as strong in other areas, notably her experience and qualifications. Four-fifths (81 percent) think Clinton has the right experience to be president, and a majority (56 percent) think she can win in the general election.
This is a weakness for Sanders; just a third of Democratic primary voters think he can win in November, and only half feel he has the right experience. Biden, were he to get in, has the appeal of appearing both honest and qualified.
Clinton's troubles in New Hampshire are emblematic, in some ways, of the difficulties she has faced elsewhere. Though she still leads nationally, her advantage over Sanders has shrunk from nearly 50 points in early June to just 18 points today. And the things that trouble voters in New Hampshire largely reflect the reasons voters elsewhere have moved to Sanders. The number on honesty echo polls from other states that will play a major role in the general election.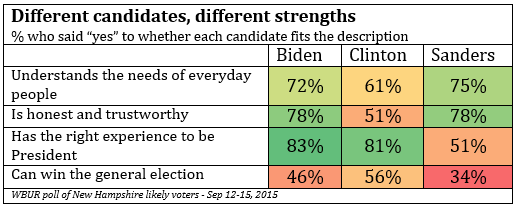 Sanders is benefiting from strong support among New Hampshire's abundant population of registered independent voters (so-called "undeclared"), where he leads Clinton by 15 points (35 percent to 20 percent). Independents can vote in either contest in New Hampshire, and have grown rapidly in number in New Hampshire and in importance to the state's primary process. In the two most recent contested Democratic primaries (2004 and 2008), independents made up over 40 percent of all participants. To win, Sanders needs to hold on to these independents, and draw them into the Democratic primary. A risk for his campaign is that some portion of these voters may choose to vote on the Republican side, if the Republican race remains as competitive as it currently appears.
Clinton makes up a good part of her deficit among independents with a strong showing among registered Democrats. Among partisans, she leads Sanders 40 percent to 34 percent.
This party split is not a new phenomenon, and echoes of the 2008 contest are unmistakable. That year, Clinton rode the strong support of Democratic voters to a surprise victory over Barack Obama, despite trailing in pre-election polls and losing the independent vote. If she remains in a strong position among Democrats this year, she has a shot at keeping the race close through primary day.