New Balance Opens New Headquarters Overlooking Mass Pike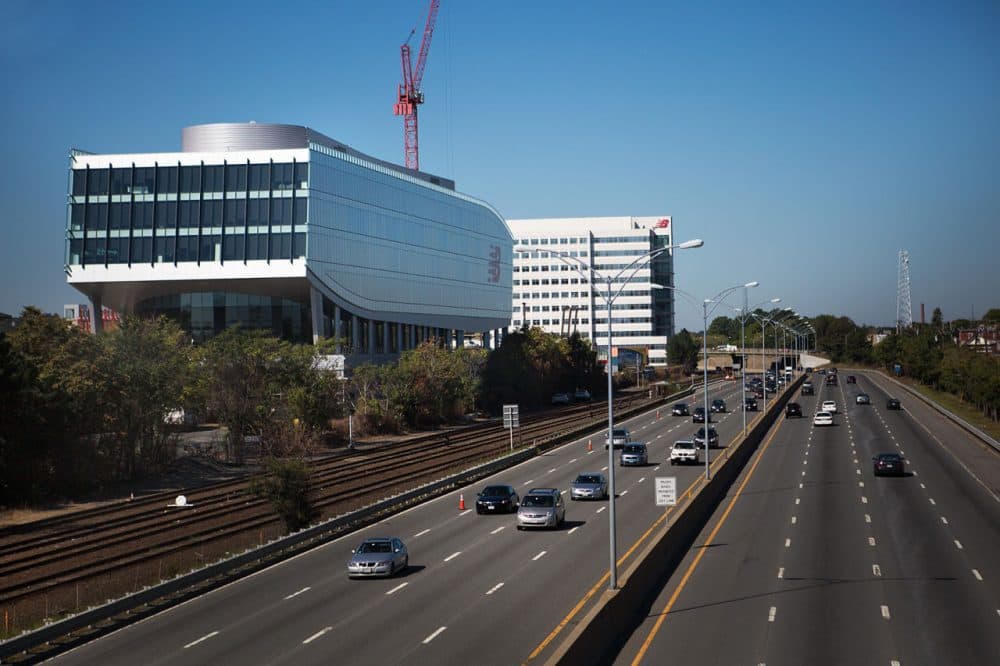 This article is more than 7 years old.
New Balance has opened its new world headquarters in a flashy building overlooking the Mass Pike.
The private company has been based in Allston/Brighton for more than 35 years and is hoping to begin another long chapter with its so-called "Boston Landing" development.
New Balance officially opened the oblong, 250,000-square-foot building Thursday. CEO Robert DeMartini says it was designed to incorporate big open work spaces like those at the company's Merrimack River factory in Lawrence.
"We wanted the feel of Lawrence, with the spirit of movement," DeMartini said. "So to the degree that it looks like a ship, we're headed into the future. And to the degree that it looks like movement and a shoe, that's the business we're in."
Architect David Manfredi, of Elkus Manfredi Architects, says the high ceilings and big open floor plans inside are wired for global connectivity and will help the company innovate.
"It encourages collaborations," Manfredi said. "It is an environment that is very much about interaction, planned and unplanned interaction."
New Balance is moving 708 employees into the building and is hoping to draw younger, tech-inspired workers to the complex, aided by a new commuter rail stop due to be completed next year.
The company's development arm is also bringing other companies and retail businesses to the larger, 15-acre development. The Boston Bruins are building an adjacent practice facility at the Warrior (New Balance's hockey and lacrosse brand) ice arena, due to be completed in September 2016.
Boston Landing will also have a multi-sport event center revolving around track and field, as well as a hotel, a residential apartment complex, retail and restaurant offerings, and additional office buildings. Harvard Business Publishing will move into New Balance's old headquarters located at the site.
"We think of this site as the health and wellness district," said New Balance Development Group leasing manager Erin Harvey. "We look at people who want to be part of a Boston brand, want to have a commuter rail station, want to have that live/work/play environment."
Here are some photos from inside the new space:





This article was originally published on September 17, 2015.