Tribal Chair Hopeful To Break Ground On Taunton Casino In Spring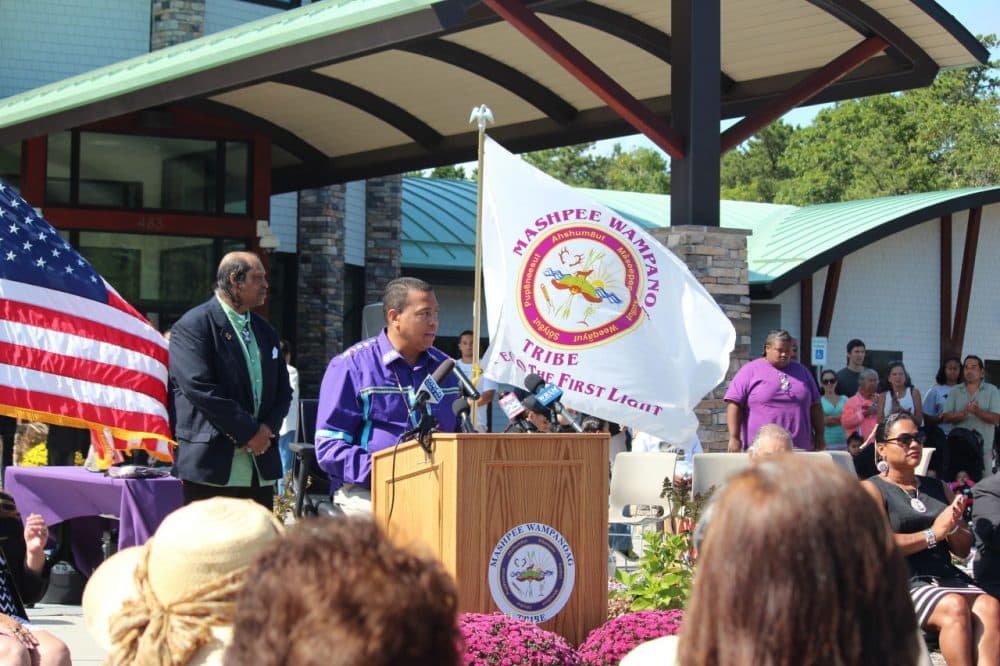 This article is more than 5 years old.
Since the federal government committed to acquiring land into trust for the Mashpee Wampanoag tribe Friday, tribal leaders have begun looking ahead to next steps for a proposed casino complex on the Taunton lands.
Tribal Chairman Cedric Cromwell says he feels confident about breaking ground on a new resort casino during the next "construction season."
"Many said we couldn't do what we've done, but anything is possible," Cromwell said during a press conference Saturday afternoon. "We have a plan, we're working towards a strategic plan, that I think is truly focused on a best-in-class resort destination casino on trust lands."
With a goal of breaking ground in the spring, he says there's a lot of work to get done this winter.
"Setting things up, site clearing, you name it," he said. "We've got a lot of work to do. I pointed out earlier that we haven't just been sitting on our hands, there's been a lot of proprietary work going on behind the scenes."
Cromwell says the tribe is moving forward with their plan regardless of what the state gaming commission decides to do with a southeast region casino license.
"We've got a tribal state compact, and that tribal state compact spells out the relationship with the commonwealth," he said. "That's what we're going to work by, and that's what we expect the state gaming commission to honor, respect and work with that tribal state compact."
While some Taunton residents see the casino as a way to bring jobs into the southeastern region, others do not want it build in the city.
Rudy Burer, who has lived in Taunton for more than 20 years, says jobs are important for the area.
"The fact is that there are going to be jobs," he told WBUR's Kassandra Sundt. "That's the main thing."
Burer says with more money for local police and the casino bringing in their own security forces, he's not worried about an increase in crime.
"There will probably be more policing, and I understand there will probably be an individual security force as far as the casino is concerned."
Charles Rowe, a Taunton resident for the past 25 years, says he thinks the casino is a great addition for the southeastern region.
"I think it's going to bring all kinds of jobs — everything from management to everyday worker jobs — I think they were talking 2,800 jobs," he said. "I think it's great."
He says he doesn't see a negative aspect to the casino proposal yet.
"I think for a while it will be a lot of construction jobs coming in and out, and then it will be a lot of permanent jobs," Rowe said.
Angie Almada, who grew up in Taunton and now lives there with her husband and two daughters, says she doesn't want the casino in the city.
"I understand it's going to bring more jobs, but it's the low-paying jobs, not the high-paying jobs," she said. "I'm sorry, you're not going to get the people who live in Taunton working there."
Almada said since her house is right near the proposed site, she and her husband are considering moving.
"The city voted yes on it, I understand that. But the district in the area closest to where the casino will be built on voted no," she said. "The people who reside on the other side of town — of course they're going to vote yes, because it isn't going to affect them."
With reporting by WBUR's Kassandra Sundt