'Whitey' Bulger's Longtime Girlfriend Indicted On Criminal Contempt Charge
This article is more than 7 years old.
The longtime girlfriend and fugitive companion of Boston mobster James "Whitey" Bulger was indicted Tuesday on a charge she refused to testify about whether other people helped him during his 16 years on the run.
Catherine Greig, 64, was indicted by a federal grand jury on one count of criminal contempt.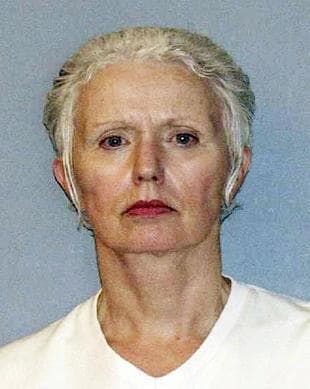 Greig is already serving an eight-year sentence for conspiracy to harbor a fugitive, identity fraud and conspiracy to commit identity fraud.
The indictment alleges that from December 2014 through Tuesday, Greig disobeyed an order from U.S. District Judge Denise Casper to testify before a grand jury in an investigation into "third parties who assisted and harbored" Bulger while he was a fugitive.
"Catherine Greig has yet again failed to do the right thing," said Joseph Bonavolonta, acting special agent in charge of the FBI's Boston division. "Her refusal to testify has hindered the FBI's efforts to seek justice for the victims of his crimes."
Bulger fled Boston just before being indicted in early 1995 and remained a fugitive until he was captured in Santa Monica, California, in 2011. She had been living with Bulger in a rent-controlled apartment.
Bulger, now 86, was convicted in 2013 of participating in 11 murders and is serving life in prison. Bulger's life of crime and his role as an FBI informant are depicted in "Black Mass," a film released last week starring Johnny Depp as Bulger.
When Greig was sentenced for helping Bulger, her lawyer, Kevin Reddington, called Bulger the "love of her life" and said she had no regrets.
After she was indicted on the new charge Tuesday, Reddington accused prosecutors of being vindictive.
"This is obviously a vindictive move on the government's part," Reddington said.
"Other than living with Mr. Bulger for that number of years, she has done nothing wrong in her life at all. ... This is just harassment and she is not going to cooperate with them."
Prosecutors have said Greig helped Bulger evade capture by taking him to medical appointments, pretending to be his wife so she could pick up his prescription and using false identities. They said Bulger and Greig posed as married retirees from Chicago.
When authorities searched their Santa Monica apartment, they found more than $800,000 in cash and 30 weapons.
Bulger first fled Boston with Teresa Stanley, a woman he'd been romantically involved with since the 1960s. The FBI has said Bulger dated Greig for most of the time he was seeing Stanley.
After about two months on the run, Bulger returned to Boston, dropped Stanley off and picked up Greig, who remained by his side for more than 16 years until their capture.
When Greig refused to testify before the grand jury in December, she was found to be in civil contempt. The nine months that passed have already been added to her sentence. If convicted of the new charge, she could face even more prison time. Criminal contempt has no fixed maximum penalty.
Greig is expected to be transported from a federal penitentiary in Minnesota to Boston to be arraigned in U.S. District Court in Boston on the new charge, said Christina DiIorio-Sterling, a spokeswoman for U.S. Attorney Carmen Ortiz. No date has been set yet.
This article was originally published on September 22, 2015.