'Ernest Shackleton Loves Me,' But Does This Musical Make A Good Match?
This article is more than 7 years old.
Now that you can carry Google Earth and its satellite photos of the entire globe around with you in your pocket as a mobile phone app, some of the triumphs of the age of exploration lose some luster.
Take Sir Ernest Shackleton, famed explorer of Antarctica. While his exploits made him a national hero in the early years of the 20th century, his mission to become the first to accomplish an overland crossing of that continent — alas, the sexier distinction of becoming first to reach the South Pole was already taken — seems quaint now, in an age when we can study hi-definition photos of Pluto.
But there's been a resurgence in Shackleton interest this century, from a re-creation of the trip depicted last year on PBS to offhand Rubblebucket lyrics. The aim of his defining mission may now seem hopelessly obscure, but what continues to prove inspirational to some is the survival spirit he showed, on the way toward successfully seeing most of his crew to rescue after the trip went horribly wrong almost immediately.
That spirit is the kernel for "Ernest Shackleton Loves Me," the mixed-bag multimedia musical now receiving its regional premiere, in a production presented by ArtsEmerson. (It runs through Oct. 4.) While its essential wackiness is appealing, this show can't seem to decide if it's a genre-bending experiment or a heart-warming family show. While it's possible to be both, I suppose, "Shackleton" winds up as neither.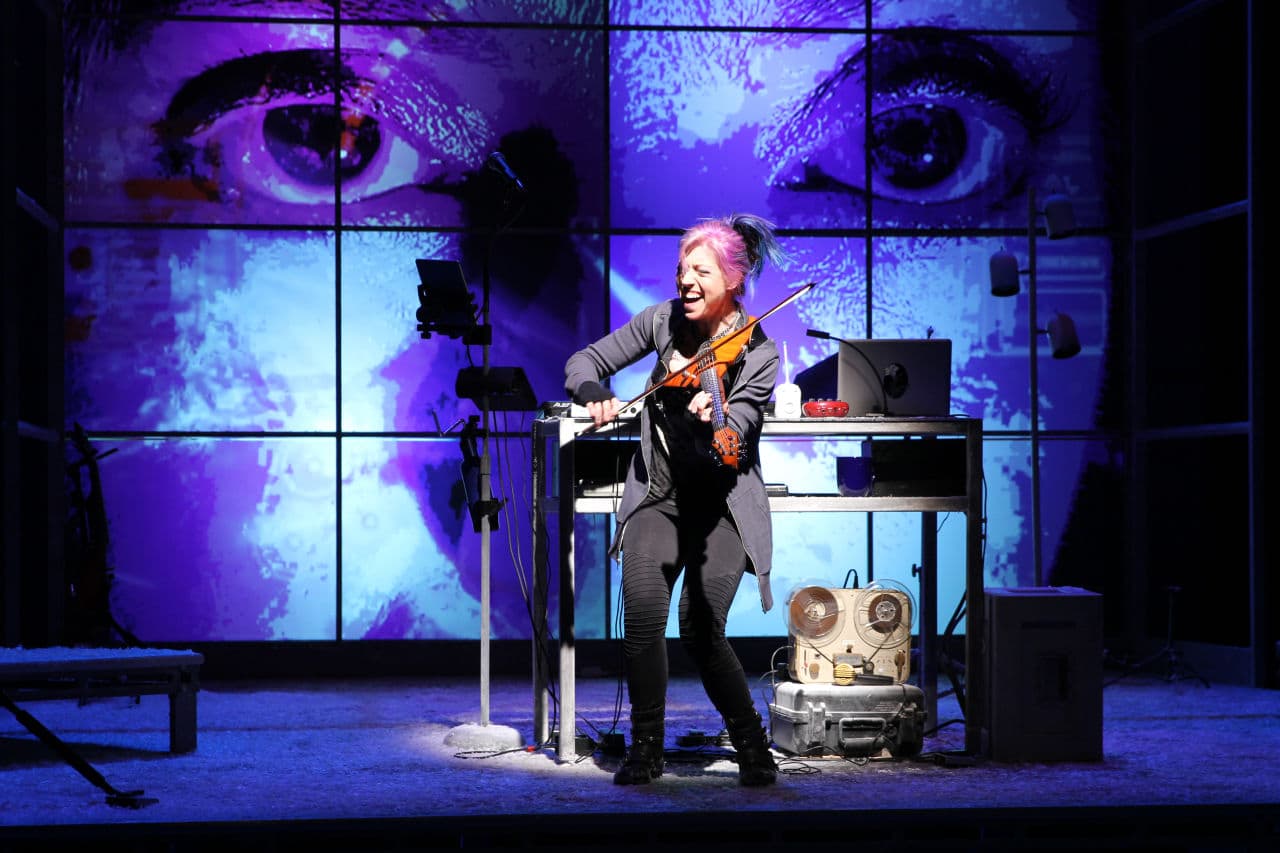 The two-hander is anchored by the performance of Valerie Vigoda, who also wrote the often-treacly lyrics. (The inventive book is by Tony Award-winner Joe DiPietro, and the sentimental, banner-waving music is by Brendan Milburn.) Vigoda is Kat, a musician who writes failed, experimental operas. (They're performed for "five or six people who walked out, disgusted, before intermission," she sings, endearingly.)
As we learn in a meandering opening song, Kat has found a day job as a freelance composer of music for video games, but her abrasive personality soon lands her among the unemployed. These details, plus Kat's presentation — bounding about the stage with her purple hair flopping around, playing a red, viper electric violin (think of the "flying v" guitars of hair metal fame) — cue us to expect an offbeat story. (Oh, and she's a single mother with a crying baby in the other room, a detail that feels thrown in to gin up audience empathy.)
I was quickly hooked by the show's magic-realist conceit — looking for love on a dating website (with a hilarious name I won't spoil), Kat is contacted by one Ernest Shackleton, played as a preening but stoic ham by Wade McCollum. Soon she's Skyping with the Antarctic explorer, who died in 1922. Her music has inspired him, he explains, and their transcontinental duet via video chat on a tuneful sea chantey is the show's musical highlight. The rules of time and space are suspended as Kat begins passing between her chilly apartment and the Shackleton expedition. (When he enters her world, the Shackleton character feels like a cousin to Mr. Lies, Harper's delusional spiritual guide in "Angels in America.")
In addition to violin, Vigoda occasionally works with digital loops and a drum machine, and an extensive projection design (by Alex Nichols, who also folds lighting and scenic design into an integrative whole) takes advantage of a block of upstage screens, to great effect. This is a very visually appealing production, and it's particularly intriguing when Kat's mental state is manifested physically — like when it snows in her frigid apartment. When Kate and Shackleton simulate mountain-climbing on the scaffolding that rims a video screen, the effect is simple but transporting.
But McCollum's cartoonish portrayal starts to grate, and this unconventional romance swiftly proves a vehicle for the most obvious of possible metaphors. Shackleton's endurance proves an inspiration for Kat; as he defies the obstacles presented in the wild, she learns the strength to do the same at home. When his faith finally wavers, she's learned her life lessons and reflects his hope back at him. Cue a triumphant ballad or three.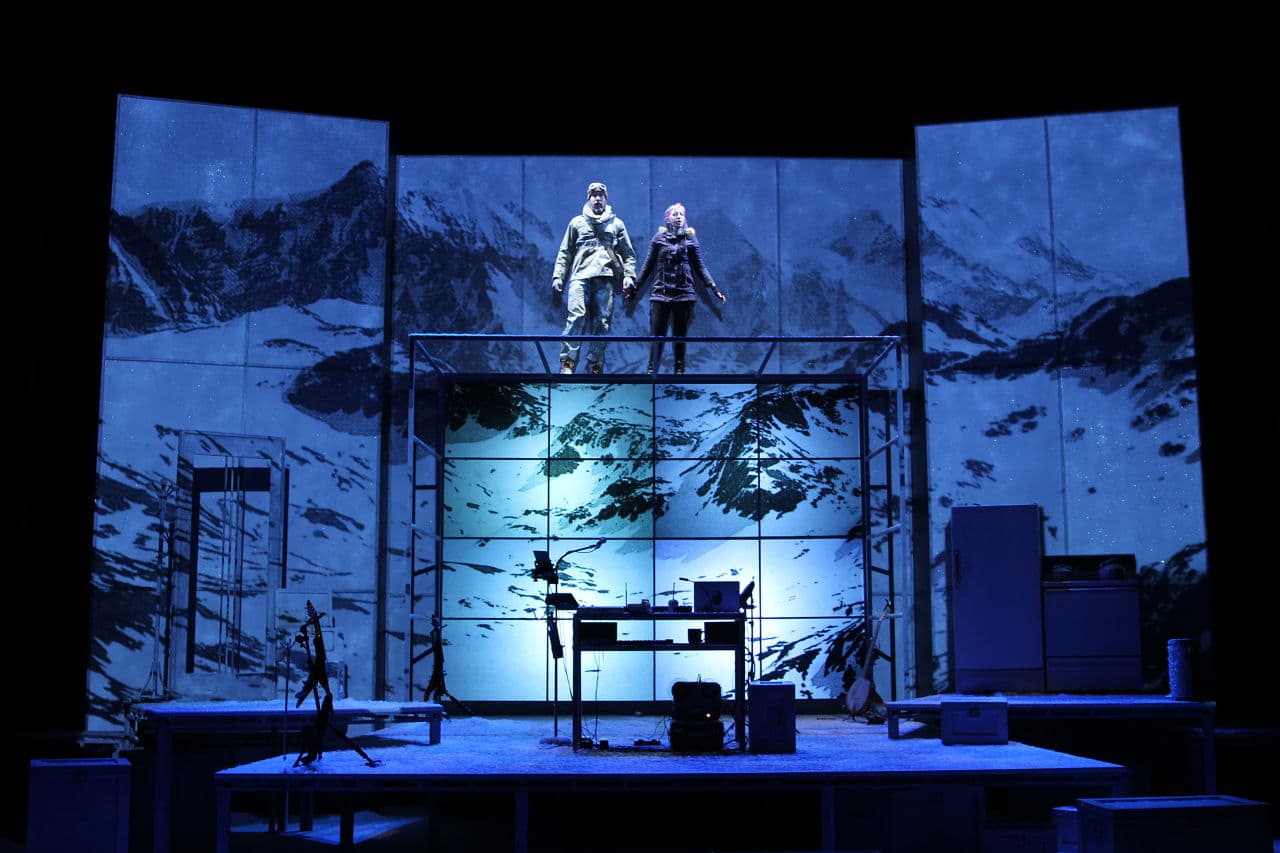 Kat's punkish credentials — and the experimental patina of the show's concept — prove to be pure misdirection, as the music she writes (and performs) comes straight from the sausage factory where they make middling Broadway ballads. "We'll fly against the odds," she sings, after melting "the ice around your frozen heart," all to the backing of a one-man synthesizer arrangement that strains for bombast but comes off as merely cheesy. When Kat's quirkiness comes out — such as in self-aware lyrics like "I believe a dead explorer loves me" — the show has some spark. But as she loses her edge, so does the whole endeavor.
"Ernest Shackleton Loves Me" could be recommended as a great show for kids. (As it turns out, Vigoda and Milburn indeed write music for stage shows at Disney World, among other projects.) But what then about the f-bombs that Kat drops liberally? The show seems to drift between worlds.
This musical's sentimental gestures are crowd-pleasing, in a blunt-force sort of way. But after its glances toward something more interesting, its heart-warming crescendo mostly leaves me cold.
---
Jeremy D. Goodwin contributes regularly to The Boston Globe, The ARTery (where he is also an editor), Berkshire Magazine and many other publications. See more of his work here. Follow him on Twitter here.