In Visit To Boston, Clinton Pushes For Stronger Federal Regulation Of Opioids
Play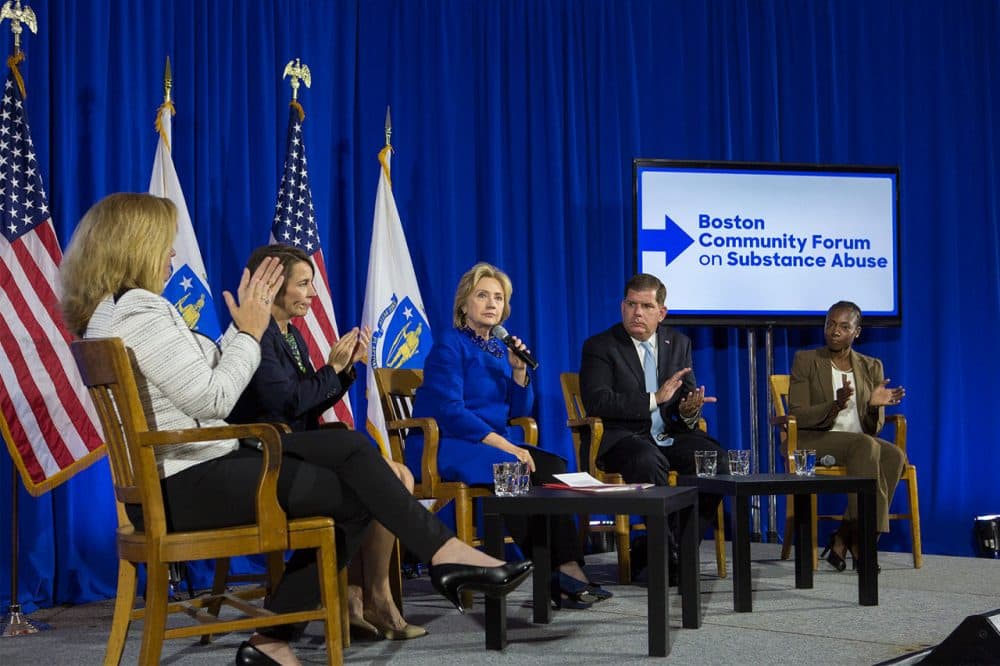 This article is more than 7 years old.
Hillary Clinton says the federal government must do a better job of regulating opiate painkillers.
And as president, she would make sure naloxone, the heroin antidote, is available on college campuses, in community centers and in the workplace. Those are a few of the pledges Clinton made during a forum on substance addiction Thursday in Boston as the country's heroin problem becomes an issue on the presidential campaign trail.
Clinton says she is making it a top priority, although she didn't realize heroin and substance use would even be an issue when she entered the race. Then, suddenly, Clinton began hearing story after story about a parent or child who had overdosed.
"I've buried over 100 people in my lifetime prematurely," Annie Parkinson, with the Massachusetts Organization for Addiction Recovery, said during the forum on Thursday. "This has got to stop."

Clinton said the root of the problem is clear. "The heroin epidemic is a prescription drug created epidemic," because so many patients switch to heroin after a prescription for the opiate-based Oxycontin runs out.
Clinton blasted the FDA for just recently approving the use of Oxycontin for children as young as 11.
"I find that absolutely incomprehensible," Clinton said.
The FDA says doctors were already prescribing the drug for children and it stepped in to establish some guidelines.
"The heroin epidemic is a prescription drug created epidemic."

Hillary Clinton
Clinton suggests she would impose more regulation of opiate-based pain medication for all patients.
"I'm going to direct the FDA to take another look and do a much better job at seeing who should receive these drugs in what doses for how long," Clinton said.
Just a month ago, Clinton released a multi-part plan to stop the rapid rise in overdose deaths.
Her main Democratic rival Bernie Sanders says the U.S. War on Drugs is not working. He's pushed for cheaper heroin overdose drugs, but has not rolled out a proposal as detailed as Clinton's $10 billion, 10-year, federal-state partnership.
Republicans are addressing the problem as well. Chris Christie has vowed to make the opioid epidemic a priority. His most recent reference is an ad that suggests President Obama is to blame.
Carly Fiorina has called for decriminalization of drug use and tells the story of her step-daughter's overdose death. Jeb Bush mentioned his daughter's drug use and his support for drug courts while campaigning in New Hampshire this week. Rand Paul said last month that more jobs would relieve the problem because "if you work all day long you don't have time to do heroin."
Clinton's $10 billion would pay for education and training to prevent addiction as well as more treatment programs.
The funding would come, in part, from savings — from sending fewer addiction patients to prison.
"Let's be just really blunt about this," Clinton said. "Most people are ending up in prison and in jail because there is an overlap between mental health problems that people self-medicate with alcohol and drugs, and Sheriff, you told me it costs $50,000 to incarcerate?" Clinton looked out in the audience to Suffolk County Sheriff Steve Tompkins, who nodded and added, "Annually."
"Annually," Clinton repeated, "for each person, each inmate we're talking about, a person who should be in treatment for a lot less than that."
Clinton has not explained the criminal justice changes that would move those charged out of prison or divert patients apprehended with drugs into treatment. She praised the work of Gloucester Police Chief Leonard Campanello, who tries to arrange treatment for addiction patients instead of filing charges. The chief was not at the forum, but Gloucester's state representative, Ann-Margaret Ferrante was.
"He describes this no longer as an issue, this is a movement," Ferrante said, paraphrasing Campanello. "This is everyone coming together to say this has to stop. We've been texting during this forum and he said make sure Hillary Clinton knows one thing. Partners are great and we truly need partners, but we truly need a champion. So please, please, please be our champion."
Clinton nodded and smiled. The plea may have been especially welcome as questions about Clinton's use of private email continue, as Sanders nearly matched her in fundraising and as the threat of a Joe Biden candidacy looms.
Supporters point out that Clinton knows health care, and the opiate epidemic may be one way health care works to her advantage this election season.

This segment aired on October 2, 2015.