Boston Lyric Opera Breathes New Life Into 'La Bohème'
We'll always have Paris. In the case of "La Bohème," onstage through Oct. 11 at the Shubert Theatre to open the Boston Lyric Opera's season, that means multiple epochs from the City of Light.
In a risky and rewarding update to the melodramatic classic, Puccini's tale of the dying Mimi, originally set with the July Revolution of 1830 as a backdrop, gets uprooted to 1968 Paris. Sets, props and concept have been transformed artistically from Louis-Philippe's Paris to Jean-Luc Godard's Paris. The resulting shift, directed by Rosetta Cucchi, has some fits and starts, but in the end — thanks in large part to the endearing music, and the musicians that bring it to life — this re-imagining succeeds on its own terms.
Social parallels between the two eras — student unrest, poverty, idealistic protests — make the transition an organic one. Layering the artistic values of French New Wave cinema, with Godard's mid-60s film "Masculin Féminin" as a near constant meta-narrative, also fits comfortably into the original story, adding intellectual punch and polish.
And there's the singing. Soprano Kelly Kaduce plays Mimi, the fresh-faced flower girl with an easy manner and a terrible cough. The stalwart tenor Jesus Garcia sings Rodolfo, the impoverished student poet and her lover. Together they form a dramatic and musical match, a powerful blend of lyric voices that makes Puccini's compelling score come alive.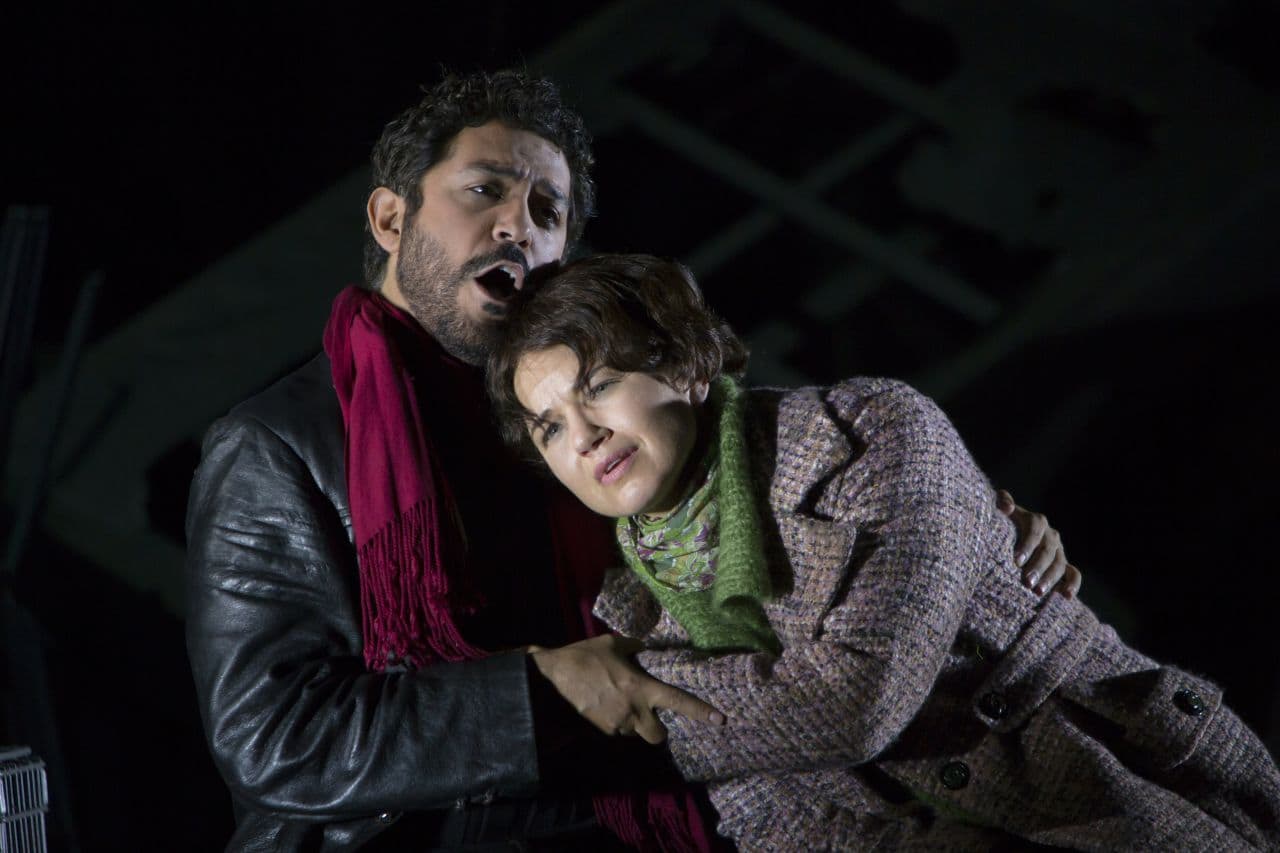 From "O soave fanciulla," their first duet in the moonlit mansard garret where Rodolfo and his roustabout mates live, their partnership seems natural.
They have help. Soprano Emily Birsan (Musetta), baritone Jonathan Beyer (Musetta's often-betrayed lover Marcello), bass Brandon Cedel and baritone Andrew Garland (Rodolfo's other roommates, Colline and Schaunard), all take on their roles easily.
John Conklin designed the sets with insight and humor. The opening scene — the freezing apartment where the four students live, with its graffiti-lined walls and flophouse air — says "Paris, May 1968" at first glance. The café set for Scene 2 — with posters of the Marx brothers, Groucho and Karl, hanging on the walls — works visually, and allows plenty of room for the dramatic gymnastics. And the street barricade, looming large over the action in later scenes, brings another unmistakable visual anchor to that era.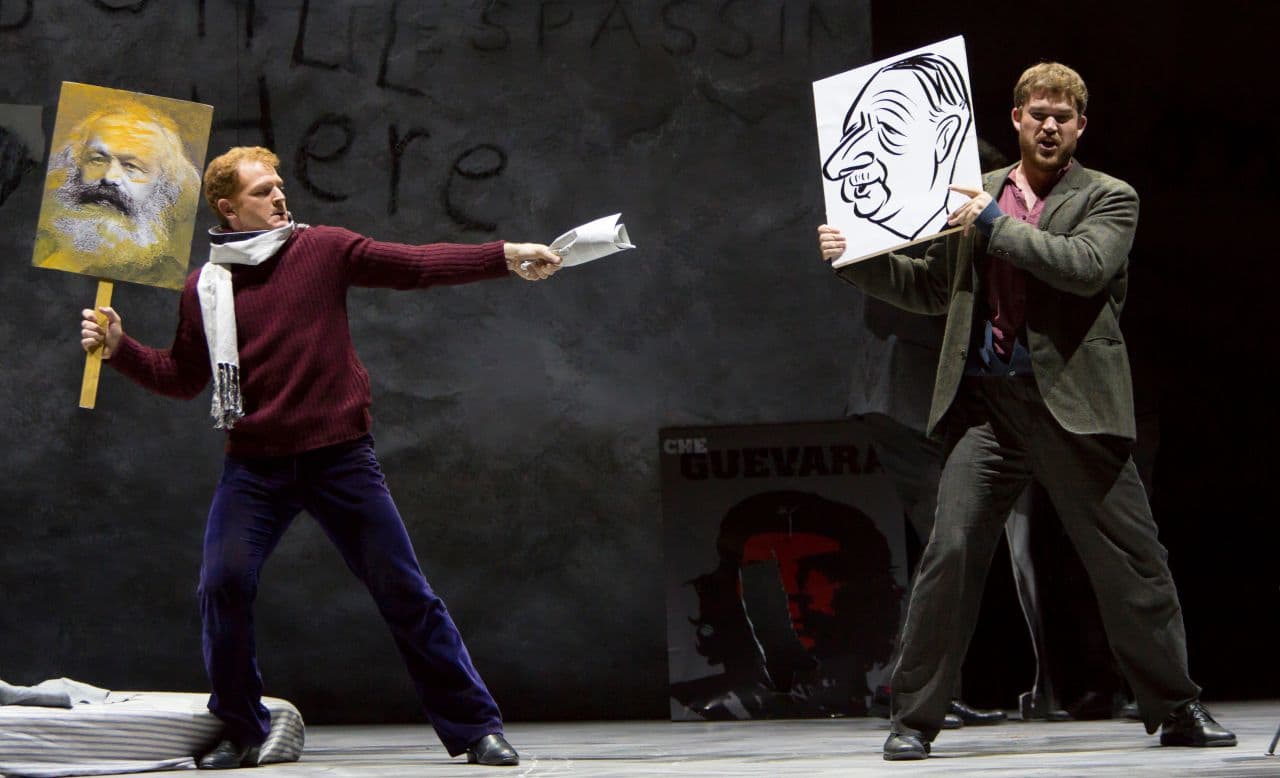 BLO music director David Angus' work editing the score and on the podium kept Puccini's direct, forward thrusting music largely intact. The orchestra played alertly, with enthusiasm and articulation.
Cucchi's dramatic layering of filmic concepts and Puccini's story-above-a-story made a facile blend. Her alterings are sure to offend some, but the composer's tale of doomed love played out over a revolutionary storyline, and Godard's film about inquisitive, self-absorbed 20-somethings set over a similar upheaval, match up succinctly.
The many and well-known highlights from Puccini's score were delivered with informed artistry. Birsan tossing off "Quando m'en vo," commonly known as "Musetta's waltz," had both a flirty air and a secure tone. Garcia's "Che gelida manina" — his first loving overture to Mimi — had touching depth. Most of the ensemble parts, notably the quartet "Addio, dolce svegliare alla mattina" — as Mimi and Rodolfo are parting, and Marcello and Musetta are reuniting (again) — were well balanced.
Then there's Kaduce, a Mimi that will stay in memory. Her "Si, mi chiamano Mimi," introducing herself to Rodolfo in the freezing apartment, was natural, unforced and commanding, as was every note that came from the soprano in this performance.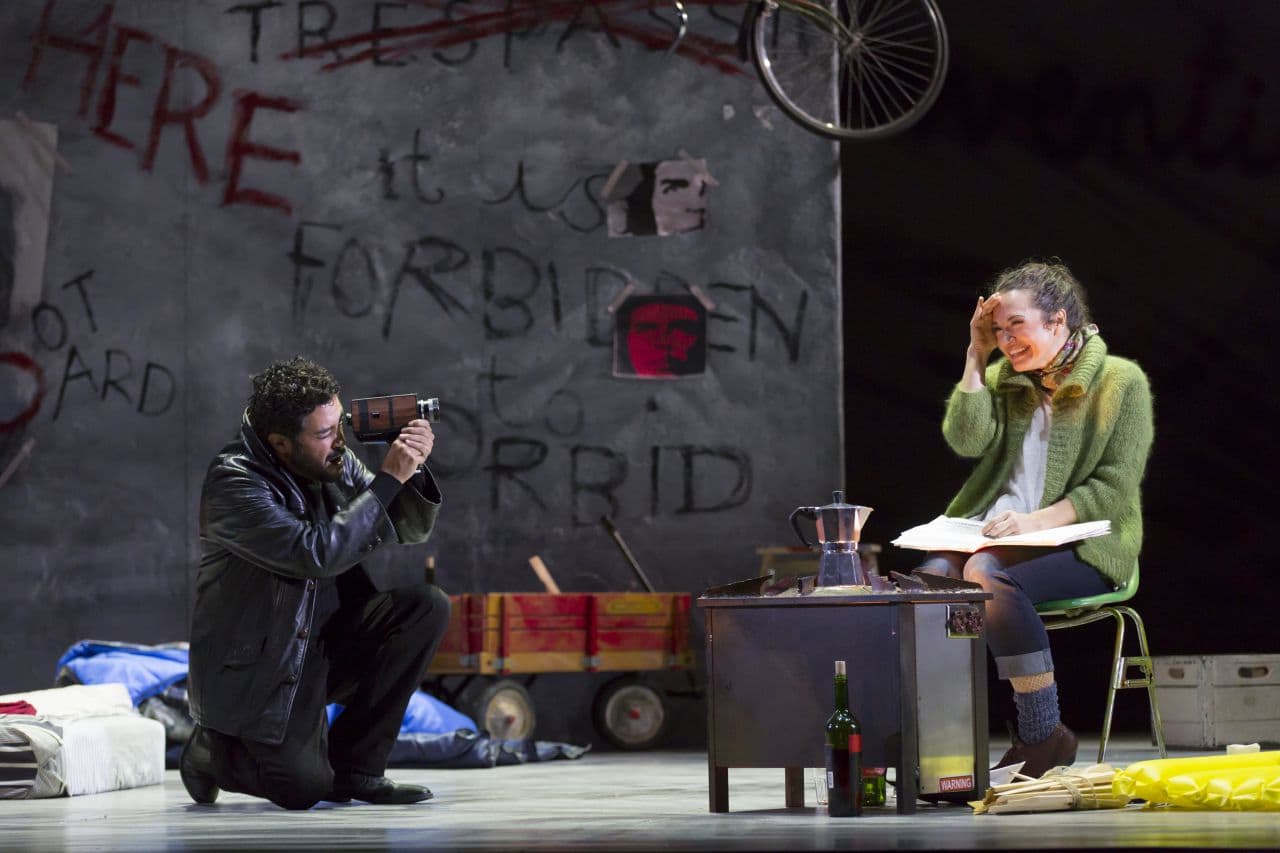 Any adaptation will have shortcomings. This edition may be too short — some of the story-lines, like the details of Mimi's wealthy protector, and Musetta's machinations in the café scene, got trampled. Poor Parpignol (Brad Raymond) — the popular toy seller — prances for a moment and is gone. The estimable James Maddalena (Alcindoro) barely makes a splash.
The use of the chorus was inscrutable — a Dada-like presence, meant to add humor, but mostly bringing uncomfortable distractions. Some of the blocking — particularly the café scene — will have to be ironed out as the run continues.
In the end, a great story will bear up under new interpretations — that's one measure of its greatness. A timeless classic, this "Bohème" finds itself in a new era, looking sharp and sounding terrific.
The Boston Lyric Opera's new production of "La Bohème" runs through Oct. 11 at the Shubert Theatre.
---
Keith Powers, former music critic at the Boston Herald, now freelances for a number of newspapers and magazines. Follow him on Twitter at @PowersKeith.