Actors' Shakespeare Project Brings Energy To The On-Stage Scheming Of 'Othello'
This article is more than 7 years old.
There's many a bad guy (and lady) in Shakespeare's oeuvre, but for pure scheming, mean-girl-malice make mine Iago, the antagonist of "Othello."
Actors' Shakespeare Project opens its 12th season with the Bard's play of psychological manipulation. The Modern Theatre at Suffolk University hosts the famously itinerant troupe for this briskly engaging production, in the heart of Boston's theater district.
The play's setting is Venice, where Othello (Johnnie McQuarley) has risen though the ranks to become an army general. Iago's (John Kuntz) anger with Othello stems from having been passed over for a promotion that went to a young officer named Cassio (Ross MacDonald), whom Iago denounces as a soldier who's all theory, no down and dirty skills.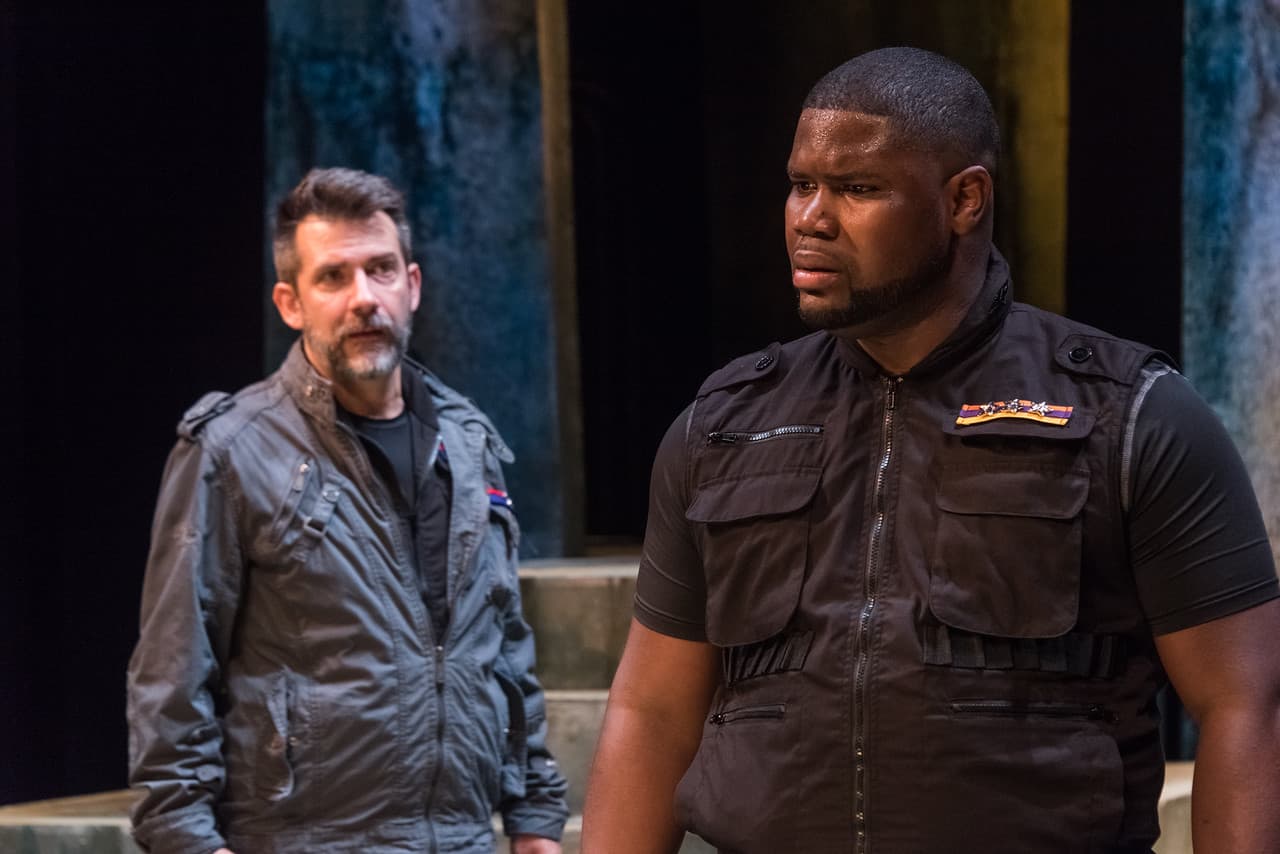 In that, he might have a point; as Iago is soon to prove, when it comes to ruthless battle tactics he has no peer. Like a chess master with a sideline in psychiatric mayhem, Iago takes advantage of his proximity to Othello to plant nasty suspicions about the marital fidelity of the general's wife, Desdemona (Josephine Elwood). While he's at it, Iago exploits male predilections and appetites to maneuver Cassio into a situation in which the younger man disgraces himself.
These episodes serve a brilliant and brutal end game: Iago works to convince Othello that Cassio and Desdemona are carrying on behind the general's back. If Cassio pays for Iago's lies with his life, Iago hopes to take his place as Othello's lieutenant. Moreover, if Othello flames out, who but Iago will be best positioned to take his place as general?
Kuntz serves up vicious gossip like custard in the villain's role, and does it with such steadily toxic panache that he almost seems a force of nature. It's McQuarley, though, who makes a meal of what his character's being fed; as the play progresses, his unquestioning faith in Desdemona gradually erodes and his emotional state degenerates into one of quivering insecurity and quaking rage.
Bridget Kathleen O'Leary's direction gracefully and effectively explores the play's textual and subtextual possibilities, with the cast finding ways to deliver their lines that make the play's Elizabethan language more accessible (and more impactful) to a modern audience. (Also helpful is the easy fluency the cast demonstrates with Shakespeare's language.)
Eric Levenson's set design and Tyler Kinney's costuming also underscore the production's mix or antiquity with the contemporary. The set features towering columns which evoke the classical Doric style and, from there, the idea of majestic architecture. We are clearly in a civilized place, and a seat of power. But we are also in a surrealist netherworld, a place of suggestion: Look closer and you see that those columns are flat, given a deliberately incomplete illusion of volume through paint and Chris Brusberg's lighting design.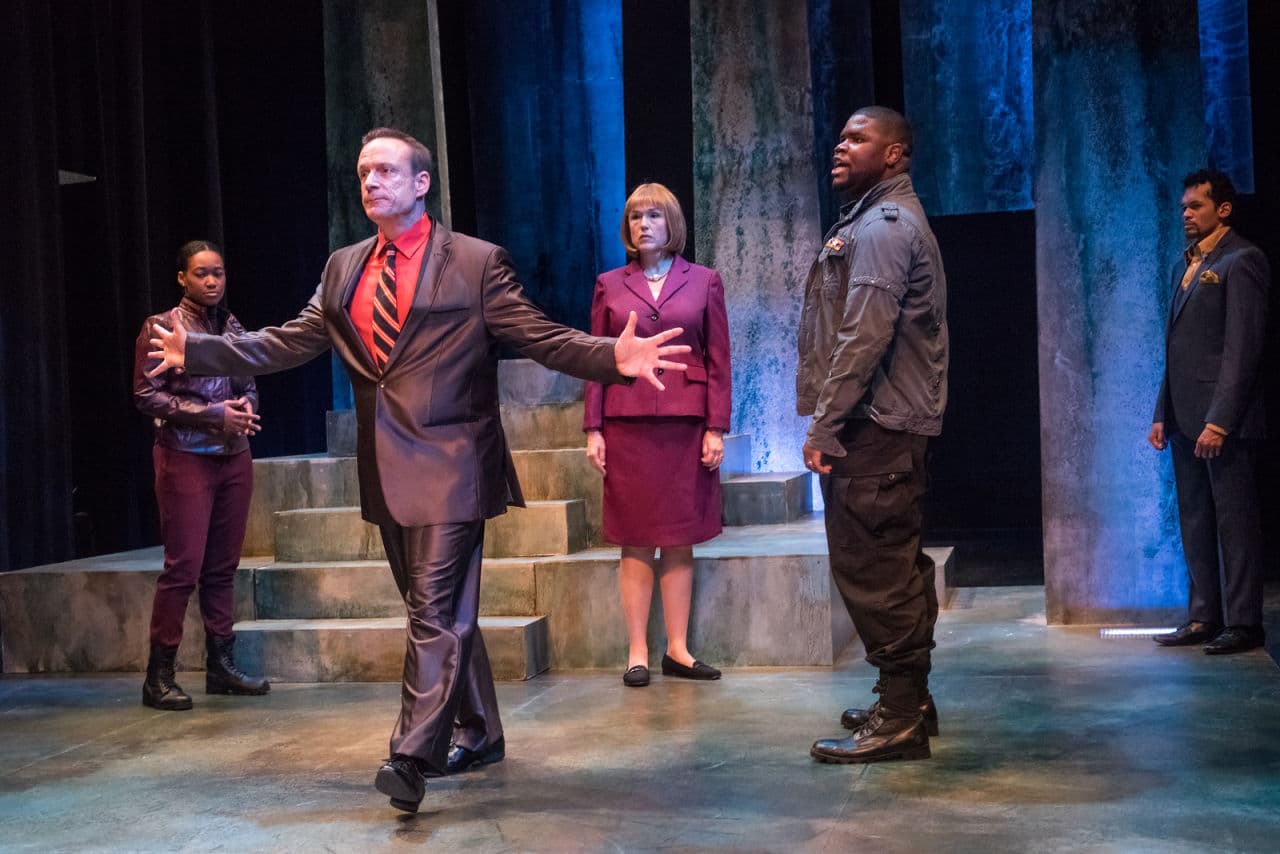 A stairway of what's made to look like stone blocks lends powerful upsweep to the stage's dimensions and creates opportunities for dynamic blocking, of which O'Leary makes good use. These are stairs such as lead to Senate chambers, or war councils; they are also stairs that grace a stately home, such as the one Othello shares with Desdemona. But Iago's hints and lies — and a purloined handkerchief, stolen to use as circumstantial evidence — poison home and marriage alike. The play makes much of how so many lives hang on nothing more substantial than a bit of lace.
Another of the play's built-in points of interest is the way anxiety around sexual fidelity — a topic of so much comedy through the ages — serves in this case to propel maddeningly inexorable tragedy. Overcome by fury — so mad that he's tipped into madness — Othello draws plans to have Cassio murdered by the always-helpful Iago while Othello himself kills Desdemona. In a lovely touch, Desdemona's bed slides out of the staircase, transforming that grand structure into an altar on which a faultless wife is to be sacrificed to jealousy and ambition.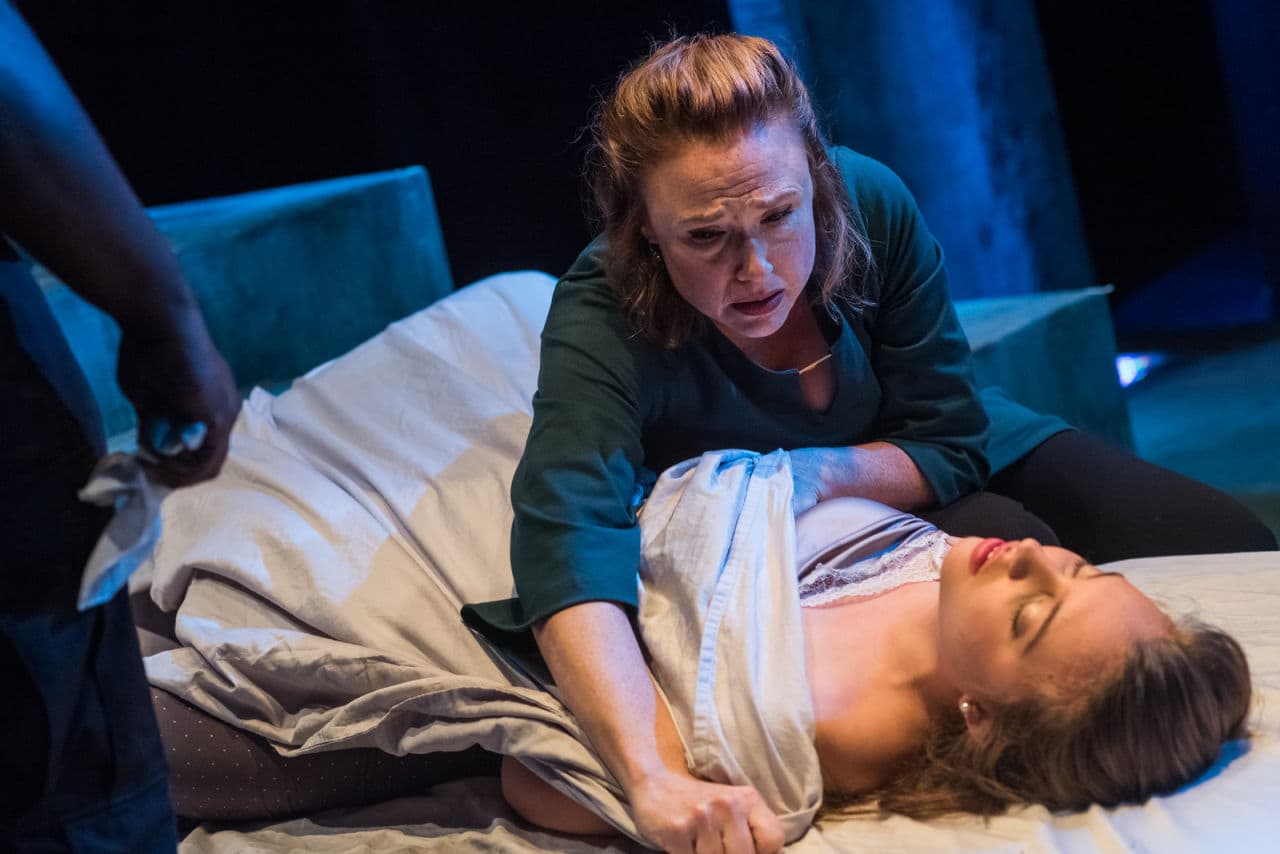 "Othello" runs to nearly three hours, and O'Leary and her cast imbue almost every moment of the run time with a gripping energy that spikes into jolting urgency. There are a few relative dead spots, though: There's a long scene in Desdemona's boudoir in which she and her maid Emilia (Jennie Israel) — who also happens to be Iago's wife — discuss the importance of monogamy.
The conversation is meant to build suspense — Will Othello go through with his intention to murder Desdemona? Instead we get some nicely done character development, seeing more of Emilia and being reminded of Desdemona's spotless moral character. The conversation's thesis is relevant and interesting, but it's death to the play's dramatic velocity.
Similarly enervating is the way Bari Robinson plays Roderigo, a foolish fall guy whom Iago bankrupts for his own gain and then tricks into doing his dirty work when it comes time to dispose of Cassio. Roderigo, as he's presented here, is so clueless and ineffectual that he's not believable; he doesn't even make for decent comic relief. Robinson does have a chance to show off his dramatic ability, summoning gravitas and authority in a second role, that of Desdemona's cousin Lodovico.
Also doing double duty is Elle Borders, who is positively martial as an officer named Montana, but who brims with feminine charm as Cassio's lover Bianca. We only see Bianca a couple of times, and briefly; she's brought in to service the plot. But Borders and MacDonald generate such memorable, untroubled warmth that one could wish Shakespeare had gotten around to penning a play centered on Bianca and Cassio — maybe something a little lighter than "Othello's" grim march toward a catastrophic body count.
"Othello" continues through Oct. 25 at the Modern Theatre at Suffolk University.
---
Kilian Melloy has reviewed film and theater for a number of publications, including EDGE Boston and the Cambridge Chronicle. He is a member of the Boston Theater Critics Association and the Boston Online Film Critics Association.