As Honk! Turns 10 Years Old, We Ask 10 Bands To Share Memories Of The Music Fest
Every October since its inception in 2006, Somerville's Honk! Festival has transformed the city into a giant brass band jam session. Ambulatory music troupes of various stripes — New Orleans second line bands, Balkan brass ensembles, Haitian rara bands — transfigure the staid brick New England sidewalks of Davis Square into a haven for stilt walkers and breakdancers and a veritable hurricane of music, all of it free to the public.
Originally envisioned as a gathering of "activist street bands," Honk has spawned a nationwide movement of grassroots music festivals with a focus on political and community engagement. In honor of the festival's 10th anniversary (Oct. 9 to 11), we asked 10 Honk veterans to share their favorite memories.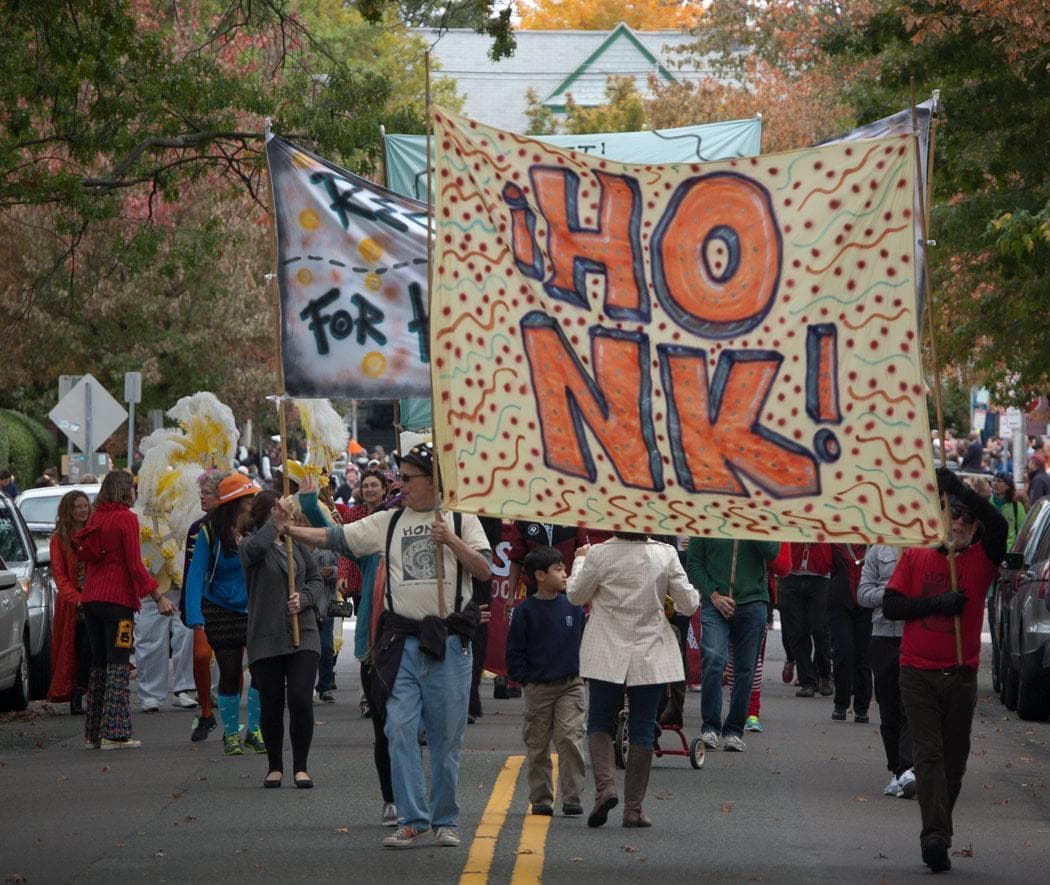 John Mayer of the Leftist Marching Band from Portsmouth, New Hampshire:
"I'll never forget the very first Honk in 2006. We had a friendship with Second Line Social Aid and Pleasure Society Brass Band, but otherwise had no idea what to expect from the festival. When we arrived in Davis Square for the opening ceremony, about 20 members of Brass Liberation Orchestra from Oakland, California, were warming up with 'Bella Ciao,' a song we also play. It was such a joyous moment to discover another band, and then more and more bands and players, all with a similar passion and energy."
---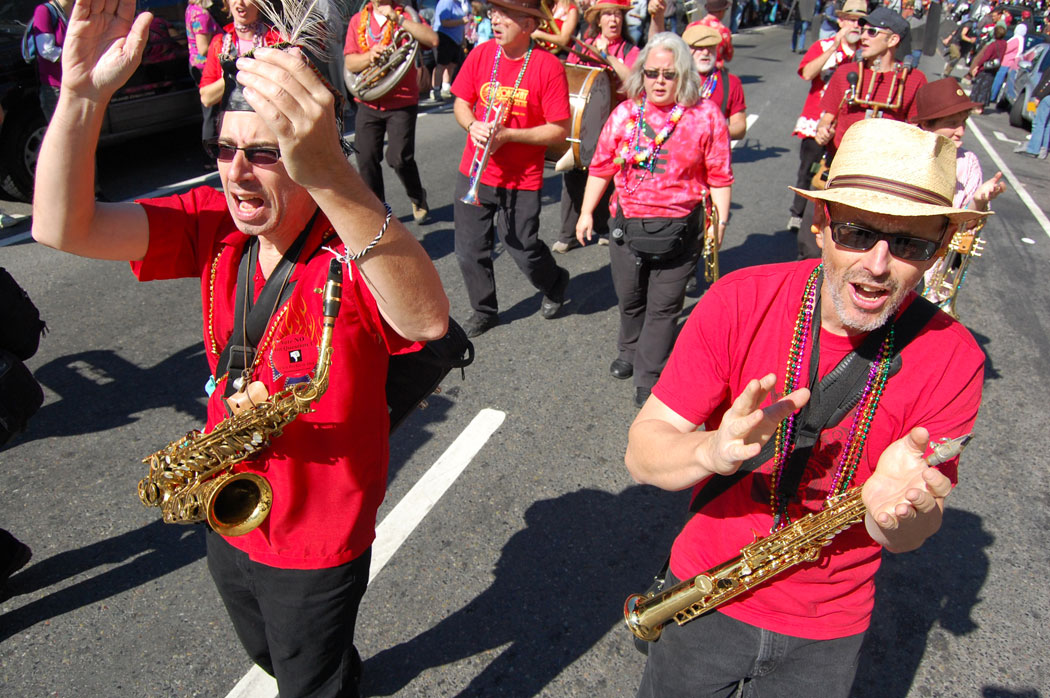 Kevin Leppmann of the Second Line Social Aid & Pleasure Society Brass Band from Somerville:
"We knew we wanted to have a final show Sunday night [of the first Honk Festival in 2006], and we knew as, kind of the democratic nature of the festival, that we wanted every band to have an opportunity to play. So we had a four-hour window at VFW Dilboy Hall and we wanted to find a way for all 11 bands that first year to play a blowout show. That meant basically 20 minutes per band. And everyone we talked to, including a lot of people from bands, and a lot of other music people in the city, were saying 'You're crazy. ... You're never going to get 11 bands to just march on and march off.'
"Our band, Second Line, was the first band, we opened the show. ... We paraded off for the next band at like 19 minutes and 30 seconds. And then for the entire rest of the evening, it was the same thing. Some bands kind of spontaneously transitioned from one to the other. So What Cheer? Brigade ended their set with their version of 'Push It', the Salt-N-Pepa tune. And then suddenly out of nowhere, Rude Mechanical Orchestra marched right in and What Cheer? Brigade marched right out. It was completely impromptu, spontaneous, but it worked like a charm. It was seamless, as they say. ... But at 12:05 that night we were done. And we realized that there were no egos involved, that every band wanted to play their hearts out for 20 minutes and then made their way for the next band. Every band respected every other band. And it was really extraordinary."
---
Marcus Santos of Bloco AfroBrazil from Boston:
"The first or second documentary (video above) of Honk, there's a moment where we are playing, there's this little kid called Elliot. I don't remember how old he was, he was maybe 7. He was really small. And he just came to the front of everybody and right in front of us, as we started playing hip-hop, he started breakdancing. And the crowd went crazy with him. He stopped the party with that skill. Then the following year there were 15 kids in front of us breakdancing! [laughs] He was somehow such a hit."
---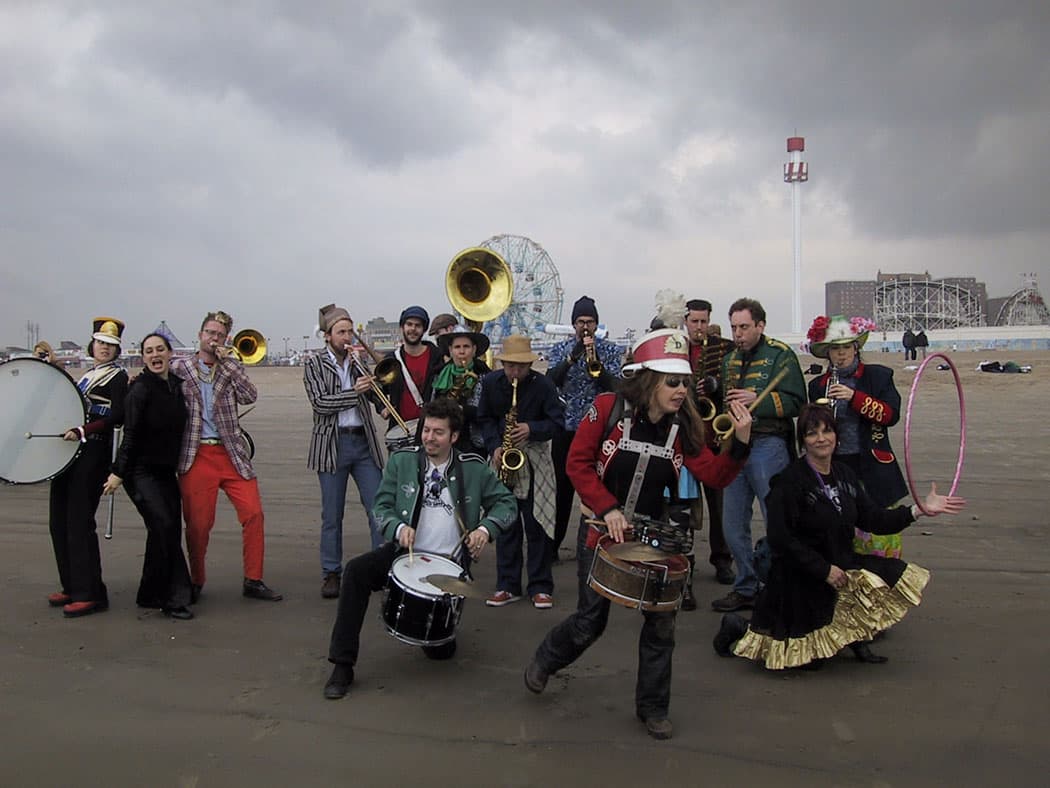 Cecil Scheib of Hungry March Band from New York City:
"I remember playing in Statue Park and having, of all people, Kevin Leppmann — who at the time I did not know was one of the organizers, at the time he was just some guy with a trombone — and someone in our band said, 'Hey Kevin, why don't you play with us, just for fun.' And his tone was so beautiful and every solo he took was so musical and it gave me new insights on songs in my band, to hear how Kevin interpreted them. And I just felt so blessed to be able to expand my musical ability. And then of course I became friends with Kevin as well."
"[One year] we stayed ... with a woman who was a long term activist in the neighborhood. And it felt like getting a peek into this other life. These posters from protests from the '70s. I think there were braids of garlic hanging from the ceiling and Black Panther posters. ... That's what is so great about Honk, it's not a festival where you go and you stay in a hotel and you just mix with the other people in your band. You meet the people in the community. And going for so many years, I feel a connection to Somerville and the people there."
---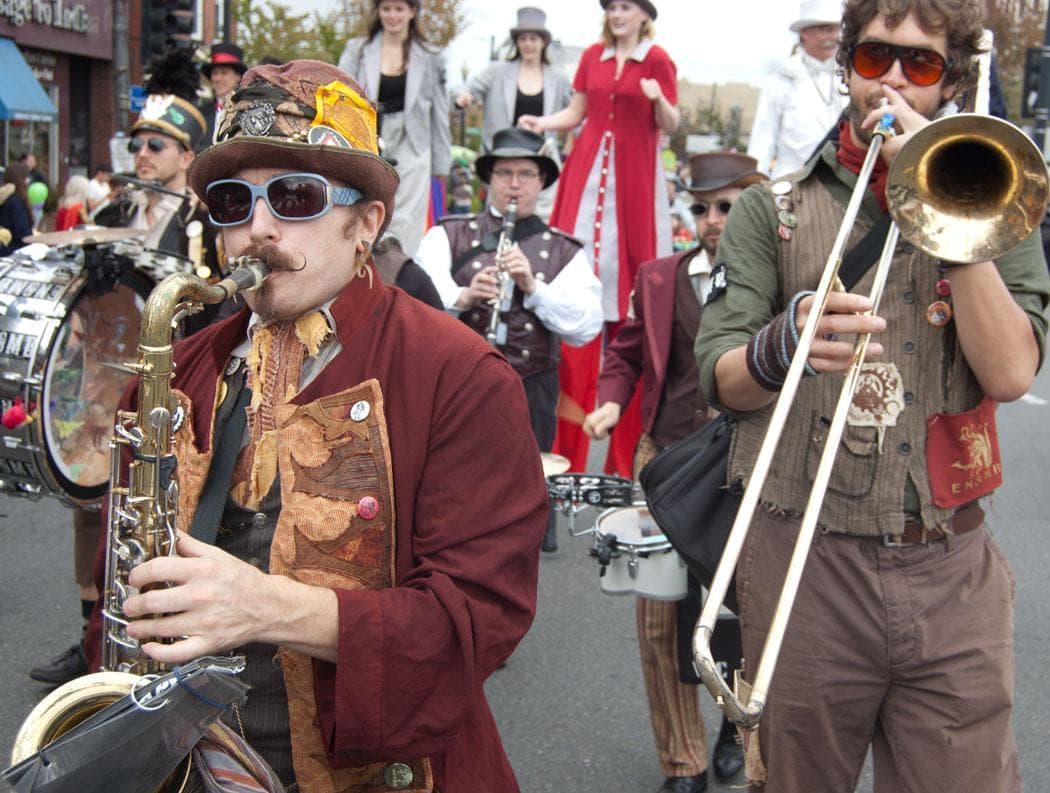 Chuck Lechien, Jr., of Emperor Norton's Stationary Marching Band from Somerville remembers when Honk had its final show on a boat in Boston Harbor in 2011:
"I don't think the boat actually left the dock as I recall, we were just sort of on the boat at the dock. It was so crowded. There was barely enough room on the boat for the bands, let a lone any sort of audience. It was one of those things that was a great idea, but then we only ever did it once because it was kind of unsustainable. That one I particularly remember. We were playing on the very top deck of the boat in the open air. The last band to play was What Cheer? Brigade. It was a group called Titanium Sporkestra, they're from Seattle, they were the next to last. And then What Cheer? Brigade came on and combined forces with them, and then paraded below decks. And everybody from the top decks followed them. And it was ludicrous. Because they are a complete balls-to-the-wall punk-metal [marching] band. Just imagine them and hundreds of audience members squeezed below deck. It was like a mosh pit. It was insane. But awesome. It was one of those things where you kind of fear for your life and your safety and when you survive it at the end you feel great. You're like, that was amazing! I didn't die, or lose an eyeball, or something like that."
---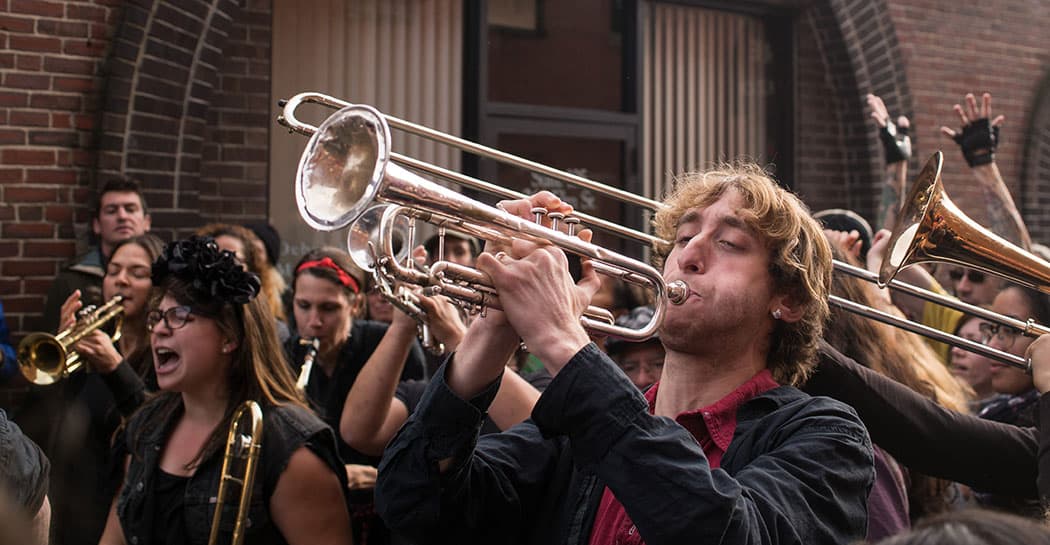 Dan Schleifer of What Cheer? Brigade from Providence:
"For us, we've always tried to use Honk as a chance to do something extra special. So typically it comes right at the end of our season because we tend to take the winter off. When members of our band have departed, usually the timing ends up being that Honk ends up being our last show. So we've said goodbye to a lot of band members at Honk, which is always really nice and bittersweet."
---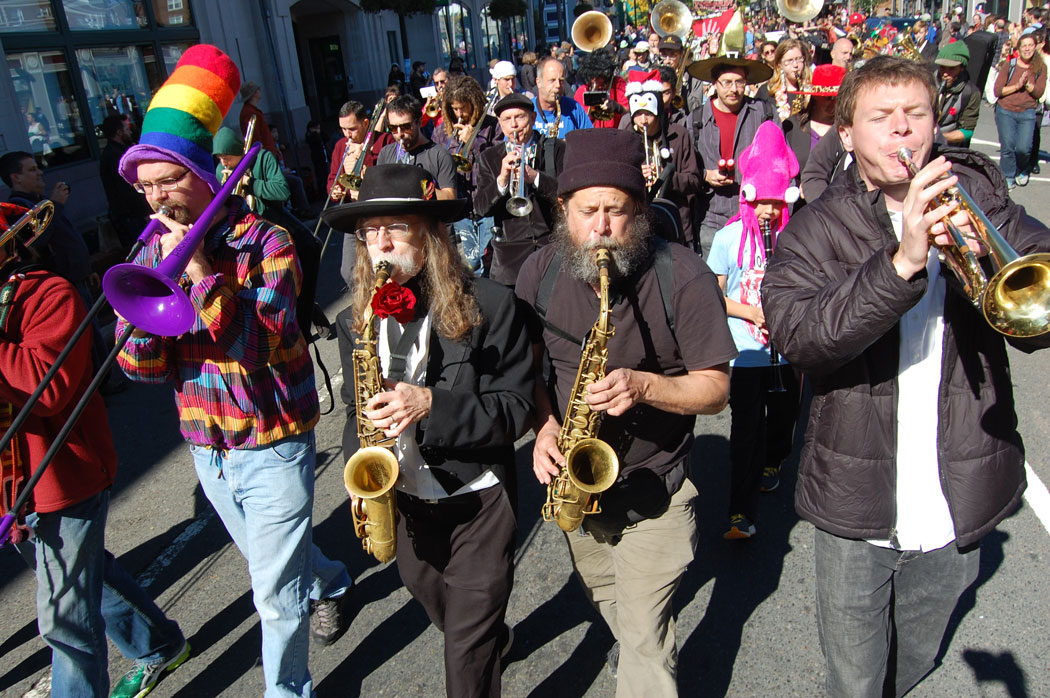 Ron Kelley of the Bread and Puppet Circus Band from Glover, Vermont:
"I really enjoyed the Pink Puffers from Italy. They were really fun. They had some really good music. ... Their theme song starts with this giant blast. And it just totally gets your attention. And then it gets pretty fancy after that, but the big blast is really what I remember the most."
---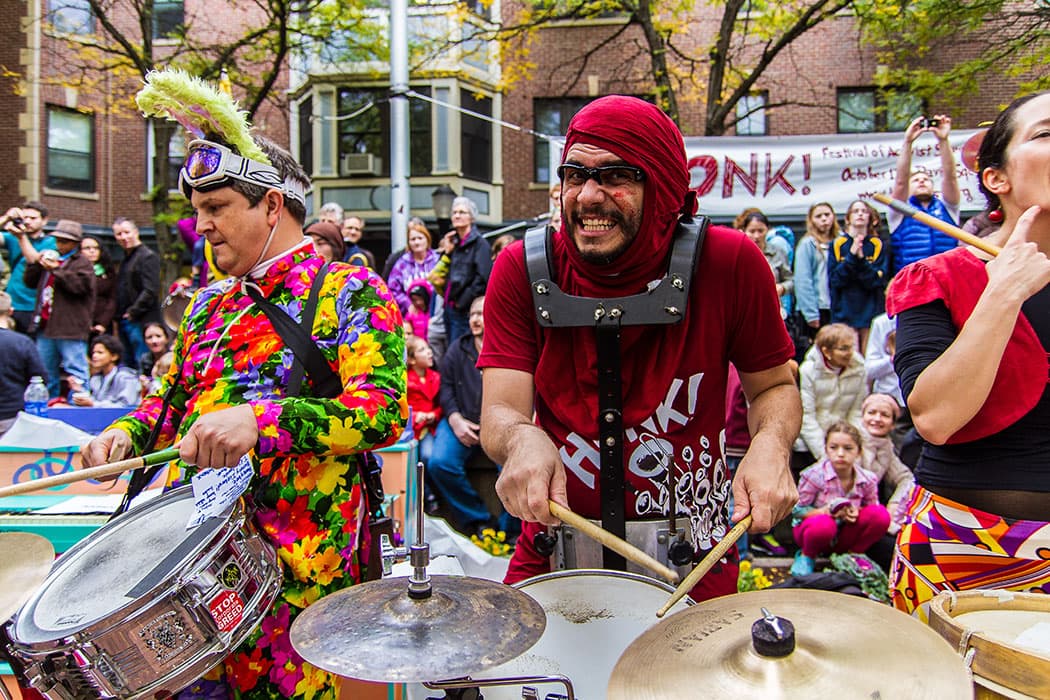 Mike Smith of Environmental Encroachment Marching Band from Chicago:
"I MC'd the 'Sousaphone Leg-Off,' a sexy leg and sousaphonist competition. This was a covert band event in the back coatroom of the Sanders Theater at Harvard, 2012, during the All-band Review. One of our sousaphonists from EE was challenging another sousaphonist from Texas to a sexy 'leg-off.' [Note: a 'sexy leg-off' is a competition to determine who has the sexiest legs. Obviously.] Our band created an event, to be 'performed' spontaneously. We made a graphic, and passed out some invitations to all the bands' tuba players. During the event we had to grab some as they walked by in awe. We had created a small spectacle in a large coat closet. Each sousaphonist was given a chair, and a time until the audience gave him the 1-2-3 countdown (about 20 seconds). There was an esteemed judges panel that announced the Super-5 and the winner."
---
Lily Paulina of Rude Mechanical Orchestra from New York City remembers joining Boston group Resist the Raids to protest outside Boston's South Bay Detention Center in 2013 where U.S. Immigration detainees were on a hunger strike. (The Rude Mechanical Orchestra will again protest outside the Detention Center at 7:30 p.m. Sunday, Oct. 11.)
"There's a walkway on the side of highway. So climbing up some stairs and getting onto the walkway that's next to the highway actually puts us at eye level with a few stories up of the detention center that is managed by ICE [Immigration and Customs Enforcement], where there's ICE detainees. So we are actually on a level with prisoners who are a few stories up, and able to see them in the windows. And those folks inside, when they have heard the music and the chanting sometimes blink their lights on and off. Some people write signs that they put up in the windows. Some people write signs about how many years they've been detained, how many years without getting a trial or representation. And some people just dance, so there are silhouettes of people in the windows. People write hearts on pieces of paper. It's a very powerful connection to see that people are grateful to have the support and the music outside."
---
Patrick Symby of DJA-Rara from New York City:
"I'd say my best memories would be 2013. I had been going to Honk for like two years before that, but [that was] when I really got caught up with the Honk Festival, started having these emotions, these feelings about it. ... There was this other band, they were right after DJA-Rara [in the parade], and then we started playing with them. Then for some reason it feels like it doesn't matter what song we were playing, because they played the same way we were playing, even if we weren't playing the same instruments. Even though it wasn't the same instrument, it was the same note. It was the same melody, everything was — it was like we became one band. ... And then from that moment I felt like the Honk Festival was becoming home."