Artist Behind Mural On Former Hancock Building Wants To Take Your Photo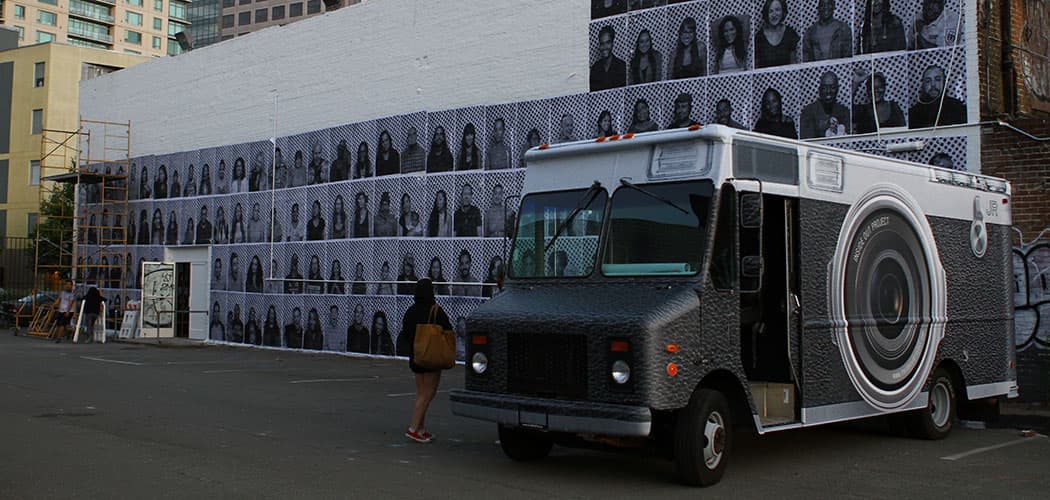 This article is more than 5 years old.
The secretive street artist behind the giant photo-mural that appeared high up on the side of the former Hancock Building in late September has another project coming to Boston.
On Wednesday, Oct. 7, a delivery truck with a photobooth inside will be at the Dudley branch of the Boston Public Library to take photos of visitors from about 11 a.m. to 6 p.m. The "Inside Out Photobooth" is one of a number of photo trucks stationed around the globe that the French street artist JR, who is known for making giant black-and-white photo-murals, created with money he got for winning a 2011 TED (as in the TED Talks) Prize. JR isn't expected to be taking the photos himself, but anyone can just show up at the library to participate. It's free. The images will be instantly printed out as 3-foot by 5-foot posters and pasted across the exterior of the building at 65 Warren St. in Roxbury.
"We're going to be highlighting the faces of Dudley," says Kate Gilbert, director of Now + There, a Boston nonprofit producer of public art, which is one of the local groups collaborating on the project. Though just who's involved is somewhat mysterious. The folks operating the JR's "Inside Out Photobooth" decline interviews and most everyone else is mum. "It's actually purposely a little ambiguous."
---
Update at 11:30 a.m. Wednesday: Organizers just announced the photobooth truck will also be taking people's photos for free at the Back Bay T Station from 11 a.m. to 6 p.m. on Thursday, Oct. 8. The truck is expected to be at 145 Dartmouth St. The photo posters will then be pasted to the Clarendon Street side of the building.
---
JR -- it's been revealed after some initial mysteriousness — is behind the black-and-white photo-mural of a man in a swimsuit standing atop a floating raft that appeared late last month, 150 wide and 86 feet tall, on the 44th to 50th floor windows of the former John Hancock Tower. The blue glass of the building, which is owned by Boston Properties at 200 Clarendon St. in Boston's Back Bay, becomes water around the raft.
"We're really excited to make that connection with this big piece of public art that's showing this unknown man in JR's signature style," Gilbert says. "We're using that same tool to show the faces of Boston.
"I see art like JR's 'Inside Out Photobooth' as a fun way to grab people and engage them in ways that are fun and playful," Gilbert adds. "While that's happening we can start having a conversation about Dudley. It's in transition. … Every time someone pulls in with a crane, there's a lot of questions about the future of Dudley."
Now + There is partnering with Cedric Douglas's Up Truck, an art workshop on wheels based around Boston's Uphams Corner, to record brief interviews with people waiting to have their photos taken. "We're going to be asking questions about what's positive about their community and themselves," Gilbert says.
About a week later, they plan to add quotes from these interviews to the photo-mural at the library. The mural is expected to stay on the building for a couple months—until weather or people begin to wear them away. The photos will also be featured on JR's website. And they aim to make a book of the whole thing that will eventually be available at the Dudley Library.
---
Greg Cook is co-founder of WBUR's ARTery. Follow him on Twitter @AestheticResear or on the Facebook.
This article was originally published on October 06, 2015.