Police Arrest Activists Protesting Construction Of Pipeline In West Roxbury
Resume
Boston police on Tuesday arrested three people protesting the construction of a 5-mile-long natural gas pipeline in West Roxbury.
Chuck Collins, the Rev. Martha Niebanck and the Rev. Anne Bancroft were detained as they protested on Washington Street alongside about a dozen other activists.
Paul Horn, of West Roxbury, is one of some two dozen protesters who have promised daily demonstrations to disrupt the Spectra Energy pipeline's construction. He said the three individuals planned to be arrested Tuesday "for acts of civil disobedience."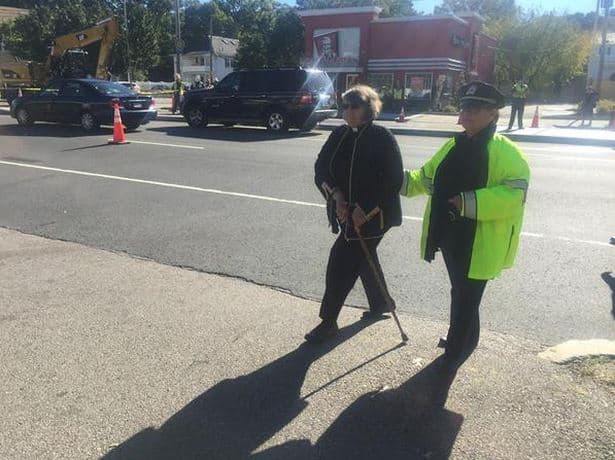 The new high pressure natural gas pipeline is expected to run through West Roxbury and Dedham.
Opponents say because the pipeline will rest in front of the West Roxbury quarry — where rock blasts occur — it cannot be considered safe.
"This is the worst possible placement for this kind of a station, and we can't believe it has come this far," said Nancy Wilson, one of the protesters. "So we're taking it to the streets to show our direct and severe opposition to this project."
Quarry supervisor Ed Sonia says the company has been operating safely for more than 125 years and that he isn't worried.
"The blast is not going to interfere with the gas line," Sonia said. "There's an existing gas pipe out there now that's been in the ground for 30 years. What's the difference?"
The difference, opponents say, is that the existing gas distribution pipes are low pressure — just 22 pounds per square inch. The new pipeline will be 750 pounds per square inch.
Officials from National Grid, which backs the pipeline, have said that any rock blasts by the quarry will not affect the proposed pipeline.
But that isn't satisfying opponents. As police drove off with the three arrested protesters on Tuesday, opponent Horn promised more demonstrations and acts of civil disobedience.
This article was originally published on October 06, 2015.