A Powerful 'Mr. Joy' At ArtsEmerson Asks The Right Questions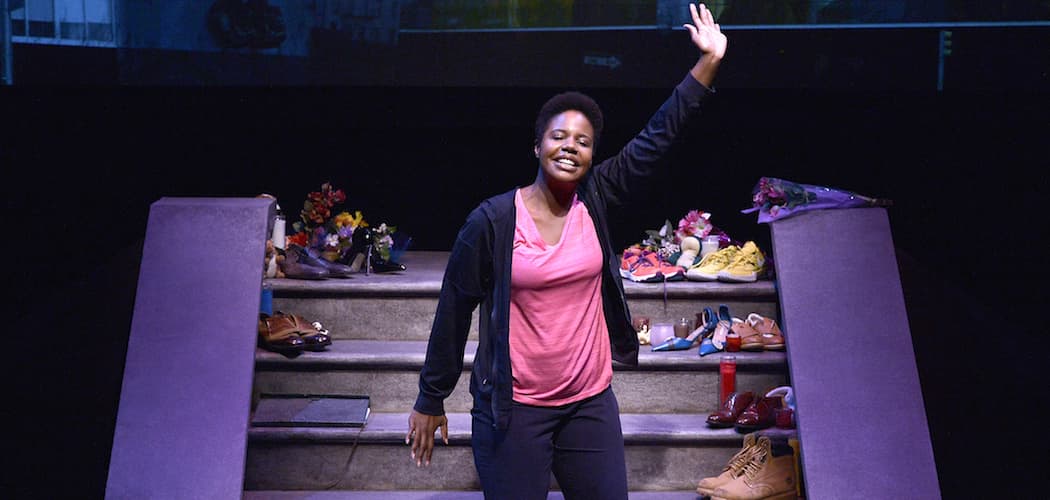 This article is more than 6 years old.
Something many white people (like myself) don't always understand is how easy it is to see one's own culture as the nation's default setting, and understand other ones in terms of their distance from this apparent norm. Like a fish who doesn't know what water is, it's easy for a white American to walk around all day oblivious to race.
It's a well-intended notion to try to see "beyond" race, to a culture where it doesn't matter — remember the "postracial" era predicted by some upon Barack Obama's election in 2008? — but that world almost necessarily would be one where minority cultures are swept into the dominant one, rather than understood as something distinct. What the Black Lives Matter movement, and the national conversation within which it's happening, reminds people like me is that the best way to talk about race is to talk about race — to emphasize, rather than downplay, its importance. Because the truth for those not in the majority is that one's ethnicity indeed matters, every day. There's water, water, everywhere.
"Mr. Joy," Daniel Beaty's quietly thrilling one-person show playing at ArtsEmerson through Oct. 18, describes the world through that lens. In its opening moments, an 11-year-old girl named Clarissa is looking for the titular man, proprietor of a shoe repair shop in Harlem. "Mr. Joy," she calls out, "you a Chinese, you ain't supposed to be late. Your people are very punctual and good at math. [Don't] let me find out you turning 'hood'!"
Later, a 16-year-old boy performs a poem called "A Black Boy Speaks," a real estate magnate self-consciously asserts his right to be both black and Republican, and a white woman from the Upper East Side who is trying to get pregnant describes her strategy thus: "I eventually chose a [sperm] donor who is half black and half Chinese. It's the best of all worlds. [And] he'll have my European blood, yay!"
All of these people are played by Tangela Large, a drastically talented actress who trained at Trinity Repertory Company and is taking full advantage of her first major role in Boston. She fully inhabits each of nine characters, with voice and body work that conjures not only the demographic basics of this eclectic crew, but distinct people. It's a performance that couldn't be more confident. Director David Dower, who is also artistic director of ArtsEmerson, has worked with playwright-performer Beaty on the show before. He shows a hair-trigger sensitivity to its rhythms and nuances, and steers Large through scene and character transitions that are strikingly fluid.
The setup here is that Mr. Joy, a popular neighborhood figure, is in the hospital after being violently attacked. Through a tour of his impact on the people around him, we meet a sampling of characters meant to communicate the various social forces at work in Harlem and, by extension, the country.
Here's a look at Beaty talking about a previous production of "Mr. Joy."
Make no mistake, Beaty is aiming for bleeding-edge social relevance — references to Ben Carson and Rachel Dolezal were inserted for this production — and the lives of these characters fit a bit too conveniently into a jigsaw-puzzle portrait intended to represent Black Life in America. But that's a quibble. This play stakes out its ambitions and then fulfills them.
Dower told me, in an interview for a different story, that he wanted to take advantage of home turf to offer Large more than the stool-and-a-microphone staging familiar in the world of solo performance. The chief set piece here is a set of stone stairs implying the front stoop of Mr. Joy's shop. (Kris Holmes is credited as set consultant.) Shoes, with notes attached, are lined on the steps alongside some flowers. Josh Lehrer's projection design creates a sort of tone poem on a large upstage screen, displaying still images from Harlem neighborhoods with bits of video animation subtly mixed in. Scott Pinkney's lighting is effective as well.
Lindsay Jones' sound design is excellent, full of ambient street sounds that both help with scene transitions and reflect the emotional states of given characters. On the latter point, a rare misstep comes when Dower calls on Jones to get too heavy-handed; Large's emotionally eloquent performance is actually undercut a bit by some very on-the-nose sound cues, particularly in a climactic moment.
Does "Mr. Joy" offer many answers? I don't think so, despite one rather didactic speech late in the play. But its questioning is vigorous. And that's a start.
---
Jeremy D. Goodwin contributes regularly to The Boston Globe, The ARTery (where he is also an editor), Berkshire Magazine and many other publications. See more of his work here. Follow him on Twitter here.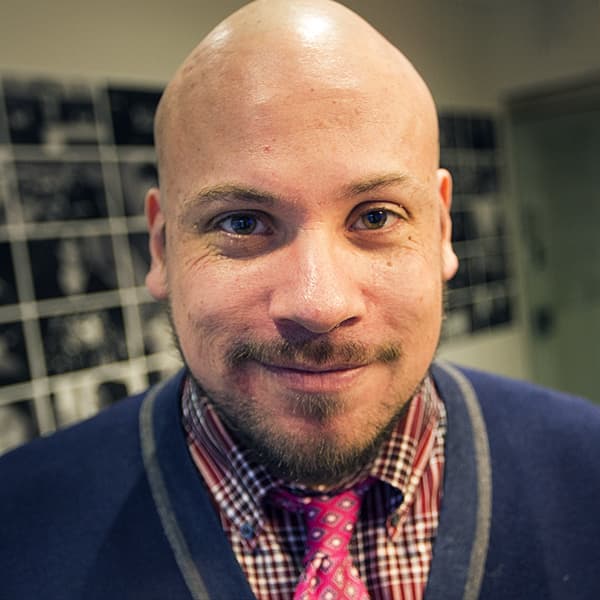 Jeremy D. Goodwin Contributor, The ARTery
Jeremy D. Goodwin was a writer and critic for WBUR's The ARTery.