Overdose Deaths From Opiates May Be Down In Mass. — But It's Too Early To Say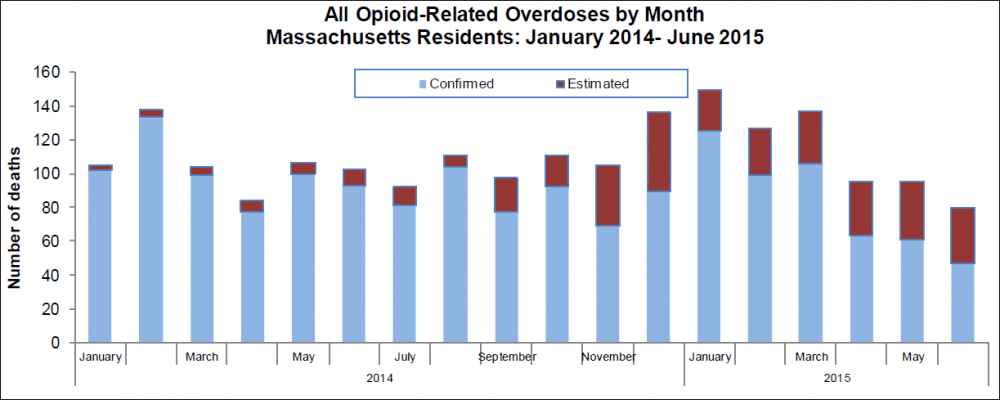 This article is more than 5 years old.
The bars to the far right of the above chart could signal a really good story. They might show that the number of unintentional opioid overdose deaths is dropping after a period of historic highs. But hold those sighs of relief.
It does look like the trend is moving in the right direction, "but a three-month time is really too short to say that," said Department of Public Health Commissioner Monica Bharel. "The epidemic continues to take a heavy toll on our residents."
The overdose death numbers are fluid. Take a look at the data posted this summer by the Baker administration -- which, by the way, is fulfilling a promise to release updates quarterly rather than every two years, as had been the rule. Back in July, it also looked like the number of men and women dying after a lethal dose of heroin or other opioid-related use was on the decline. But the data out Wednesday shows that was not the case.
And the Baker administration isn't sure if the final numbers for April, May and June will look much like the bars on the preliminary chart above. To get overdose death updates out more quickly, the administration is using a new model that estimates a large percentage of the deaths. The revised numbers have been on the high — not low — side for the past year, but it's not clear if that trend will continue.
The sobering tally from last year — 1,256 deaths — is close to final and includes an overdose death in almost every city and town in Massachusetts. Eighty-seven of the men and women who died were from Boston, 42 were from Worcester — the state's two largest cities. Taunton lost 17 residents. Malden lost 16.
Some doctors are asking for more information about the drugs that lower respiratory or heart rates in these men and women and lead to death. There are stories about those struggling with addiction who combine heroin with a benzodiazepine (such as Klonopin), or a pill used to treat hypertension, to create a more powerful or prolonged high. Some patients say it's the combination that produces a fatal overdose.
"I think it's a big problem," said Dr. Jim O'Connell, president of the Boston Health Care for the Homeless Program. "[We've] just been scratching the surface. It's really important to understand what other meds might be used in combination with heroin."
O'Connell says he asks patients what some of these pills are selling for on the street to try and get a sense of what's in demand. O'Connell would like more information from the state Medical Examiner's Office about what they see in autopsy reports.
"We as doctors don't have a good sense of what we should or shouldn't be prescribing," O'Connell said. "I'm convinced it's not just the opiate but the combination of other drugs that will be the battleground down the line."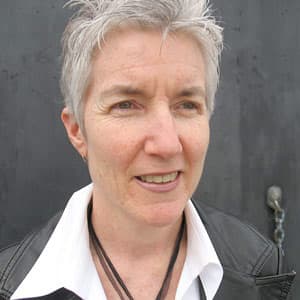 Martha Bebinger Reporter
Martha Bebinger covers health care and other general assignments for WBUR.