Clinton Gains Steam, And 4 Other Takeaways From Our New N.H. Poll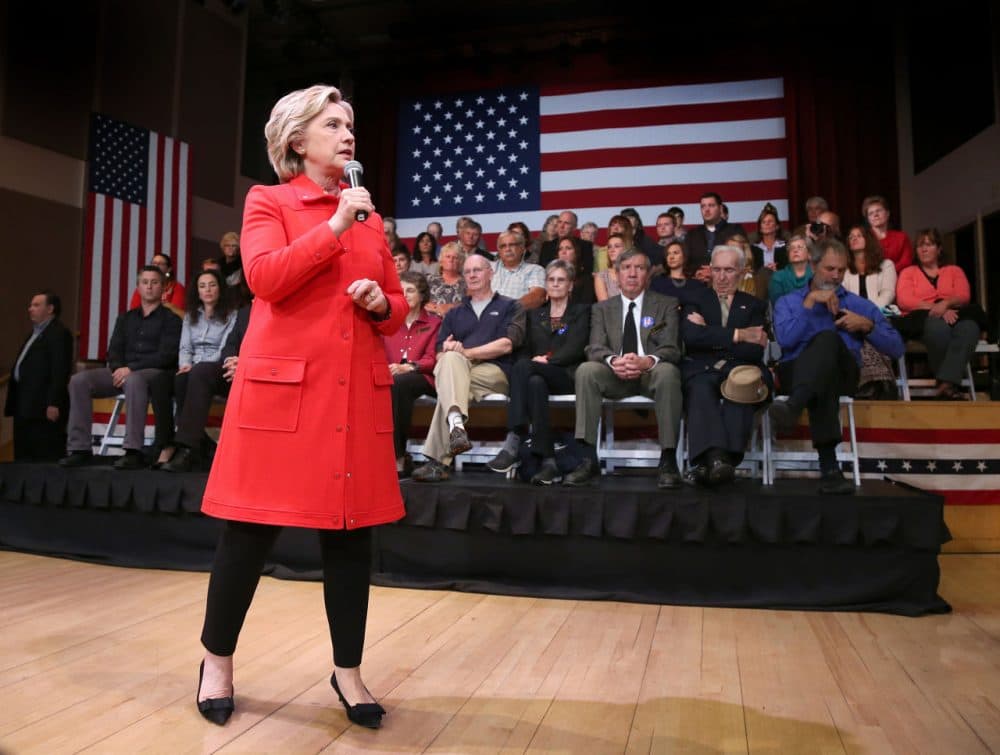 This article is more than 6 years old.
A new WBUR poll of the New Hampshire Democratic presidential primary (topline, crosstabs), released Wednesday, shows Hillary Clinton increasing her lead following last week's Democratic debate.
Here are the five most important takeaways from the survey:
1. Clinton gains steam in New Hampshire after a strong debate performance.
Most post-debate polls show former Secretary of State Clinton as the clear winner of last week's debate. Her strong performance also shows up in her numbers in New Hampshire, where she gained seven points since the September WBUR poll. Headed in the other direction is Vice President Joe Biden, who lost five points. Vermont Sen. Bernie Sanders held steady on most measures, which will not be adequate if Biden supporters continue to move toward the Clinton camp.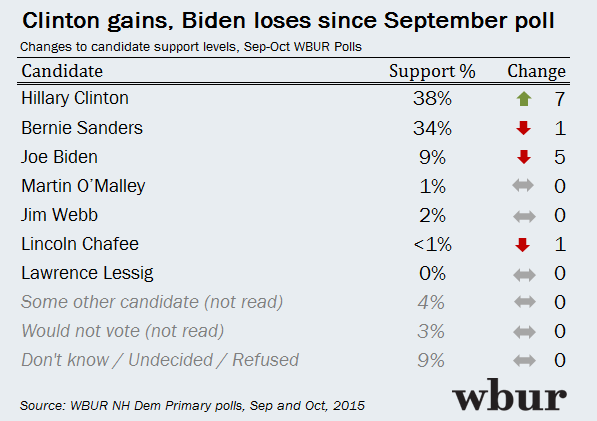 ---
2. The Clinton bump is built on perceived electability.
Since September, more voters have come to see Clinton as the candidate who can win next November. She has been dogged by concerns about her honesty and trustworthiness, stemming most recently from questions about her use of a private email server while serving as secretary of state. She has also never done as well as Sanders on the question of understanding everyday people. The debate didn't change either of those perceptions. But her commanding performance was another step toward unifying the Democratic base around the idea that she is their best shot to keep the White House next year, a key argument for her candidacy.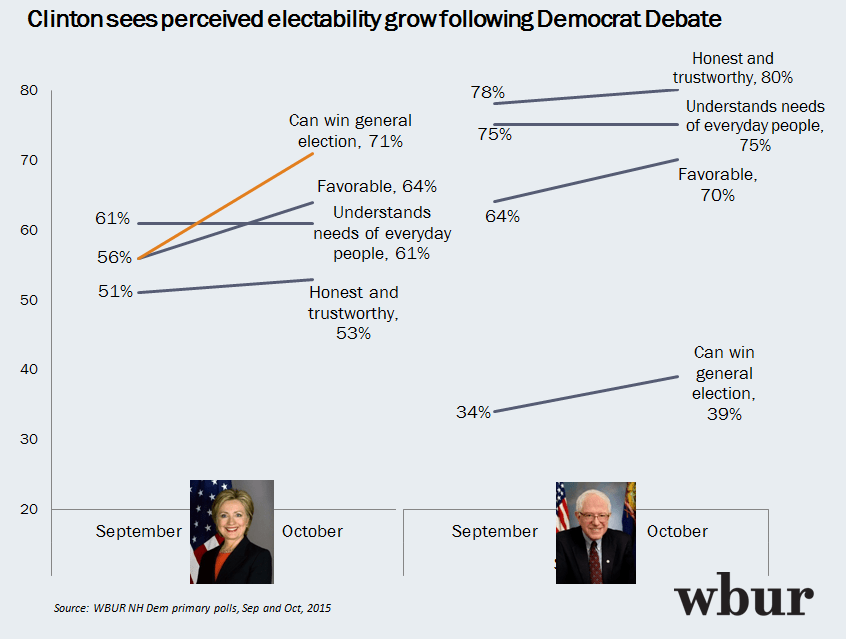 ---
3. Sanders needs New Hampshire to have any plausible shot.
Falling behind in one state doesn't always matter as much as it does in this case. But New Hampshire has been the only early state to give the Vermont senator a steady lead and represents his best shot at an early win. With the state's white and liberal electorate, if he can't win here, it becomes hard to see a path forward. Of the other three early states, Sanders has trailed in most Iowa polls, and gets crushed in South Carolina and Nevada. Nationally, he has never led in any poll, and currently trails Clinton by 22 points, according to the Real Clear Politics average.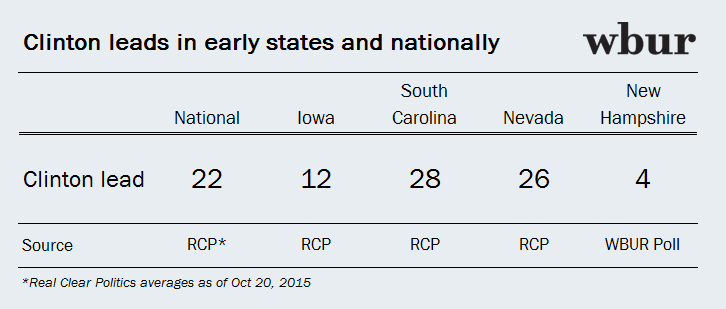 ---
4. Biden is slipping as time ticks away.
(Update: Biden announced Wednesday he's not running for president.)
As Biden considers whether to get into the race, delays appear to be hurting voters' perceptions of him. His favorables have fallen 11 points since September, and his unfavorables have risen by nearly the same amount. At the same time, voters are not pining for more candidates in the Democratic field. Nearly three quarters of New Hampshire Democratic primary voters say they are satisfied with the current field. Nationally, just 30 percent of likely primary voters say Biden should get in.

---
5. The Democratic debate sent also-ran candidates into freefall.
In addition to the Clinton/Sanders match-up, the debate also provided the three second-tier candidates an opportunity to introduce themselves to a national audience. It was ugly. All three did serious damage to their already-long-shot prospects, seeing their net favorables plummet into negative territory. Former Rhode Island Gov. Lincoln Chafee may have compared himself to a block of granite, but Granite State voters weren't buying it. His net favorability has dropped to the bottom of the quarry. Jim Webb spent a good deal of his debate time complaining about how little of it there was, and announced Tuesday he will drop out of the Democratic contest.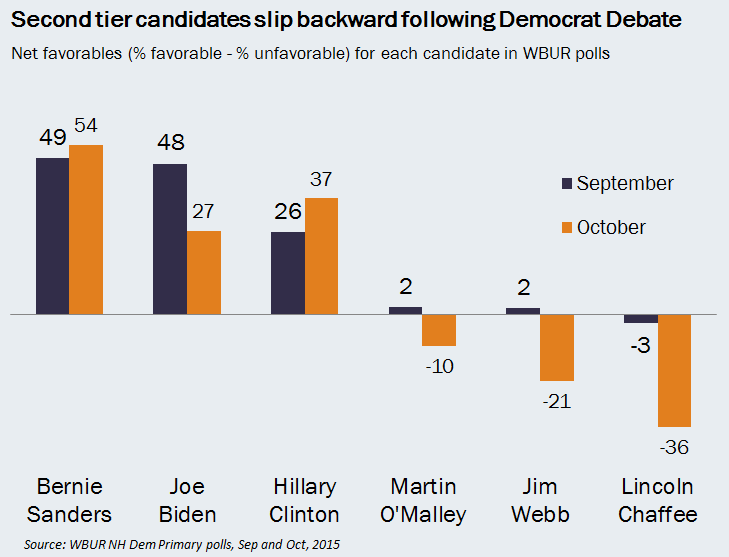 Steve Koczela is president of The MassINC Polling Group and a regular contributor to WBUR's Politicker. Follow him on Twitter @skoczela.
This article was originally published on October 21, 2015.