WBUR Poll: Clinton Rises Again In New Hampshire
Resume
Hillary Clinton's star is rising again in New Hampshire, while Bernie Sanders may have hit a wall in the first primary state.
A WBUR poll just a month ago had the Vermont senator leading the former secretary of state. No more.
A new WBUR survey (topline, crosstabs), conducted Thursday through Sunday, finds the two have swapped places, with Clinton leapfrogging Sanders by 4 points among likely Democratic primary voters.
That's a lead within the poll's 4.9 percentage point margin of error.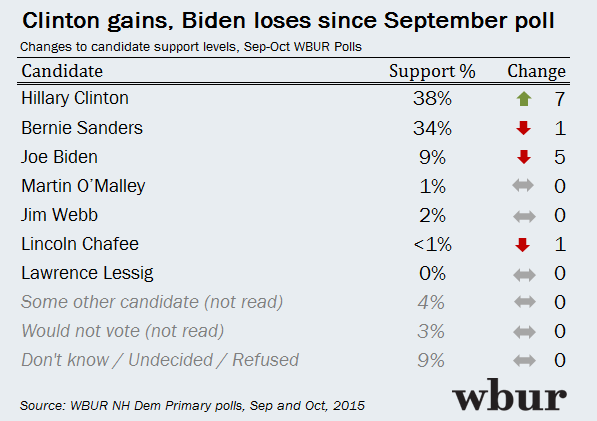 Sanders' level of support may be lapping at a high-water mark in New Hampshire, but he hasn't actually lost much support. Instead, Clinton's new momentum comes at the expense of Vice President Joe Biden, who still hasn't decided whether to jump into the race. (Update: Biden announced Wednesday afternoon he's not running for president.)
"The big change we're seeing here is support shifting from Biden to Clinton," said Steve Koczela, president of The MassINC Polling Group.
Koczela says the WBUR survey seems to bear out speculation that Clinton's performance in the first primary debate, which happened last week, has reassured cautious Democratic voters.
"People seeing Clinton in the debate and thinking, 'OK, we don't really need Joe Biden now. She really is electable. She seems to be the person that we remember and we remember why we like her now,' so, 'thanks but no thanks' to Joe Biden," Koczela said. (Here's more from Koczela.)
Counting firm choices and those leaning toward a particular candidate, Clinton was the preference of 38 percent of likely primary voters -- which includes both Democrats and independents. That gives her a 4-point advantage over Sanders now, and she'd beat Biden by almost 30 points.
"I think she has a vast amount of very useful and valuable experience," said Elaine Schmottlach -- one of the 401 likely voters polled for WBUR.
Schmottlach says her heart had been with Sanders, but she's decided to vote for Clinton because she thinks she stands a better chance at winning the general election.
"And she's very bright, has a tremendous amount of energy, has fire in the belly — as does Bernie, which I appreciate," Schmottlach added. "And I love the idea of a woman being president."
Clinton's gender could play a big role in the primary race. In the WBUR survey, Clinton trails Sanders by 12 points among men, but leads him by 17 points among women.
Sanders still has his strong partisans. And he's within the poll's margin of error. Still, there seems to be a sense of Clinton's inevitability setting in.
Londonderry independent voter Debra Manning is one of the many poll respondents who favors Sanders but sees Clinton as the likely Democratic nominee. Manning's a bit rueful about it.
"I don't think enough people are either, a: taking him seriously, or I think a lot of people will just vote for Hillary because they figure, 'Well, she's got the most money and she's probably going to win anyhow and I want to back the winner,' " Manning said.
And you can't count Biden out just yet. Gwendolyn Citarella, of Stratham, says Sanders is too far left, and she worries that Clinton is too polarizing,
So Citarella told the WBUR pollsters she'd vote for Biden. But she's also inclined to give him a pass, if he wants to take one.
"I respect the man and a part of me just wants him to not put that on his plate and have an easier time of it over the next years," Citarella said.
Citarella also says Biden's late entry might throw the party into disarray, harming its eventual ability to win the White House.
And keeping that prize out of Republican hands? That's one thing most of the poll's independent and Democratic respondents can agree on.
This article was originally published on October 21, 2015.
This segment aired on October 21, 2015.