StoryCorps: 'Southie' Father, Daughter Recall Memories Of Boston's Rainbow-Painted Gas Tank
Resume
John O'Connor tells his daughter, Eileen O'Connor, about his memories of growing up in South Boston, or "Southie," and of the landmarks in the area, including Corita Kent's "Rainbow Swash." John's family emigrated from Ireland to New York in 1949, and John was born in Boston in 1950.
---
TRANSCRIPT:
EILEEN O'CONNOR: Can you tell me about your first memories of "Southie," South Boston?
JOHN O'CONNOR: My first memories were actually, hard to believe, but I remember sitting in the baby carriage at Castle Island. And I know it was there, because they have the same green railing with the little curvy top to it. I remember just staring that. I can actually remember just about where I was, because of where the ocean turned. So I can show you the point on Castle Island. So that's my first memory.
EILEEN: Most of your childhood was spent in Dorchester, right?
JOHN: Yeah, when I was 5 we moved just only about a mile over the Dorchester line. The street we moved to in Dorchester — St. Margaret Street — was right behind a church, St. Margaret's Catholic Church, and a nice little, Irish, Polish, Italian neighborhood.
EILEEN: Tell me about the kids that you played with, or hung around with.
JOHN: Most of the kids were very nice. In the morning, there'd be like 40 or 50 kids out in the streets instantly — there were so many kids. We'd just wander off and form either a baseball game or different activities just to keep ourselves busy.
And we were young, and we were doing things that when you look back and say, "wow, we were stupid." We used to do some terrible things. We used to throw firecrackers into people's windows at night if their window was open.
EILEEN: But your purpose wasn't to hurt them, you just wanted to frighten them?
JOHN: Just to frighten them and get them to call the police, and if the police came, then it was a fun night. We could run and hide. It was just a game.
EILEEN: Can we talk a little bit about the Boston gas tank?
JOHN: Sure.
EILEEN: So it was painted with those colorful swashes in 1971, which would make you 20 or 21 years old. Do you remember when it was painted? Was it on your radar at all?
JOHN: Well I had certainly seen it many times, and probably saw it a few times when it was not quite finished. You know, when I see it today, I think it's really beautiful. Back then, I didn't like it.
I had grown attached, as a kid, to an old tank. There was this big, big, gray tank that just had a strange shape. It was sort of supported by internal beams that came up and then they became visible at the top and then they curled outwards, like a candy cane, picture. It was huge, it was bigger than the one that's there now.
And as a little kid, I thought those things looked like the head of a brontosaurus, and in my mind, there were dinosaurs inside there, as a little kid. And when they took that away, I missed it. It was something from my childhood. You know, I learned later that it was a nun who was the artist, I think.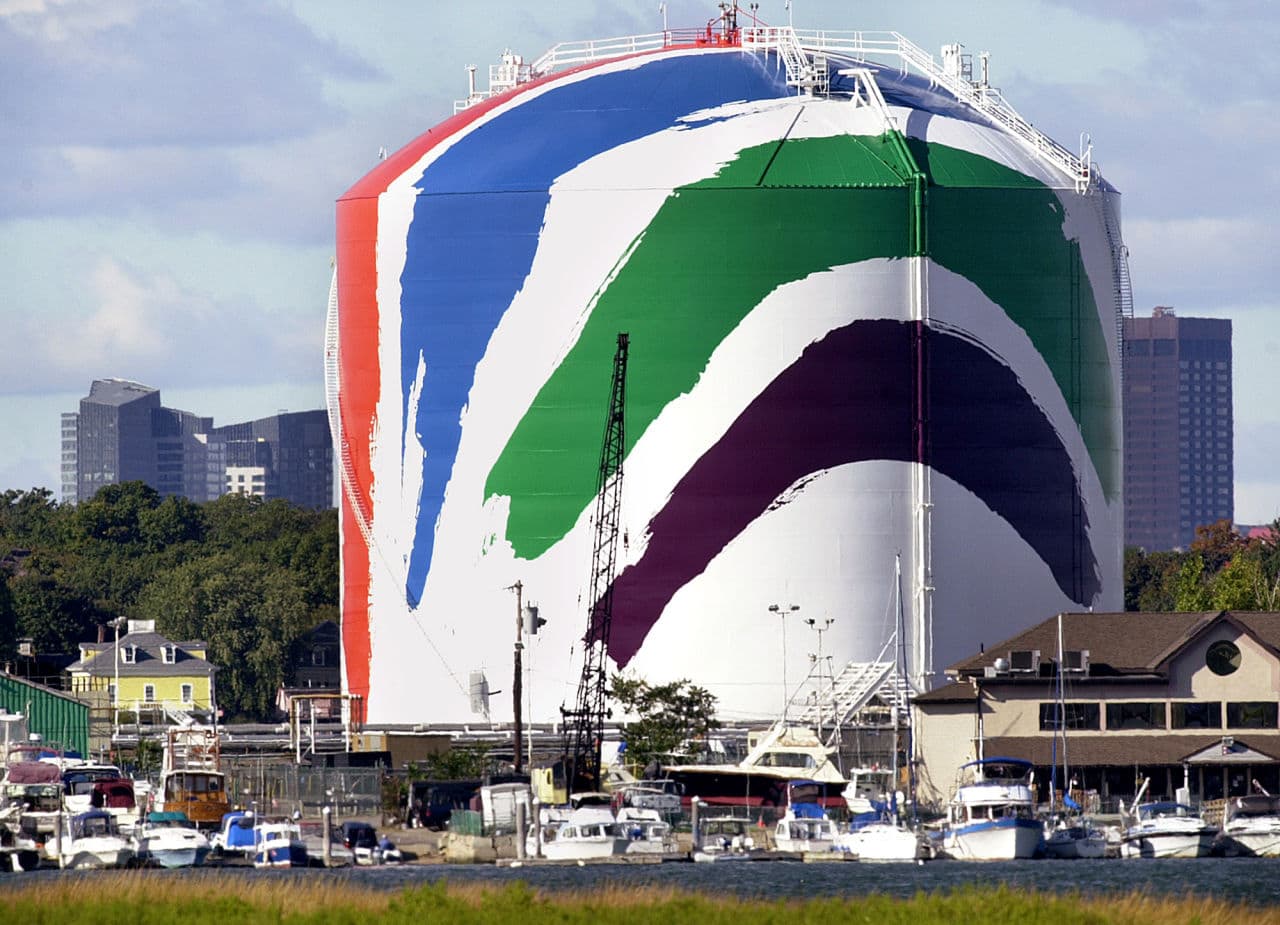 EILEEN: Corita Kent, yeah. I have good memories of the gas tank from when I was little, when we were living in Hingham. We'd be driving up 93, going to Boston for some reason, and I remember that was one of the landmarks that told me, "OK, we're almost in Boston." And I liked seeing the bright colors. Did you have any things that you were excited to see?
JOHN: The fort at Castle Island was probably my favorite. It's just a very peaceful place where you could look at the ocean, you could look at the boats, once in a while go inside the fort. My grandmother used to go down to the ocean with me and play the accordion and she would say, "This is just Galway Bay, the other side of it."
EILEEN: It is. Every time when I was a little kid and you would take me — I hadn't been to Ireland yet — and it sort of reminded me of what Ireland should be.
JOHN: My memories are there, and it's just the most beautiful place to me.
---
Produced by Dan Collison with interviews recorded by StoryCorps. Harvard Art Museums' "Corita Kent and the Language of Pop" is supported in part by an award from the National Endowment for the Arts and major corporate support from National Grid. Harvard Common Spaces has also provided support for the StoryCorps project.
WBUR is the media partner for the StoryCorps project. StoryCorps is an independent nonprofit organization. Its mobile recording booth travels the country recording conversations among loved ones. The recordings are archived at The American Folklife Center of the Library of Congress, and excerpts can be heard weekly on WBUR's Morning Edition.
This segment aired on October 26, 2015.