StoryCorps: Corita Kent's Assistant Recalls The Artist As 'Always Totally Present'
02:31
Play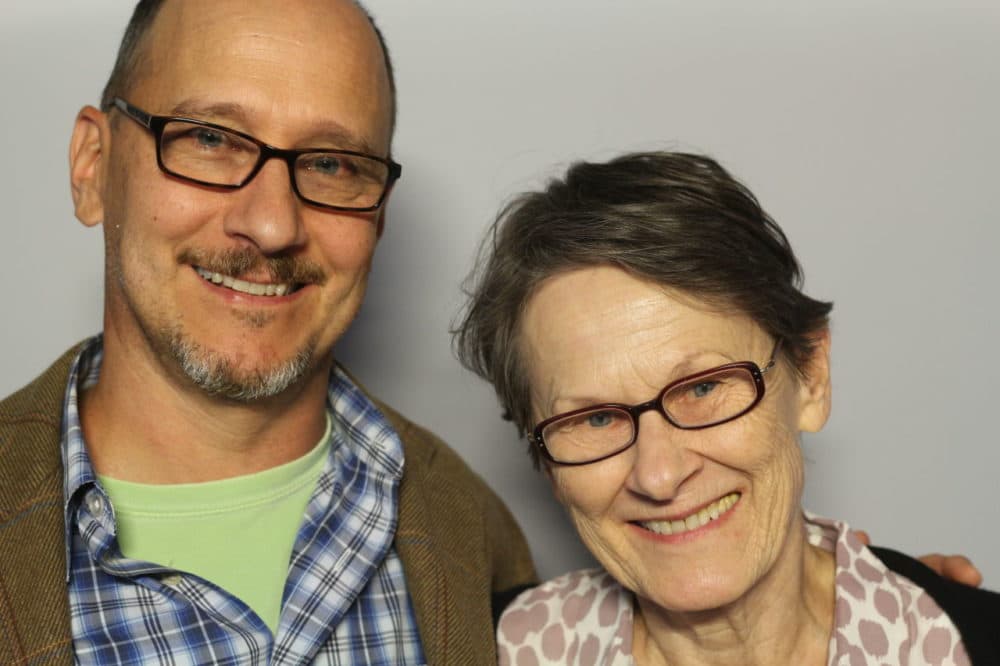 This article is more than 3 years old.
Mary Anne Karia talks to her younger brother, Steven Mikulka, about Corita Kent. Karia was Kent's student, friend and her assistant in the 1960s, and Kent later came to live with Karia and Mikulka's family. Milkulka is also the prepartor/art handler at the Harvard Art Museums.
---
TRANSCRIPT:
MARY ANNE KARIA: When I first worked for Corita, her office — I hate to say it, but it was a mess. She knew where everything was — it wasn't a mess in her mind — it was just for me, having to manage the prints and the phone calls and all of the written material, I started to put it in order. So eventually, she let me take over the whole place, and we had a little beauty in order.
She just was very special to be with. She was always totally present. I still to this day don't know how she did it. At exhibits, hundreds of people would come up and everybody felt because they had her prints that they owned her, in a sense. And they would ask her all kinds of questions, and she never lost eye contact with them. She just conducted herself so beautifully. I admired it so much.
STEVEN MIKULKA: She was very contained, she was almost rock still. And then the eyes, they were so intense. But she wasn't tense. She was intense. And she would actively listen. She was a task-master. I heard in her classes, you had to do hundreds of drawings or hundred collages in one night.
KARIA: One week we had to do 12 dolls. And she was going on a trip to talk at a gathering in Boston, and she wanted me to come, but I said, "I can't go. I have to sew these 12 dolls!" She said, "I'll help you sew the dolls if you come with me."
MIKULKA: And she always that whimsy, too.
KARIA: Humor and whimsy.
MIKULKA: And it's clearly in her work.
KARIA: Yes, it is. She made you look at things very differently, it helped me through my whole life, actually. But the most amazing thing to me, which I thought of when I went to see the exhibit at Harvard, is that her work is such an expression of who she was. It's not like something she thought about intellectually and put on paper, or like an artist who does great work but isn't a great person. She was all of what she did.
And that, I think is amazing. The humor and pushing the envelope in terms of color and turning the letters upside down is very, very much her. And she would get such joy out of things. She loved doing her work.
---
Produced by Dan Collison with interviews recorded by StoryCorps. Harvard Art Museums' "Corita Kent and the Language of Pop" is supported in part by an award from the National Endowment for the Arts and major corporate support from National Grid. Harvard Common Spaces has also provided support for the StoryCorps project.
WBUR is the media partner for the StoryCorps project. StoryCorps is an independent nonprofit organization. Its mobile recording booth travels the country recording conversations among loved ones. The recordings are archived at The American Folklife Center of the Library of Congress, and excerpts can be heard weekly on WBUR's Morning Edition.
This segment aired on October 26, 2015.