StoryCorps: Daughter Of Immaculate Heart Grad Reflects On Corita Kent's 'Hopeful' Art
03:27
Play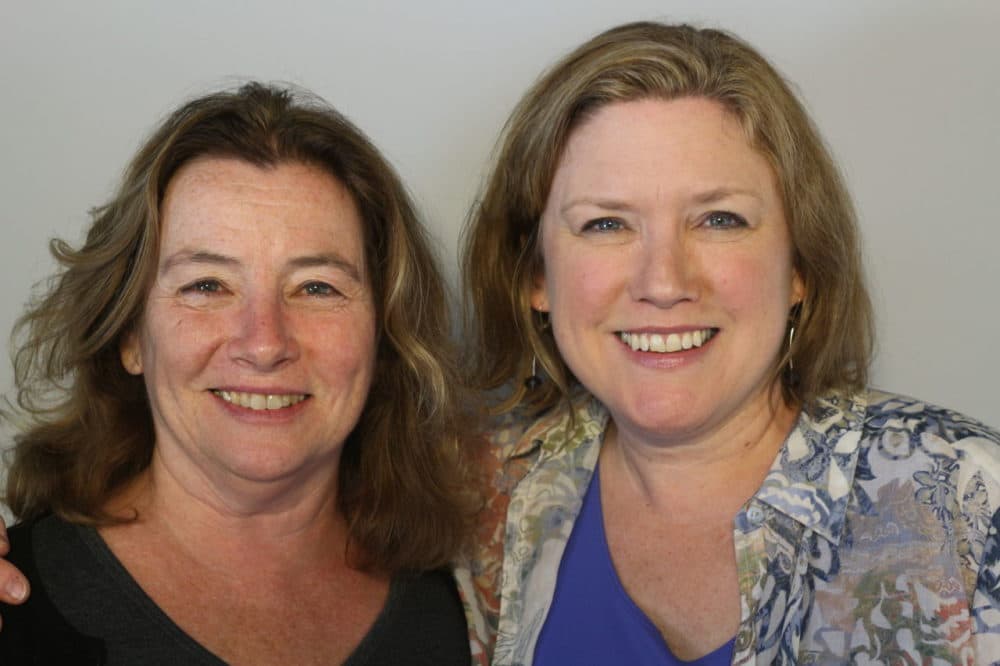 This article is more than 3 years old.
Molly Lanzarotta tells her friend Sarah Abrams about the artwork of artist and activist Corita Kent and the Order of the Immaculate Heart, of which Kent was a member.
---
TRANSCRIPT:
SARAH ABRAMS: So Molly, can you tell me a little about Corita Kent? Describe how and when you first encountered her and her work.
MOLLY LANZAROTTA: Well, I encountered Corita Kent in the context of the Immaculate Heart community. My mom, Cassie, went to Immaculate Heart High School and Immaculate Heart College in Los Angeles. The women that taught my mother were some of the most educated, really wonderful people she'd ever known.
Corita Kent I first encountered, because my mom took me to an art show. As I remember it, it was in the '70s, and I think it was a fundraiser for the Immaculate Heart community, and Corita was there. So I was nine or ten years old, and I remember being quite awed that I was meeting a famous artist.
It was also my first art show, so it really made an impression on me, walking around. My family wasn't really a family that bought art, but they did buy Corita prints, and they hung in our family room for my entire childhood.
But suddenly, I saw this print everywhere, all over Boston, advertising this art show coming to Harvard. And it was one of the prints that hung in my home, so it was like the fabric of my childhood. It was such a familiar thing, and it really got me thinking about Corita's art and the legacy of not just Corita and her art, but of really this exceptional community of women who made quite an impression on both my mother and me.
ABRAMS: Can you describe a little bit about the artwork that hung in your playroom?
LANZAROTTA: One of them says "I give up" behind a popular beverage slogan "things go better with." And I found it a little disturbing that it said "I give up" on the poster in our family room. But I think this is what her work was about. It evoked questions.
One of her works, I noticed at the exhibit the other night, grappled with the difference between optimism and hope. Maybe it was hope and not optimism that she tried to keep through both all of the struggles of her order that went through, you know, a very difficult upheaval, and then obviously the struggles of the times that she was living in. She engaged with those struggles in a very direct way in her art.
So if I hear people saying her work was sunny and optimistic, I almost feel like it's a little bit of a brush-off and doesn't look very deep. I think of those words "I give up" that I looked at on the print every single day in our family room. There were bright colors, and there were the words "everyday miracles," and there were the words "things go better with," but that "I give up" was shadowed in there, behind. And there were a lot of those shadowed words, and there was a lot of complexity in Corita's work.
She was hopeful, but I think she experienced that sort of dark night of the soul that we're told the saints experienced, those moments of deep doubt and despair. This is how I experienced her work. I didn't ever experience it as optimistic work — I experienced it as hopeful.
---
Produced by Dan Collison with interviews recorded by StoryCorps. Harvard Art Museums' "Corita Kent and the Language of Pop" is supported in part by an award from the National Endowment for the Arts and major corporate support from National Grid. Harvard Common Spaces has also provided support for the StoryCorps project.
WBUR is the media partner for the StoryCorps project. StoryCorps is an independent nonprofit organization. Its mobile recording booth travels the country recording conversations among loved ones. The recordings are archived at The American Folklife Center of the Library of Congress, and excerpts can be heard weekly on WBUR's Morning Edition.
This segment aired on October 26, 2015.