StoryCorps: Harvard Art Museums Curator Explains Significance Of New Corita Kent Art Exhibit
03:51
Play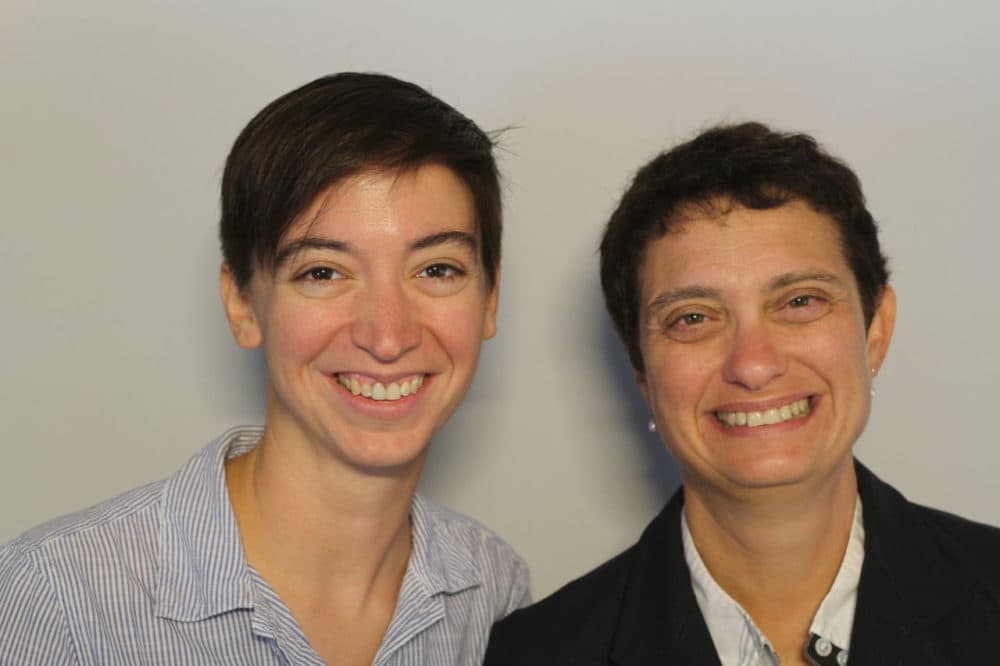 This article is more than 3 years old.
Susan Dackerman, former Carl A. Weyerhaeser curator of prints at the Harvard Art Museums and current consultative curator of prints, tells her friend Chris Barrett about the Harvard Art Museums' exhibit on Corita Kent, "Corita Kent and the Language of Pop."
---
TRANSCRIPT:
Susan Dackerman: One of my colleagues asked me if I wanted to see this group of prints that his family had that had been made by Corita Kent, a nun and an artist working at a convent college in Los Angeles. And I was curious about the kind of art nuns made in the '60s. And they were similar to the work of artists we know really well, like Andy Warhol and Ed Ruscha and Roy Lichtenstein.
Chris Barrett: Why the 1960s?
Dackerman: The 1960s was the time of great religious reform under Vatican II, a movement to modernize Catholic liturgy, to make that ritual more relevant to contemporary life. Corita Kent and the nuns of Immaculate Heart were very much in favor of that kind of revitalization of Catholicism, finding a younger audience.
And I think that what happened is she saw pop art would serve to better convey ideas about the church than older forms that were, at that point, anachronistic. And so, where Warhol used Campbell soup, she too used consumer culture and its slogans to find a new scripture for modern Christian life.
There was a Chevy dealership that used the slogan, "See the man who can save you the most." And then the tagline is, of course, "Your Chevy dealer." And when she used that in her artwork, needless to say, she left off the part about the Chevy dealer. But she found in these modern slogans the means to articulate a new gospel, in a way.
Barrett: If you were to wander from room to room in this exhibition, the works you've selected, is there a tone that emerges from them?
Dackerman: Her prints are comprised primarily of phrases, slogans, the words from street signs. She uses vivid, fluorescent inks, and the images just seem so happy and appealing. But the words usually seem somewhat disparate and disconnected so it's up to the viewer reader to make meaning by assimilating all of those different passages. And often, that meaning is quite subtle or subversive.
Barrett: Lots of people are going to come see this exhibition. What do you want them to walk out the door thinking about?
Dackerman: That what was important about the '60s is still important now. That those problems didn't get solved. That art can make the world a better place. And that there are people in the world that make a huge effort to make the world a better place.
---
Produced by Dan Collison with interviews recorded by StoryCorps. Harvard Art Museums' "Corita Kent and the Language of Pop" is supported in part by an award from the National Endowment for the Arts and major corporate support from National Grid. Harvard Common Spaces has also provided support for the StoryCorps project.
WBUR is the media partner for the StoryCorps project. StoryCorps is an independent nonprofit organization. Its mobile recording booth travels the country recording conversations among loved ones. The recordings are archived at The American Folklife Center of the Library of Congress, and excerpts can be heard weekly on WBUR's Morning Edition.
This segment aired on October 26, 2015.