Overwhelmed Social Workers, Troubled Families: 'Luna Gale' Is All Too Familiar To Massachusetts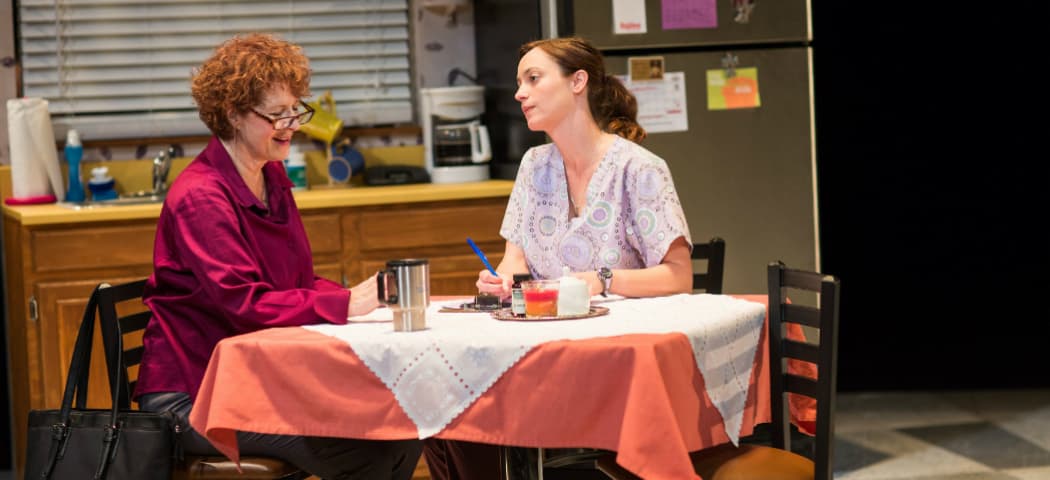 This article is more than 6 years old.
Rebecca Gilman's "Luna Gale" takes place in Iowa, but its Boston-area premiere at Stoneham Theatre is unfortunately timely for Massachusetts audiences. A number of horrifying and high-profile cases involving the abuse and death of children has recently led to criticism of the state's Department of Children and Families and plans for its reform.
"Luna Gale's" depiction of a child services employee who is desperately overworked and haunted by her department's history of mismanagement will have a familiar ring to anyone aware of these stories.
The play's title character is a 6-month-old baby whose meth-addled parents' neglect lands her in the emergency room. That brings social worker Caroline (Paula Plum) into their lives, and it's up to her to determine who's fit to raise Luna. With Luna's mother Karlie (Maria DeCotis) and father Peter (Luke Murtha) struggling to get clean and hold down jobs, Karlie's mother Cindy (Stacy Fischer) takes the child, and it seems as though she's a good candidate to get long-term custody. However, Cindy's extreme religiosity raises doubts in Caroline's mind, and before long she's faced with a dilemma, further complicated by the interference of her boss Cliff (Jacob Athyal) and Cindy's pastor Jay (Bob Mussett), over who ultimately ought to take Luna.

Gilman's written a social problem play, and fans of Henrik Ibsen and his American acolyte Arthur Miller will find the realistic style and somewhat mechanical structure familiar. As an exploration of a difficult issue that's all too often in the news, it's effective. However, as a work of drama, "Luna Gale" isn't as compelling as its subject matter.
Gilman relies on a series of revelations to advance the plot and explain her characters' backgrounds, but these don't really do much to complicate our understanding of the situation. She also stacks the deck against the characters who stand in the way of Caroline's attempts to do what she sees as the right thing; even when the social worker resorts to dubious measures to affect the outcome of Luna's case, it's hard to fault her because she's so obviously correct. Gilman cements this impression by including a subplot involving Caroline's relationship with Lourdes (Ally Dawson, who has a pair of good scenes with Plum), a child whom she has shepherded through the system.
Plum's performance is particularly good in scenes where her Caroline is sizing up other characters, as in an early dialogue with Cindy, where you can see Caroline taking the measure of Luna's prospective guardian while explaining the complexities of custody procedure. When Caroline's half-coerced into an impromptu prayer session later in the play, Plum's face is a study in calculation as she takes stock of her situation and plans her next move. The way she shoulders her heavy bags as she rises to her feet at the end of every meeting has an almost Sisyphean quality, emphasizing the exhaustion engendered by her demoralizing and nonstop job.

As for the cast surrounding Plum, Murtha's performance as Peter stands out for the way he gradually reveals the intelligent, capable qualities of someone who initially appears to be a burnout. That complements DeCotis's desperate, at times almost feral, Karlie, whom we first see frantically shoving cheesecake and Skittles into her mouth in the ER waiting room. By contrast, Fischer's Cindy is controlled and measured until a final affecting scene where she breaks down. As for Athyal and Mussett, it's hard for them to make an impression when their characters are so underwritten.
Stoneham's production of "Luna Gale" aims to recreate the unappealing appearance of the hospitals and government office buildings in which it takes place. Kristin Loeffler's flexible set evokes these unattractive locales, as do Wen-Ling Liao's periodic use of harsh fluorescent lighting and the ragged costumes in which Chelsea Kerl dresses Karlie and Peter.
Director Rebecca Bradshaw stages the individual scenes well, but she doesn't quite overcome the natural limitations of the script, which tends to isolate characters in static conversations over desks and break-room tables. That's ultimately reflective of "Luna Gale" overall: It's an important conversation-starter about pressing social ills, but it's not quite fully developed as a drama.
"Luna Gale" is at the Stoneham Theatre through Sunday, Nov. 8. 
---
Michael Lueger teaches theater at Emerson College and Northeastern University. He also blogs about theater history for howlround.com and tweets about it at @theaterhistory.