Election Day: Tracking Boston Turnout
Update at 6:50 p.m.: The 6 p.m. turnout numbers from the Boston Elections Department show 40,630 votes have been cast across Boston, right in line with the projections we have been making throughout the day.
If the trend holds, we will see a final turnout figure of approximately 14 percent, likely just over 50,000 votes.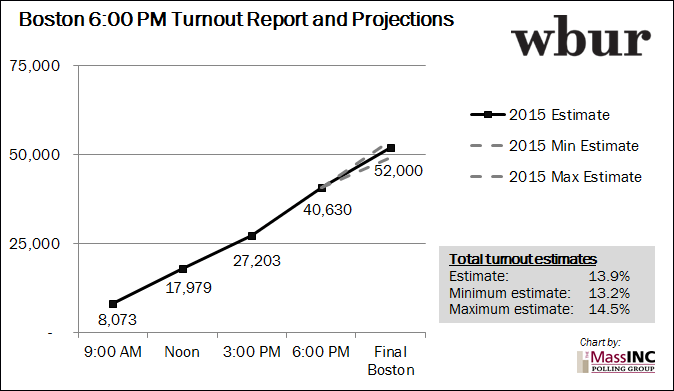 ---
Update at 3:40 p.m.: The 3 p.m. turnout numbers show 7.3 percent of Boston voters have cast a ballot. That remains in line with earlier expectations, and brings little change to the forecast. We still anticipate turnout in the 13 to 14 percent range when all of the votes are counted: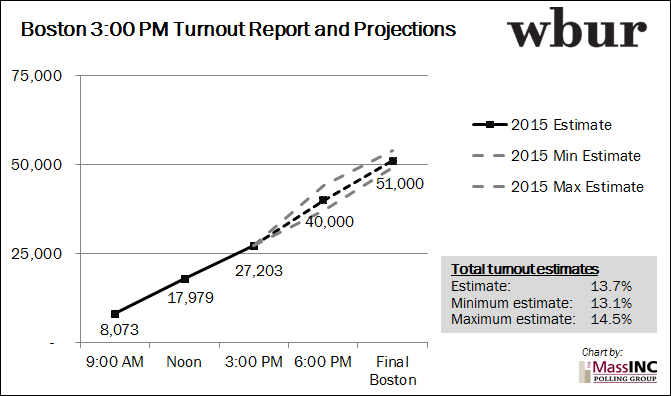 If you want to see where the votes are coming from -- and do your own analysis, projections and predictions -- check out our interactive turnout map. The static version is here: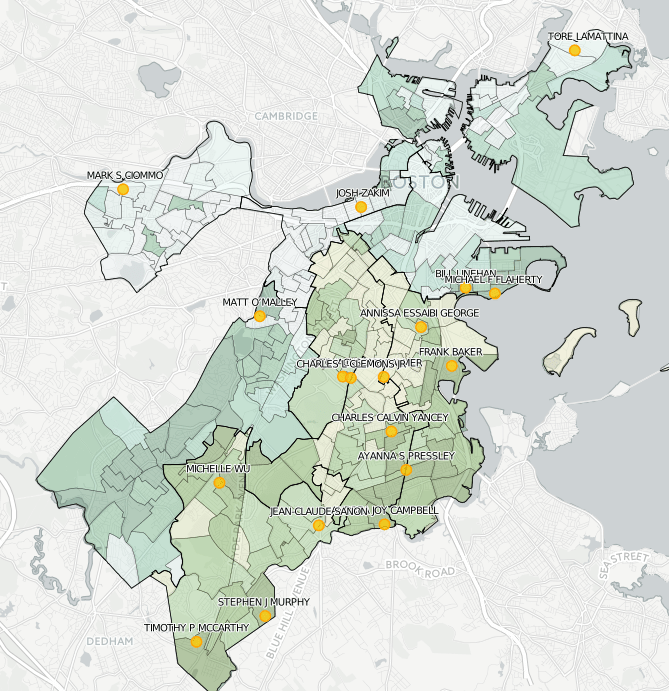 ---
Update at 1:05 p.m.: The noon turnout numbers for Boston are in and look much as expected. With 17,979 votes in (4.8 percent), our total turnout projections don't change much. We are still on track for a low turnout affair, likely in the 13-14 percent range overall: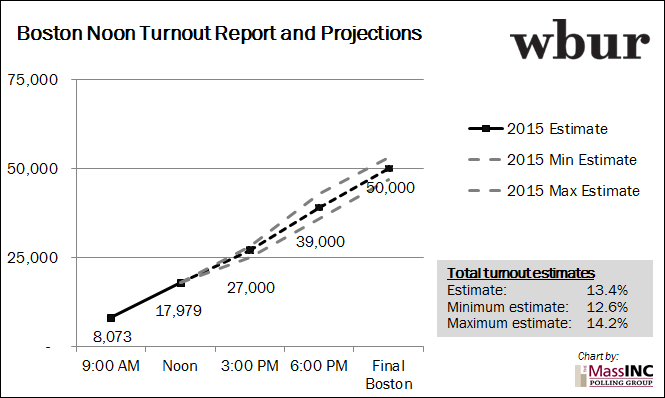 That would represent the lowest-turnout municipal election in recent memory. The Boston Elections Department has turnout data for elections going back to 2005. A 13-14 percent showing would make this the lowest turnout final municipal election in that period: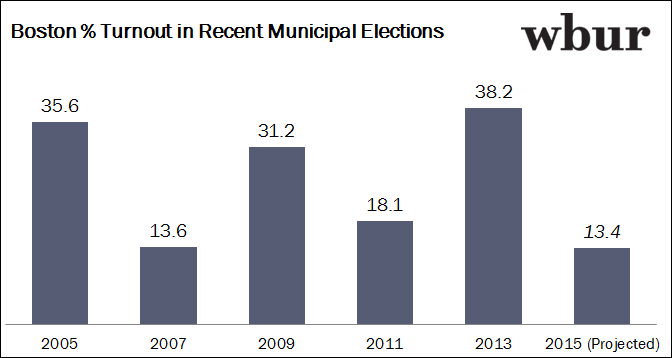 ---
Original post:
Vote counts from the Boston City Council elections are rolling in.
The city Elections Department sends out updates at 9 a.m., noon, 3 p.m. and 6 p.m. showing how many people have voted in each ward and precinct. The turnout figures grow at a fairly consistent (though not perfectly stable) pace throughout the day. So once we know the 9 a.m. figures, we can project the ballpark of where the total turnout will end up.
As of the 9 a.m. update, 8,073 voters had cast their ballots since the polls opened at 7 a.m. This works out to a probable turnout between 12.1 percent and 14.7 percent. Turnout in the preliminary election in September was 7.07 percent. The polls close at 8 p.m.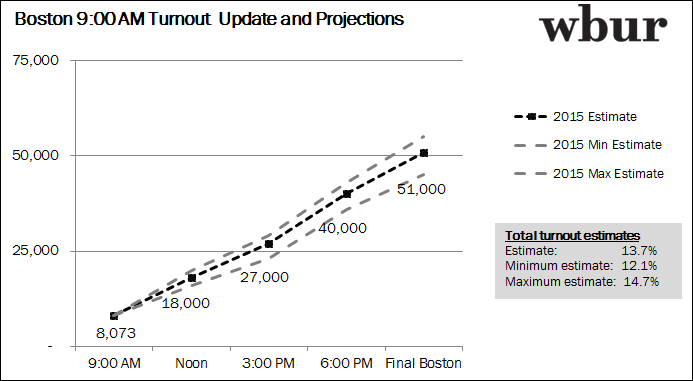 Correction: An earlier version of this post featured a graphic that incorrectly listed Boston turnout in the 2007 municipal election. We regret the error. 
Steve Koczela is president of the MassINC Polling Group and a regular contributor to WBUR Politicker. Follow him on Twitter @skoczela.
This article was originally published on November 03, 2015.