WBUR Poll: Trump And Carson Still Lead In N.H., But Other Republicans See Gains
Resume
A new WBUR poll in New Hampshire shows establishment outsiders Donald Trump and Ben Carson are still leading in the Republican primary race there, but some of the other candidates are making new headway.
The survey of 400 likely GOP primary voters, conducted Thursday through Sunday, puts Trump at the top with 18 percent support. Carson is on his heels at 16 percent — within the poll's 4.9 percent margin of error.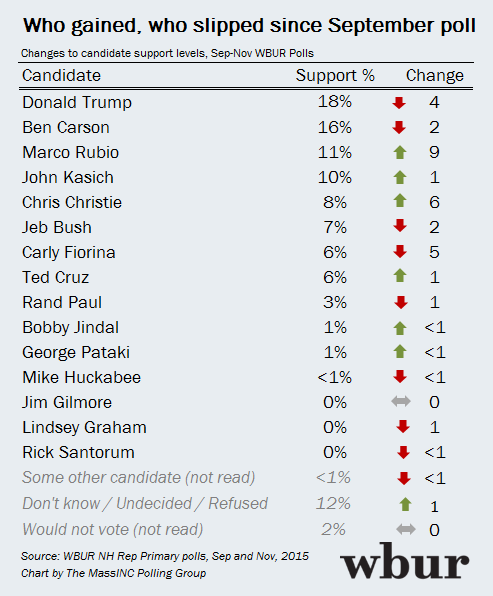 The poll (topline, crosstabs) was conducted after last week's Republican debate, and since then voters seem a bit restless.
Steve Koczela, of The MassINC Polling Group, which conducted the survey for WBUR, says support for Trump and for Carson has eroded slightly since a WBUR poll in September.
"Underneath there has been some movement," Koczela said. "Both Marco Rubio and Chris Christie were perceived as doing well in the debate and have seen their numbers climb substantially from where they were in September."
"Both Marco Rubio and Chris Christie were perceived as doing well in the debate and have seen their numbers climb substantially from where they were in September."

Pollster Steve Koczela
Florida Sen. Rubio's support more than quintupled, from 2 percent to 11 percent, while New Jersey Gov. Christie's support rose from 2 percent to 8 percent. Both candidates are also seeing big jumps in their favorability ratings.
Seabrook Selectman Aboul Khan was one of the Republicans surveyed. He sees Rubio as a "Reaganesque" figure who can bring the GOP together and broaden its appeal.
"[It] looks like he wants to unite everybody, don't look like he's dividing the groups — the immigrants, the minorities and other aspects of society," Khan said. "And wherever we're going, winning the presidency, he wants to take everybody with him."
University of New Hampshire political scientist Dante Scala says Rubio does seem to be straddling party divisions.
"There's considerable potential now for Rubio to start to clinch the deal," Scala said, adding that the poll shows Rubio getting high marks from both traditional and tea party-type conservatives.
"I think what they've been hoping all year is that Rubio can stay beneath the radar screen for most of the year, and then strike late," Scala said. "And it's starting to get late early here in New Hampshire, with 100 days to go."
But if the 100-day sprint to the February primary is gaining speed, many voters are still searching for direction.
Exeter nutritionist Nancy Cressy also participated in the WBUR poll. She had counted herself in the Rubio camp, but in the last few days that changed.
"I'm leaning more towards someone else now ... more towards Carson," Cressy said. "I had a chat with my husband and he was pointing out some of the areas [Rubio] wavers on and he flops back and forth, and one is border control."
Illegal immigration rated second among poll respondents who were asked what the next president's priorities should be. Nine issues were offered. Only defeating ISIS rated higher.
Yet not one single poll participant would give the nod to perhaps the strongest hawk in the race — South Carolina Sen. Lindsey Graham, who has said about ISIS that he would "destroy these bastards." Even the voters who felt most strongly about ISIS passed Graham over.
"I do think there may be an element of impatience that some voters are beginning to feel," said Koczela, the pollster.
Koczela says rising unfavorability ratings for long-shot candidates such as Graham and former New York Gov. George Pataki show some New Hampshire GOP primary voters want them to just get out of the way already.
"A lot of them have a perfectly acceptable list of qualifications and haven't done anything particularly offensive or unacceptable," Koczela said. "So it's hard to see what other than an impatience factor would be pushing their numbers down to the rock-bottom levels where some of them are."
Those third-tier candidates do have some company at the bottom of GOP poll respondents' esteem: In the wake of last week's CNBC debate, fully two-thirds of the respondents said the media is biased against Republicans.
This segment aired on November 4, 2015.