Rubio Rises, And 4 Other Takeaways From Our New N.H. Poll
This article is more than 7 years old.
A new WBUR poll of likely New Hampshire Republican primary voters, released Wednesday (topline, crosstabs), shows Donald Trump (18 percent) and Ben Carson (16 percent) remain atop the field.
Here are the five most important takeaways from the survey:
1. Marco Rubio won the latest debate, climbs into the second tier.
The GOP debate last week gave the Rubio campaign new life in New Hampshire. After bumping along in the low single digits, his strong performance brought him new attention and much improved poll numbers. His favorables climbed 10 points from September, and his support grew from just 2 percent to 11 percent over the same period. He is now in third place, just behind Trump and Carson, who led in the poll.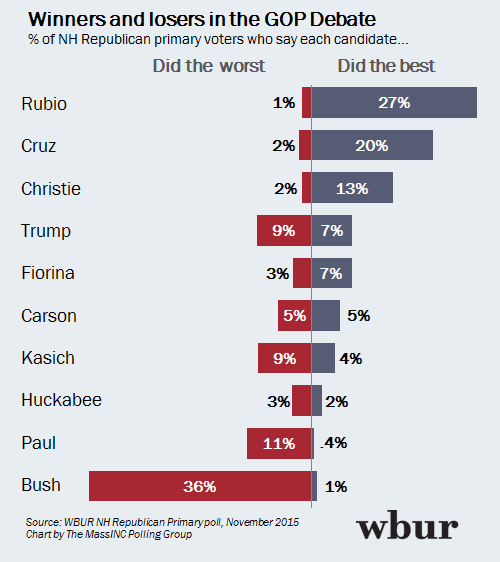 ---
2. Also in the second tier: Christie grows, Kasich stays, Fiorina fades.
Chris Christie helped himself in the debate, with the third highest percentage saying he did the "best job". His support climbed 6 points, and he joined John Kasich and Rubio in the clump of candidates chasing the leaders. The Carly Fiorina surge appears to be over in New Hampshire for now, similar to the decline she has seen in national polls in recent weeks.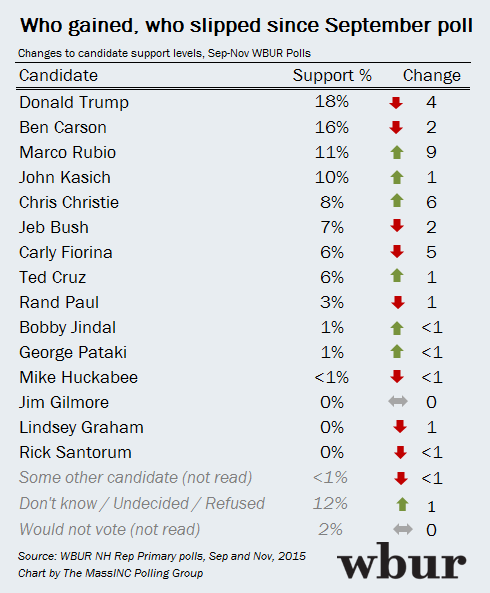 ---
3. Jeb Bush floundered in the debate, continues to decline.
By a wide margin, Bush was seen as doing worst in last week's debate. His favorables fell from roughly even to -15, and just 8 percent now see him as most likely to be the nominee.
With record-setting audiences in the debate, a bad showing is enough to send a candidate into a tail spin. To wit: Lincoln Chafee and Jim Webb, each of whom saw their numbers spiral after the first Democratic debate, just before they each exited the race.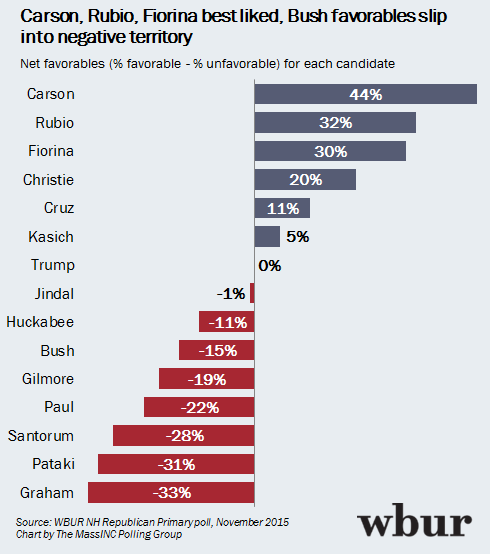 ---
4. Trump and Carson hold onto the lead in New Hampshire and elsewhere.
Carson has led in some national polls recently, and in a number of recent Iowa polls, while Trump has led in others. Figuring out who is in the lead at any given time has become more complicated, given an emerging split between telephone and Internet polls. For reasons that are not clear, Internet polls tend to show Donald Trump in a better position than live interviewer polls. Online polls are relatively new on the longer timeline of presidential elections, so we don't have enough of a track record to figure out which is more likely to be correct.
---
5. Attacking the media for bias puts candidates on solid ground with voters.
By a two-thirds majority, New Hampshire Republican primary voters think the media is biased against their party. This is nothing new, but the widely panned CNBC debate and the post-debate fallout put the issue front and center once again. Another post-debate poll resulted in the remarkable finding that just 9 percent of Iowa GOP voters had a favorable view of CNBC, compared to 74 percent with an unfavorable view.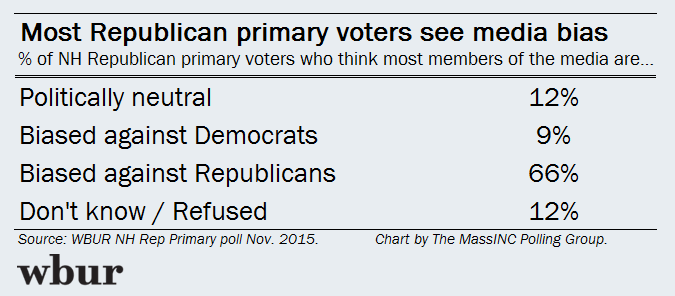 Steve Koczela is president of the MassINC Polling Group and a regular contributor to WBUR Politicker. Follow him on Twitter @skoczela.