Lots To Sing Along With In Touring Version Of Broadway's 'Carole King Musical'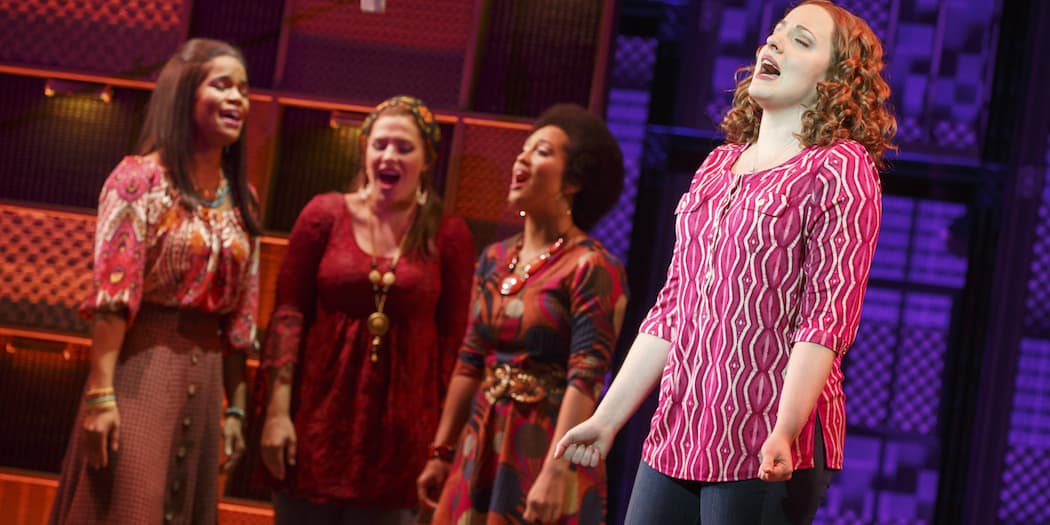 This article is more than 5 years old.
"Beautiful: The Carole King Musical" (at Boston Opera House through Nov. 15) is pure call and response to "Jersey Boys." But instead of gambling debt and shady operators, we get young love going wrong. Oh, and there's only one Season: singer-songwriter King, whose 1971 LP "Tapestry" was an icon of its era.
Nonetheless, the successful 2013 jukebox musical built on King's lush melodies and career beginnings boogies firmly in the footsteps of Marshall Brickman and Rick Elise's 2005 Broadway mega-hit rooted in the songs and backstories of the Four Seasons. Unlike "Mamma Mia" — which looks its audience brazenly in the face as if to say, "You just watch us shoehorn some 20 ABBA songs into this winking fantasy" — the soulful "Beautiful" charts the creations, as well as the creation, of its subject. And given a songbook that runs the gamut from pop classics "One Fine Day" and "The Locomotion" to "Tapestry" threads "You've Got a Friend" and "(You Make Me Feel Like) A Natural Woman" (originally written for Aretha Franklin), how can it go wrong?
Actually, I lied earlier. There are four principals, if not four Seasons. Librettist Douglas McGrath ups the ante (and the song list) by focusing on the competitive friendship between King and her husband/songwriting partner Gerry Goffin and their fellow tunesmiths Cynthia Weil and Barry Mann. Apparently the two highly successful teams occupied adjacent cubbies in producer-publisher Don Kirshner's hit factory, 1650 Broadway, across the street from the more-often-evoked Brill Building. Back when rock 'n' roll was new, this patch of Times Square was a pop warren housing everyone from Elvis to Dionne Warwick.
"Beautiful" begins with the 1970s-era King schmoozing the audience from a piano onstage at Carnegie Hall, then flashes back to Brooklyn where it all began for teenybopper Carol Klein, who sold her first song at 16 but dreamed less of fame than of marriage, kids and a house in the 'burbs. "Life sometimes goes the way you want," this precocious, ponytailed seer informs us. "Sometimes it doesn't. And sometimes, when it doesn't, you find something beautiful."
The rest of the show, which winds us back to Carnegie Hall, is an illustration of that babe-mouthed maxim, chock with a roster of great songs and, thanks to choreographer Josh Prince, some droll dance snippets in which members of the ensemble clap, snap, chug and slink their way through the syncopated featured-and-backup-singer moves of the era.
In one way, the musical itself is a big, beautiful machine. Derek McLane's towering, flashing set suggests both a motorized tapestry and the inner workings of a clock. And director Marc Bruni, who has been at the helm of "Beautiful" since its San Francisco debut, keeps the kaleidoscopic structure on the move, along with the evolving principals and their clumps of glittering big-name satellites including the Drifters, the Shirelles and Little Eva (who was King and Goffin's babysitter).
At the heart of the apparatus is Abby Mueller's determined yet insecure King who, having his baby, marries the 20-year-old Goffin in 1959 at the age of 17. The union proves fertile for pop music but ultimately painful for the participants — with the emotionally claustrophobic Goffin providing most of the pain. Gradually, though, buoyed by her own gifts, King grows strong enough to leave her philandering husband and sing her songs herself.
I don't know what it is about the Mueller genes, but Abby's younger sister, Jessie, originated the role of King in "Beautiful," winning a 2014 Tony Award. (Jessie Mueller was also the appealing star of American Repertory Theater's pre-Broadway musical, "Waitress.") Abby, the Mueller headlining this first national tour, boasts a rich mezzo, a timbre reminiscent of King's and a natural-woman-in-the-making way about her as the incipient, still slightly shlubby King. Liam Tobin is a smoother but hardly heartless Goffin, whose full-throated harmonies with Mueller soar. As the chic, snappy Weil and hypochondriacal Mann, Ben Fankhauser and Becky Gulsvig provide both competition and comic relief, not to mention an emotional rendering of the duo's Ronettes hit, "Walking in the Rain."
The Opera House is, of course, a big hall. Still, I would have preferred less amplification, particularly on the softer-edged "Tapestry" numbers. So those for whom lyrics-blurring blare is a deal breaker should probably stay home and haul out their aging LPs and sigh over 29-year-old album cover girl King in her blue jeans and bare feet (or stream or download or get the CD). But if you don't mind an aural stroll down memory lane that turns that thoroughfare into Broadway, by all means take your ears to "Beautiful: The Carole King Musical."
---
Carolyn Clay was for many years the theater editor and chief drama critic for the Boston Phoenix. She is a past winner of the George Jean Nathan Award for Dramatic Criticism.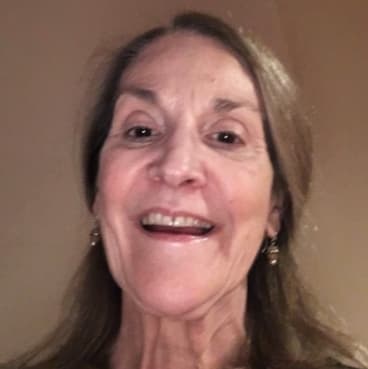 Carolyn Clay Theater Critic
Carolyn Clay, a theater critic for The ARTery, was for many years theater editor and chief drama critic for the Boston Phoenix.