Pluralist Vision Of Lizt Alfonso Dance Cuba Makes Boston Debut This Weekend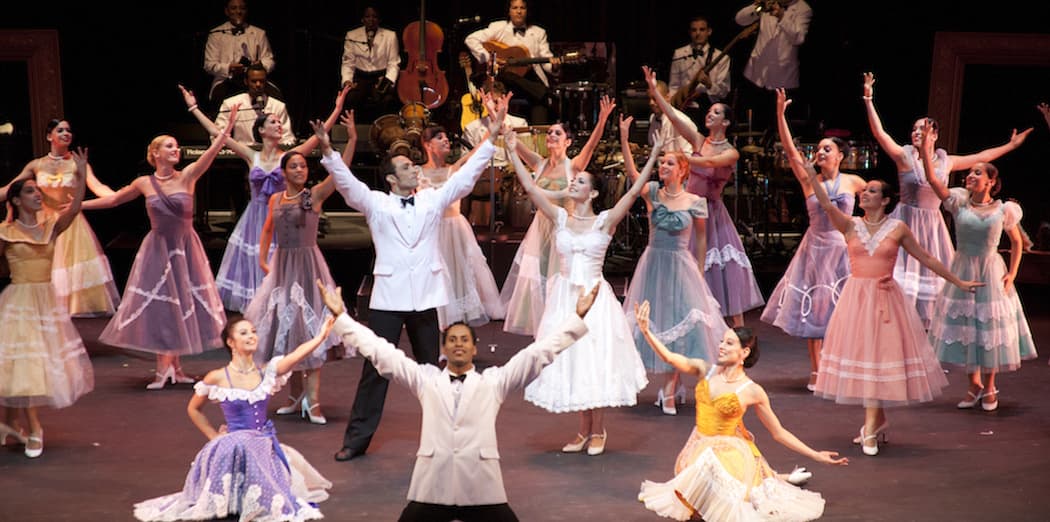 This article is more than 5 years old.
Lizt Alfonso's first attempt at choreography failed when her classmates refused to follow her instructions. She was 7 years old.
Today, she is one of Cuba's leading choreographers.
In 1991, at the age of 23, she founded Lizt Alfonso Dance Cuba and defined a new style of movement -- a blend of classical ballet with Cuban and Spanish dance, such as flamenco and mambo. Alfonso calls it fusion dance, a "mixture of who we are and where we come from."
Eighteen members of the Havana-based ensemble, accompanied by an onstage band of seven musicians, will make their Boston debut this weekend, performing "Cuba Vibra" at the Cutler Majestic Theatre in Boston. (The show is presented by World Music/CRASHarts.)
"My inspiration is my history, the one that runs through my veins," Alfonso said in an email interview, "and that's the one I want to tell, share, and show."
Although strongly influenced by multiculturalism, Alfonso strives to create a unified piece of choreography, sewing the "stitches" of the Cuban culture into a seamless whole.
The broad spectrum of Alfonso's work mirrors the wide range of her choreographic influences, including classical choreographer Marius Petipa, Spanish flamenco dancer Antonio Gades, modern dance artists like Paul Taylor and even those primarily associated with the musical world like Michael Jackson.
Alfonso said she learned about the body's immense capability of movement from artists like these. "Creativity can't have any boundaries," she said. "You have to compete with yourself, demand of yourself more and more, as long as you always have something to say."
Dancer Yadira Yasell was led to Alfonso's studio three years ago by a desire to experience movement outside of her pointe shoes. "One evening, you can dance a cha-cha-cha and after that, a very neo-classical pas de deux, accompanied by live music onstage," she said.
Alongside her company, Alfonso established a dance academy, where she said over 1000 children, ages 6 to 16, study every year. For her devotion to empowering children through dance, Alfonso was named UNICEF Goodwill Ambassador in 2011.
Company members like Yasell are invested in the school as well. Not only are they role models for the students, they are teachers, nurturing future generations of professional dancers.
Principal dancer Tamy Gonzalez is responsible for the Lizt Alfonso Youth Ballet, "a great honor for me because I was a member of it in its beginnings," she explained. Gonzalez started her training at the school when she was 10 years old, joined the Youth Ballet in 2002 and was offered a position with the professional company soon after.
The ensemble, originally an all-female company, now consists of more than 30 dancers, both male and female. Each day begins with a class in one of the many idioms in which company members are fluent, including ballet, flamenco, Afro-Cuban dance and contemporary.
Occasionally, Alfonso teaches fusion dance classes, an experience Gonzalez said is "like delving into her mind, seemingly full of unusual, singular, and sometimes, unimaginable movements, and who could be a better teacher for you than herself who is the creator of such a unique and particular style?"
Not only is fusion dance the defining characteristic of the company's performances, it's the story of the Cuban culture, a story Alfonso said is translated through "our bodies, our lives, our music, dance, and above all, our soul."
Alfonso said she hopes her audiences discover "a desire to live, struggle and fly without boundaries."
This trip will mark Dance Cuba's eighth tour in the United States since 2001, when the company debuted at the Central Park SummerStage Festival in New York City. Alfonso regrets not having performed in Boston sooner.
"But, as the saying has it," she said, "better late than never."
---
Lawrence Elizabeth Knox is a senior journalism major in Boston University's College of Communication. Prior to attending college, she was a professional ballet dancer with Tulsa Ballet. She may be contacted at knoxlawrence@gmail.com.
Lawrence Elizabeth Knox Contributor, The ARTery
Lawrence Elizabeth Knox, a recent graduate of Boston University, is a freelance photojournalist in Houston, Texas, and a contributor to The ARTery.