Cambridge 'Safety Net' Program Seeks To Catch Troubled Kids
Resume
It started with one of those "you're so ugly" insults kids throw around when they're feeling mean. Deven, then a fifth-grader in the Cambridge Public Schools, blew up.
"I threw my lunch tray at a kid," Deven says in a quiet voice, nestled into his living room couch and remembering one of the most difficult days of his life. "The principal wrapped me up and put me in the office."
This was at least the second time last spring that the school worried Deven -- whose last name we're withholding to protect his privacy -- would hurt himself or others.
"One day, I put a kid in a chokehold. And then, another day, my teacher said she was going to call security on me," Deven says. "I'm not a bad kid, it's just when some kids get on my nerves I can get anxious to hurt 'em."
Deven remembers feeling sad and angry often last spring. His grandfather had just died. And his dad, who he doesn't live with, had had a stroke and lapsed into a coma. Deven says his dad later showed him pictures from his hospital stay. Deven would stop talking and shut down emotionally when he thought about the pictures. He was running away from conversations he couldn't handle, disappearing from home or school.
When he started flipping chairs in the cafeteria, school officials called an ambulance, and Deven was strapped to a stretcher, he says. Two members of the Cambridge Police Department met Deven at Cambridge Hospital for a psych evaluation. One of them, Officer Pam Morris, was already tracking Deven's case, but not the way you might expect a police officer would.
Morris follows the social work model, tracking Devon's ups and downs. After he was sent to the hospital and diagnosed with depression and anxiety, she pulled at least half a dozen agencies into his case management plan.
Deven is a client of the Cambridge Safety Net Collaborative. Men and women from the city's hospital, social service agencies, schools and police meet every other Monday morning at police headquarters to talk about children who are getting in trouble on the streets or in classrooms.
"The whole idea is to identify risky behaviors before they turn criminal," says Lt. Leonard DiPietro, who directs the Cambridge Police Community Services Unit. A juvenile is three times more likely to commit an offense after an arrest and seven times more likely to do so after a single appearance in court, DiPietro said.
There may be lots of reasons why kids are suspended or stopped on the street. The collaborative pools information and resources to help.
In Deven's case, Officer Morris put his mom, Deborah DuPont, in touch with an agency that provides in-home counseling and help organizing all the appointments Deven would need. Deven started regular visits with a mentor. This past summer, Deven's mom and his team kept him busy with tutoring, a running club, a community garden and a basketball team. In August, he joined a Pop Warner football team.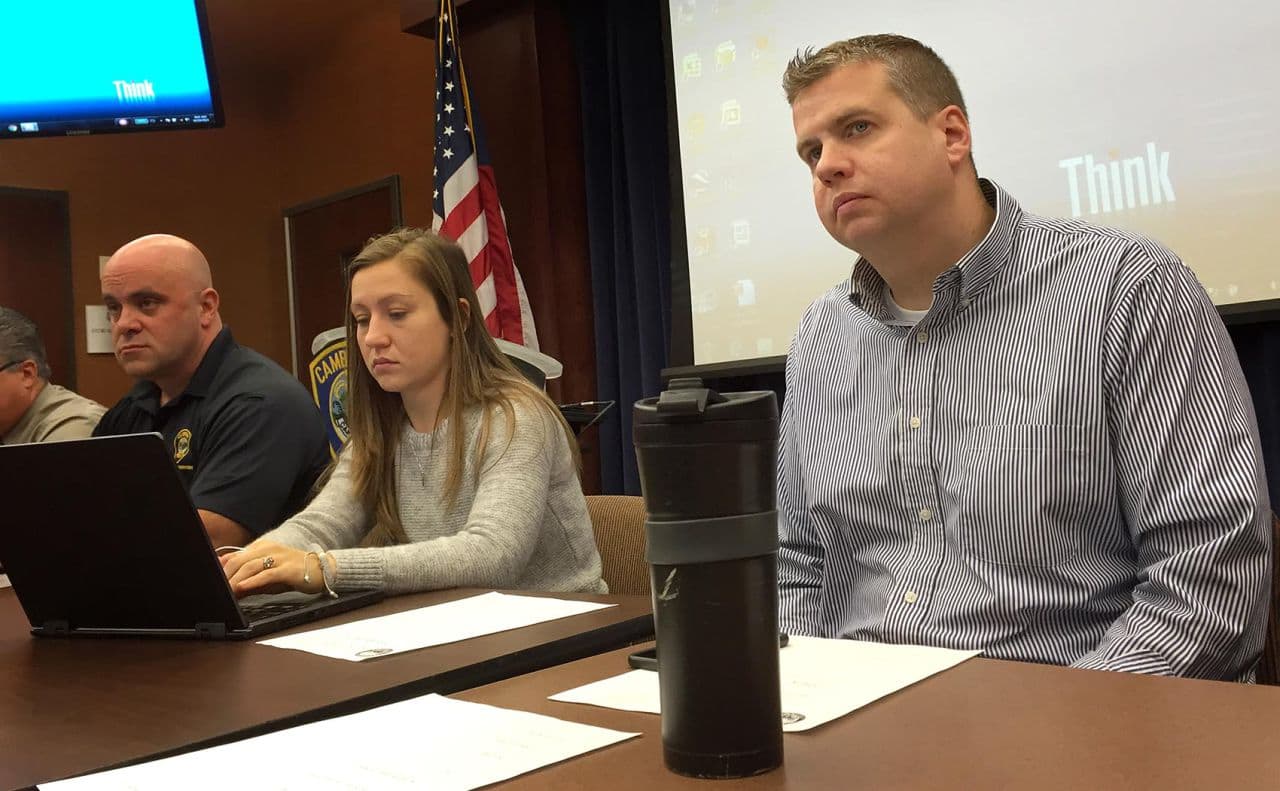 "He's really involved with sports, sports is just his thing, and he had a really good summer," Morris tells a recent meeting of the collaborative.
And Deven is doing well in the sixth grade, at a middle school with new teachers and guidance counselors.
"They haven't had any reports of behavioral issues, which is great," Morris says. "He's starting off the school year pretty good, and it seems like all these services are starting to happen."
Members of the collaborative ask if Deven's mom, who is raising three children on her own, is getting the help she needs. A Cambridge Health Alliance psychologist is worried that Deven hasn't started counseling, and asks for the name and number of Deven's care coordinator.
That psychologist, Dr. Jamie Barrett, co-founded the collaborative with Cambridge Police Chief Robert Haas seven years ago. The two men realized they were often dealing with the same kids.
"Kids who get involved in the criminal justice system, 70 to 80 percent of them have diagnosable mental health conditions," Barrett says. "So there's huge overlap."
Barrett says he's often asked why health care providers can't take care of mental health problems. Why does Barrett want to turn police officers into social workers with caseloads of clients? Because, he says, he sees a kid for 45 minutes, once a week -- if they show up.
"So everything outside of that, I have little awareness of," Barrett continues. "The police have much more interactions with young people in the community and the schools and know exactly how they're doing."
In the traditional model, in which police stop or arrest kids and hand them off to a social worker or the courts, Barrett says too many kids fall through the cracks. With Safety Net, that may be happening less often.
Juvenile arrests are down 68 percent in Cambridge since the program started, according to the police department. There's no proof the collaborative is the main reason. But Barrett and DiPietro say the program is making a difference.
Officers run a boxing club, camps and empowerment programs for girls. Cambridge police are expanding the model, assigning caseloads of men and women who are homeless or mentally disabled to specific officers.
DiPietro says Cambridge is flipping the model of law enforcement, putting prevention first.
"I honestly believe in my heart and my head that it's the right thing to do," DiPietro says.
Safety Net organizers say their model is unique in the country. That's a hard claim to verify, but it does fit a renewed interest in forging ties between police and community-based services.
"Officers are called to a situation, and they're aware that they're not family therapists," said Krista Larson, director of the Center on Youth Justice at the Vera Institute for Justice, a nonprofit in New York City. "They're not always sure what social service agency to call. The families will say, 'No, no, no, we've already called everyone, we didn't know what else to do but to call you.' "
In Cambridge, police say they know who to call — and probably have the person's phone number.
The main thing Deven is worried about these days is his grade in science. On his first test this year, he says, "I got a 24 out of 26, so like an A-. And then the second test I failed, I got a 45. I'm just waiting on the third test result." He lets out a sigh. "I'm just so anxious to get my test back."
Deven squeezes his fist and looks at his mom. At school he traces a figure eight and takes deep breathes when the work gets too hard or he feels the anger coming on.
He's aiming for all As and Bs this year, not sure he can do it, but he's already come a long way from the day he left school strapped to a stretcher.