How Bay State Wind Differs From Cape Wind, And How It Doesn't
Resume
A company is proposing to build an offshore wind farm near Cape Cod and the Islands. New England utilities would buy the electricity generated to power thousands of homes.
Sound familiar?
It's not Cape Wind. It's Bay State Wind. And whether this time is different could hinge on how these projects are different.
One difference is size. Bay State Wind would build much bigger wind turbines in much windier waters, meaning this proposed power plant would kick out more than twice as many electrons as Cape Wind would have.
Another difference is that, at least for now, Bay State Wind seems to have only a fraction of the public opposition.
"It's a much better site with fewer conflicts," said Audra Parker of the Alliance to Protect Nantucket Sound, which fought Cape Wind for a decade.
But Bay State Wind is not on Nantucket Sound, just five miles off the Cape. It's 15 miles off the other side of Martha's Vineyard in deep water. It's so far south it's actually due east of Long Island.
That's something Parker is glad to see -- or, more precisely, not see.
"The site selection was based on including public input," she said of the federal leasing process. "It didn't ignore the fishermen. It didn't ignore the tribes."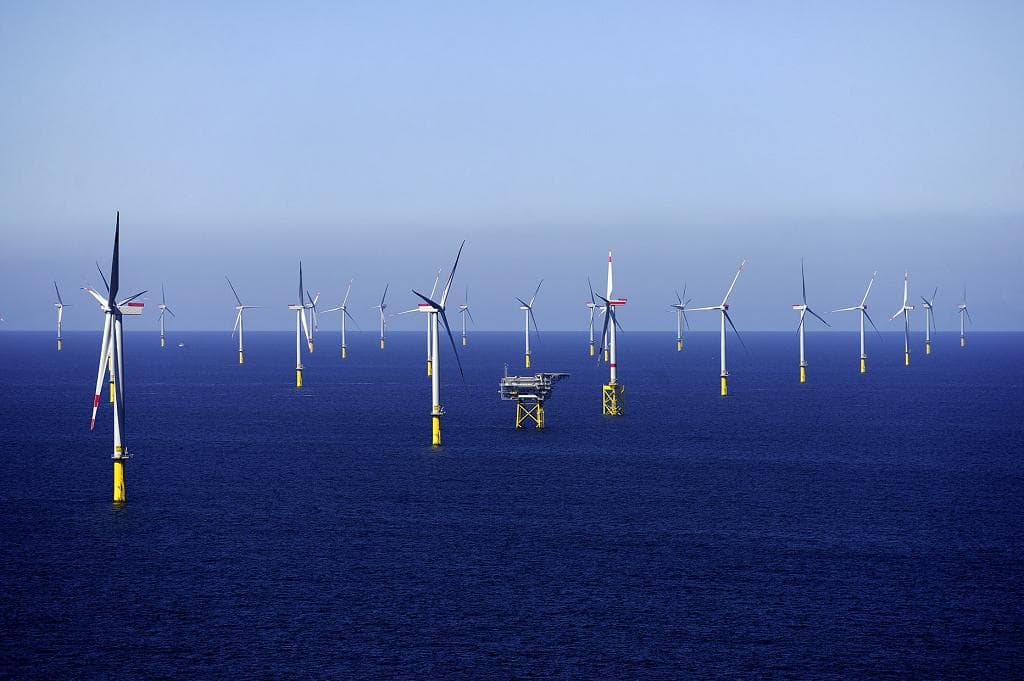 From the Vineyard, on a very clear day, you might be able to make out Bay State Wind with binoculars. But by escaping well-heeled Cape and Islands homeowners who funded an opposition to a wind farm in their backyard waters, this new proposed wind project has other obstacles, namely: engineering.
Jim Manwell, head of the Wind Energy Center at UMass Amherst, called Bay State Wind "a really big project in what would be considered a fairly difficult place."
Manwell calls this project a more challenging engineering feat because the site lies beyond the protection of relatively calm Nantucket Sound. Bigger ships are required to bring heavier turbines and equipment further out from shore. New England ports may not be up to the task right now.
"The whole maritime infrastructure is not as developed as, say it was, at the time of World War II," Manwell said. "We had shipyards all along the coast. We've allowed a lot of that to go fallow or to be abandoned. And so some of that will have to be renewed."
Manwell said that's why it's good that this project is being proposed by an experienced company, DONG Energy. The Danish firm has already built and operates wind farms off of Denmark, Germany and the United Kingdom. Manwell says DONG Energy knows what a project like this takes.
"On the one hand, we [in Massachusetts] have the opportunity of getting to use the experience from Europe," Manwell said. "In a rational world, we would have all started smaller and earlier."
But here's one challenge that Bay State Wind faces that is not different from Cape Wind's fundamental challenge: It has to sell the electricity it makes to regional utilities.
National Grid spokesperson Danielle Williamson said her company will evaluate the project.
"And as with any procurement, we're not in favor of mandated requirements," Williamson said. "But we would look for competitively priced on[shore] and offshore wind, large-scale hydro, solar and other technologies that become available."
However, DONG Energy would like mandated requirements. Massachusetts lawmakers are considering allowing a kind of long-term sale contract that the Danish company would like to secure, before it invests billions of dollars in the deep saltwater south of Martha's Vineyard.
The political and economic challenges remain, even if Bay State Wind has the experience, the know-how and a friendlier public on its side.
This segment aired on November 10, 2015.