Best Advice For Audiences Of Circa's 'Opus'? 'Come Along And Unexpect'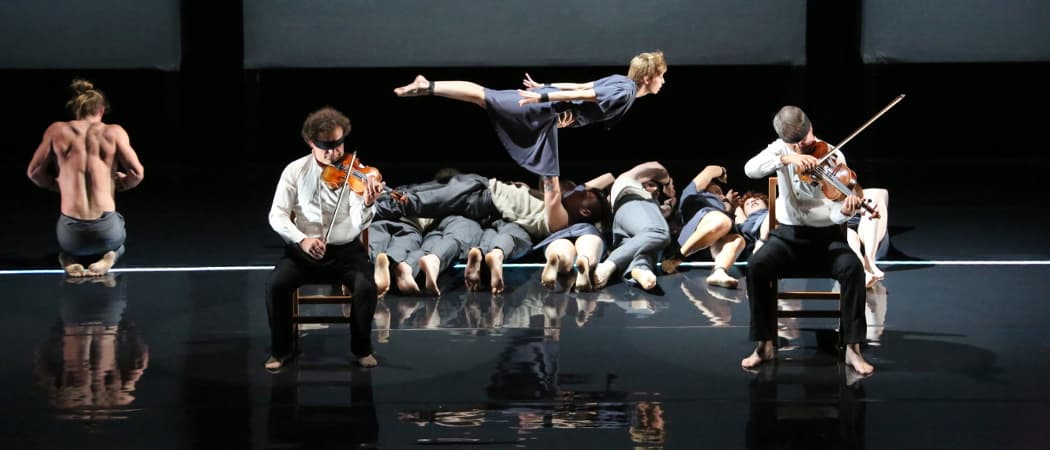 This article is more than 5 years old.
Circa, a world-roaming troupe of Australian acrobat-artists, is coming to the Citi Shubert Theatre, Nov. 13-15, presented by the Celebrity Series of Boston. The company first came to town in 2012, and I missed them then, but Circa's video of "Opus" shows breathtaking athleticism and onstage musicians who are blindfolded.
This is not your mother's circus, or even yours. In Celebrity Series' words, Circa performers "use their own bodies and mesmerizing skills to conjure classic circus showmanship with a touch of Vaudeville ... [to explore] the modern circus: no clowns, no animals, no flames. Just raw human skill and acrobatic feats with ropes, aerial feats, hoops and trapeze acts."
It looks intimidating. Bodies are tossed high into the air, balancing feats have performers piled upon each other, and the movement rises to a hectic pace. If you're the nervous type you may spend a Circa evening with your fingers on the 911 emergency dial on your phone.
Circa is based in Brisbane, Australia, led by artistic director Yaron Lifschitz. He directs opera and theater, and creates evening-long performance works for the 19 members of Circa.
I asked him about the company over email. Here's our exchange:
Sharon Basco: For U.S. audiences who may be familiar with Pilobolus and such performance groups as the Big Apple Circus, how would you describe the art and style of Circa?
Yaron Lifschitz: Circa's look is very stripped back — clean lines, elegant but simple costumes. The focus is on the body as the site of expressive possibilities. It's what the artists do, rather than how they look that carries the meaning and emotion.
Your training and experience are in theater, which doesn't seem like a natural background for a circus director. What brought you to circus? How did you evolve from theater to a circus format?
I failed as a theater director. I just didn't believe in acting. I wanted something more real and present. And circus is the ultimate art form of the present. I don't know that I evolved. I just made mistakes, tried to learn from them and then made more.
Who and what are your — and Circa's — major influences?
I was influenced by William Forsythe's writings about ballet (rather than the works themselves which I hadn't seen yet), Pina Bausch (of course) but also jazz music, Richard Serra, Derrida and the philosophers (not as philosophy as such but more as ways of thinking) plus life.
Circa was formerly known as the Rock 'n' Roll Circus Ensemble. Why the name change?
We weren't rock 'n' roll. I wanted to make a change — to suggest the contemporary and to challenge ourselves to go find it.
Your touring schedule suggests that Circa has great international appeal. Is part of the appeal that your work can be understood without the language barriers inherent in traditional theater?
For sure. It helps having few if any words. But I think people love the power of circus and the emotional force Circa brings to the medium.
Please describe "Opus" and how it differs from Circa's other evening-length works or repertoire.
It is bigger! Fourteen acrobats, the wonderful Debussy Quartet from Lyon. It features only the music of the composer Dmitri Shostakovich which is, frankly, astounding. It is a creation that looks at how the private/personal/intimate relate to the public/group/political. It is influenced by Shostakovich's life and works which provide the music as well as the thematics.
Tell us about your performers: their background and training, skills needed and whatever else you require of your artists.
I look for artists with a quiet fire, great skills and the ability to work in an ensemble. Our artists all have trained as circus performers — a background in generalist acrobatics and one or more specialist disciplines is needed.
Who is your best audience — dance fans, family groups, a general audience or viewers who see a lot of modern dance, ballet and other dance forms?
Really, anyone. We play to young and old, across the world and I haven't found a particular ingredient that makes the ideal audience for this work. Maybe an open mind and a heart that wants to feel?
I am fortunate to work with a fearless ensemble of artists who tell me exactly what they think and it keeps me honest.
Is there information do you like your audience to have, or do you prefer that they come to your performances without specific expectations or preparation?
I like them to come and watch. Knowing about how Shostakovich wrote his quartets as personal statements in an era when the personal was deeply threatened and was subversive might be useful. Mostly come along and unexpect.
---
Sharon Basco is a journalist, critic and public radio producer.
Sharon Basco Contributor, The ARTery
Sharon Basco is a a journalist, critic and public radio producer.