'Chopin Without Piano' Aims For A Virtuosity Of Its Own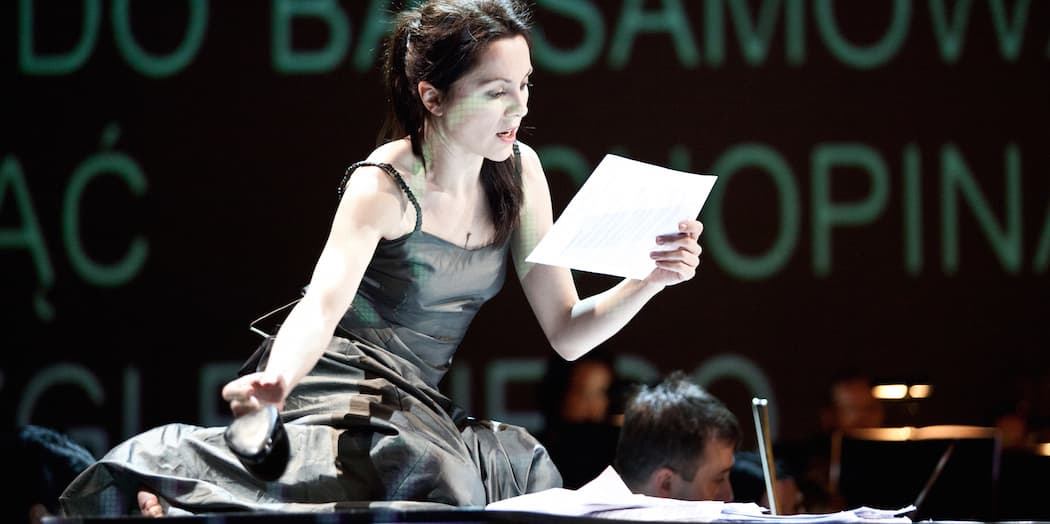 This article is more than 6 years old.
It's not a radical thing to arrange a piece of music to feature a soloist playing an instrument other than that for which the piece was composed. But "Chopin Without Piano" goes a fascinating step further.
As the title of this cross-disciplinary performance suggests, the central musical force is removed from the Polish-born composer's piano concertos in E minor and F minor. All that gloriously virtuosic piano is replaced with text — lots of it, delivered by an actress in the phrasing and cadence, we're told, of the missing portion of the score.
The inaugural creation of Polish theater company Centrala, "Chopin Without Piano" was created by director Michał Zadara and actress Barbara Wysocka, who is backed, during the show's visit to the Paramount, by the Boston Conservatory Orchestra as conducted by Franck Ollu. The very limited run continues through Saturday, followed by a free performance on Sunday of the two concerti (with piano parts intact) given by the Boston Conservatory Orchestra.
Wysocka performs in Polish, with English translation projected on a rear screen. An onstage piano is covered in pieces of paper which spill onto the floor around it. The actress sometimes pantomimes playing the instrument, but more often climbs atop it. She moves about the stage, picking up books and tossing them aside, and at one point confronts the 46-piece orchestra. (A bullhorn is employed, too.) In one particularly welcome bit of stagecraft, Wysocka sits near the stage lip as live video of her performance is projected onto the piano, creating a gorgeous stage picture.
So what's all this "about"? Wysocka offers poetic aphorisms ("Human beings exist/ To the extent that they remember"), rhapsodic descriptions of the music ("E minor is the key of love/ But also of deathbed farewells/ Sleeping and dreaming") and some on-the-nose thesis statements that land a bit leadenly in this context. (See: "Chopin's music is the soundtrack/ Of our postmodern alienation.") The show's creators seem most riled up by what they see as a disingenuously uncomplicated portrait of the artist proffered by those who — stymied by "that immortal Polish thoughtlessness" — would inartfully make Frédéric Chopin a patriotic emblem of national pride.
But the show's form is as provocative as its content. As the excellent program notes by Swarthmore College professor Allen J. Kuharski indicate, the removal of these compositions' most distinctive element both suggests the ghoulishly poetic epilogue to Chopin's life — in which his heart was removed and sent back to Poland, while the rest of his body was interred in France — and proposes a way to "reanimate" rather than "reconstruct" the artwork of the past. There are resonances, too, with Cyprian Kamil Norwid's poem about the destruction of Chopin's piano by Russian soldiers — itself an act of "vandalism," Kuharski suggests, now echoed in the "radical act of cultural blasphemy" committed by Zadara and Wysocka by stripping this music of its beloved element.
It's nigh impossible to simultaneously follow the actress's busy movements, read and consider all the fast-moving text and also find some brain space to absorb the spirited performance of the orchestra. It almost goes without saying that plenty gets lost in translation, in terms of the sheer amount of data the theatergoer must assimilate as well as the absence here of shared assumptions about Chopin's place in Polish culture. This is very much a Polish show, and at times there's the sense of an American audience merely observing, rather than participating in, the conversation this insistently questioning piece is determined to incite.
Some of the text is spoken in such rapid-fire cadence — mimicking the many flurries of 16th notes in the score — that I suspect it would be hard for even a fluent Polish speaker to follow it. In these moments, the implication is that one should listen for the music (so to speak) in the words, absorb the tone of Wysocka's gesticulations and simply feel. Unlike the Romantic sweep of Chopin's work, this is a harsh, and not lyrical, music. The text comes as a fierce stream of guttural consonants elbowing each other into mincemeat. In her understandable effort to avoid being upstaged by the orchestra, she yells a lot, seemingly demanding that we appreciate the music rather than modeling her own sense of inspiration and letting us follow of our own volition.
This is all a matter of artistic choice, of course — Wysocka and Zadara want to grab us by the lapels and shake some sense into us, or so it seems. And this rather relentless approach is tempered by the inventiveness of Zadara's staging, which places the different sections of Wysocka's engrossing monologue into their own contexts.
"Chopin Without Piano" is a fascinating performance to behold, even if its very particular concerns do end up rushing by like yet another run of rapid-fire notes.
---
Jeremy D. Goodwin contributes regularly to The Boston Globe, The ARTery (where he is also an editor), Berkshire Magazine and many other publications. See more of his work here. Follow him on Twitter here.