Strong Debater Rubio Rises Again, And 4 Other Takeaways From Our New Poll
This article is more than 7 years old.
A new WBUR poll of the New Hampshire Republican presidential primary (topline, crosstabs), released Wednesday, shows Donald Trump still ahead of the pack, with Dr. Ben Carson falling back.
Here are the five most important takeaways from the survey:
1. Marco Rubio, debate Jedi.
Over the last two debates, Rubio has shown serious debating skills, with New Hampshire GOP primary voters rating him as winning each handily. He cooly deflected an attack from fellow Floridian (and former mentor) Jeb Bush. Ted Cruz has also performed well, though he is unlikely to be the senator New Hampshire voters are looking for.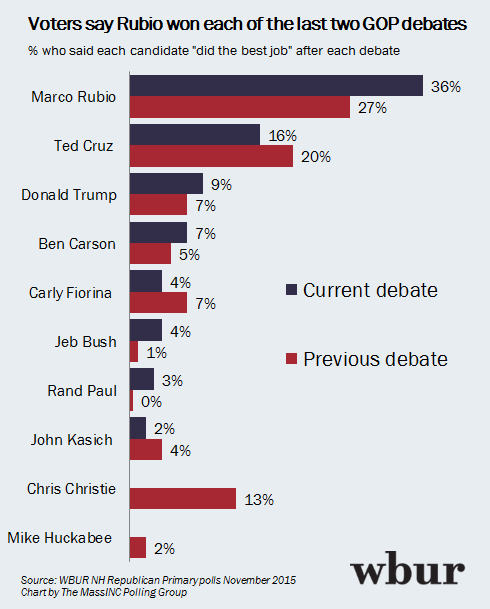 ---
2. Voters leave plenty of room for differing Middle East approaches.
In the aftermath of the attacks on Paris, New Hampshire GOP voters are split on the best approach to the Middle East. Just 38 percent say sending more troops to the region is the right approach. The remainder split between maintaining current troop levels and removing some troops. This lack of uniformity means candidates need not stake out the most hawkish position to win, at least as of now. In contrast, after 9/11, various polls showed 85 to 90 percent of U.S. voters supported war in Afghanistan. Even in the less clear cut case of Iraq, 72 percent supported the war.

---
3. The rumors of Trump's demise are greatly exaggerated.
Pundits continue to point to things that are supposed to be the end of Donald Trump. Paris was the latest. Trump may yet fade, but he's showing no sign of doing so at the moment. Despite a widely panned performance in Iowa last week, and the possibility that the attacks in Paris could push voters toward more serious candidates, this poll is the best showing yet for Trump in the WBUR New Hampshire poll series.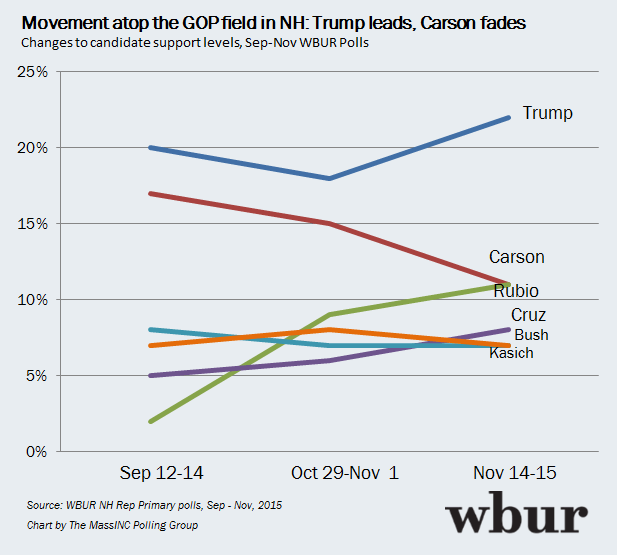 ---
---
5. We love you Mitt, but let's just be friends.
Rumors swirled late last week about a late entrance into the race by the former Massachusetts Gov. Mitt Romney. New Hampshire looks back fondly, giving Romney what would be one of the best favorability ratings in the race. Despite this, just 34 percent would like to see Mitt join the fray, while 64 percent would rather him stay out of the race.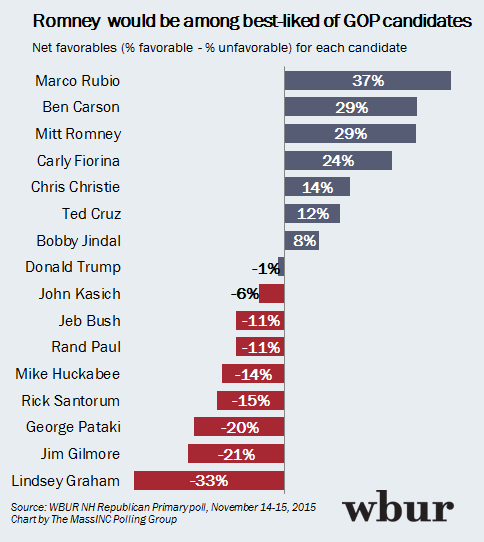 Correction: An earlier version of this post linked to polling results that had a typo on the results to an immigration question. We regret the error.
Steve Koczela is president of the MassINC Polling Group and a regular contributor to WBUR Politicker.
This article was originally published on November 18, 2015.