Contemporary Classical Ensembles Break The Mold To Carve Out A Spot In Boston's Music Scene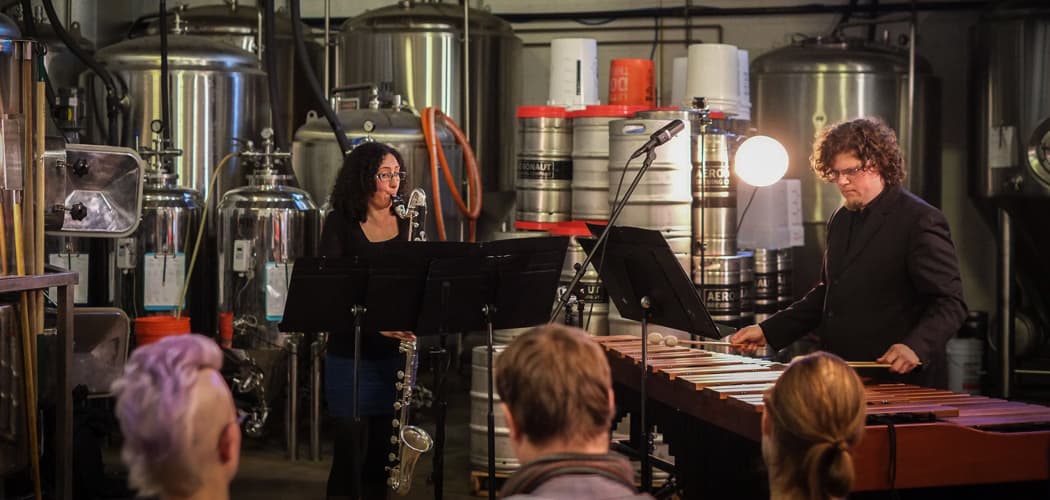 This article is more than 5 years old.
It's no secret that audience size for classical music concerts is dwindling and that members of the classical music community have been trying to find innovative ways to reignite interest in the art form.
Some organizations are making admirable strides in bringing the music of the classical canon to a new generation (see Ed Siegel's piece on Groupmuse). "Contemporary classical music," or "new music," for lack of a better term, is generally the product of creatives within universities and higher music institutions, falling within a subset of larger music departments that traditionally focus on Western classical music. Composers create music that emerges from, and often reacts against, the weight of classical music's history.
Although this music can sound wildly different from what is normally deemed classical, new music faces many of the same issues as its forebear — mainly, lack of awareness and shrinking funding.
The new music community is eagerly exploring new modes of music creation. And with its surplus of talented and entrepreneurial musicians, the Boston community is working hard to carve out a space for getting this music to the public.
There are many ensembles, concert series and composer collectives in the Greater Boston area that want to get their music out of the ivory tower and into the community. Each has a different mission, but the spirit is similar: They all want to bring contemporary music to a wider Boston audience with innovative programming and venue choices. All face the same challenges of deriving a unique identity, building an audience and raising and maintaining a funding base.
Common Ground Between Different Crafts
The Original Gravity Concert Series is dedicated to the music of living New England composers, but also pairs their concerts with the work of another breed of community craftsperson: the brewer.
At each of the their four concerts per season, OG presents the music of one living New England composer at a local brewery. The brewers create special-release beverages specifically meant to pair with the music. Tapping into the art of music and beer-making is exactly what founder and artistic director Keith Kirchoff had in mind when he developed the idea for the series in 2013.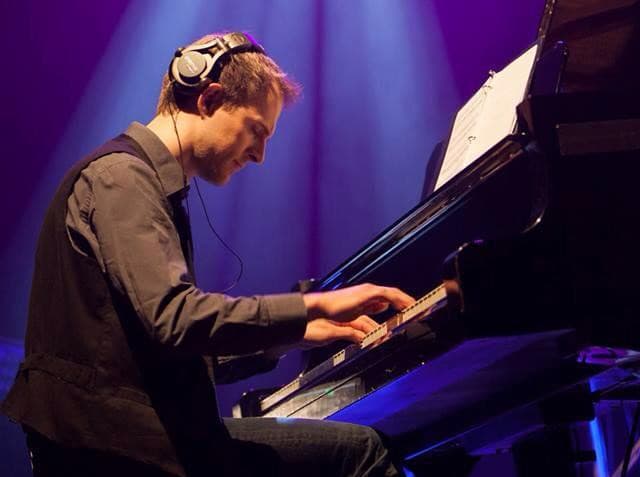 Kirchoff admits that although there are amazing contemporary classical events in the city of Boston, he was always seeing the same people — other composers and performers — in the audiences. As both an active musician and amateur brewer, Kirchoff wondered if he could combine his interests to help expand audiences.
"It seemed like there was a common cause between people interested in contemporary music and people who are interested in local beer. I felt that the people working in the craft beer scene were people who would actually enjoy [new] music, but they had no idea that it existed," says Kirchoff.
Kirchoff and the rest of OG's directors created a model where the musicians and breweries both benefit.  By hosting their concerts within breweries, they gain larger and more diverse audiences, while the breweries gain new fans from the music community.
"Fans of the brewery might go to check out the new beer for the concert," says Kirchoff. "There's something quirky about [the concert] so you get people who are just looking for something fun and random to do, and it's also a way to artistically engage with the brewer. The brewer talks about the beer and why they chose the recipe to pair with that composer's music."
The brewery setting also creates a more personal environment than the standard concert hall. People talk about the music — and the beer — in a relaxed way. Their first few concerts in 2014 at Somerville's Aeronaut Brewing Company worked so well that other breweries are reaching out to Kirchoff to schedule concerts.
As with any concert series, funding is a challenge, though the symbiotic relationship between brewery and series does seem to help. OG takes 100 percent of the profit from ticket sales to pay performers and cover operational costs, while the breweries bring in money from alcohol sales. The enthusiastic response from both the music and beer communities keeps Kirchoff and his team motivated, and he hopes to eventually market his model to other craft breweries across the country. The next Original Gravity concert takes place at the Blue Hills Brewery on Saturday, Nov. 21, at 5 p.m. and features the Mobius Trio.
Blurring Lines To Build Audiences
The mission of Hub New Music (formally the Boston Young Composers Ensemble) is more about bringing new forms of music to Boston than focusing on what is already happening within its new music scene. The group of performers that make up Hub's core roster present a style of music that is not often performed in Boston, a style that blurs the lines between indie-rock and contemporary classical.
"As a group we became very fascinated by the post-genre aesthetic of music that's coming out of Brooklyn and LA," says flutist and artistic director Michael Avitabile. "We found the concept of weaving various genres of music through the scope of 21st century composed concert music to be fascinating."
Hub is establishing connections with like-minded musicians, especially in New York City, and using this network to find additional music to program in Boston.
"We're looking at an individual piece as a collection of various genres and influences rather than saying, 'This is pop music' or 'This is classical music.' Yes, the ensemble is a [chamber] quartet — but it sounds like a rock band." This genre-blurring music provides Hub with a language, so to speak, that can engage listeners who may not be familiar with new music.
Hub is making smart and interesting choices about how and where to program their concerts. A recent event at the MFA featured the music of composer Andrew Norman and focused on the composer's fascination with architecture. Hub created a digital program that included information and imagery about the architectural inspiration for Norman's music. This blend of inter-disciplinary focus and technology is something that Hub plans to continue in the future. It also helps to widen and diversify audiences.
"We're finding that the venues have a certain pull from their own audiences, and doing things like tying together music and architecture brings in members of different communities," says Avitable. The group works hard to create proposals and press materials for their concert ideas in order to secure venues like the MFA. The payoff is an inspired and established location that brings in a wider audience base.
Hub's latest venture is a subset of concerts that explore globalism in 21st century music under the heading Pushing Boundaries, launching on Saturday, Dec. 5, at Boston Conservatory. Pushing Boundaries will bring music that traverses pop, indie-rock, folk, electronica and composed concert works to events at Boston Conservatory, Harvard's Club OBERON and Somerville's Arts at the Armory.
Longevity Thanks To A Local Spirit
The Equilibrium Concert Series is largely defined by its commitment to local artistry. "The mission has always been to emphasize music with some connection to the Greater Boston and New England area," says founder and artistic director Mischa Salkind-Pearl.
Since its first season in 2011, EQ has presented music composed in the 20th and 21st centuries and takes a flexible approach to programming. Some concerts feature established local chamber ensembles presenting their repertoire, including Boston Modern Brass, Ludovico Ensemble and Transient Canvas. Other programs focus on the music of select composers, requiring a mix of instrumental forces drawn from friends and colleagues of the series directors.
EQ is also flexible when it comes to creative choices, offering equal opportunities to all compositional styles instead of settling on a single aesthetic vision. The works themselves hail from different generations — some concerts are chock full of premieres by young, emerging composers, while others present established contemporary repertoire. With all this flexibility, the series relies on its commitment to local musicians to fuel its identity.
The current season marks a new direction for EQ: the launch of an in-house band, the Equilibrium Ensemble. Salkind-Pearl and the rest of EQ's directors decided to create a core roster of performers so that they could focus less on presenting established ensembles and more on curating their own programs. They are also using the new EQ Ensemble to develop a unique commissioning project, where selected composers are not only asked to write a new piece for the ensemble but to also curate the rest of the program for the work's premiere. This season features new works by three composers with ties to New England.
Although this new commissioning project and locavore spirit keeps the series directors motivated, producing these concerts is no easy feat. Says Salkind-Pearl, "It's really slow and there's no money. Our biggest issues are money and audience." As a non-profit organization, EQ uses donations, fund-raising events and the occasional grant to make up the majority of their budget, while ticket sales help to fill the gaps. After venue rentals and other operational costs, what's left goes to the performers, who frequently work for a very low wage. Composers rarely, if ever, see a dime (EQ's new commissioning project is unpaid).
Audiences are also tough to build for any contemporary classical event, with the biggest question being: How to bring in audience members who aren't just other composers or performers?
A recent September EQ concert had a modest audience of about 35 to 40 people. Yet thanks to the series' longevity and their social media marketing campaign, Salkind-Pearl says sees improvement in the demographic. "We are starting to get some people who are not our friends!" EQ's next concert, featuring a new work by Clifton Ingram, is slated for Friday, Dec. 4, at St. Peter's Episcopal Church in Cambridge.
---
Heather Stebbins is an intern with The ARTery and a doctoral fellow in composition at the Center for New Music at Boston University.