ArtsEmerson's Polly Carl, NTC's Person Of The Year, Aims To 'Democratize The Arts'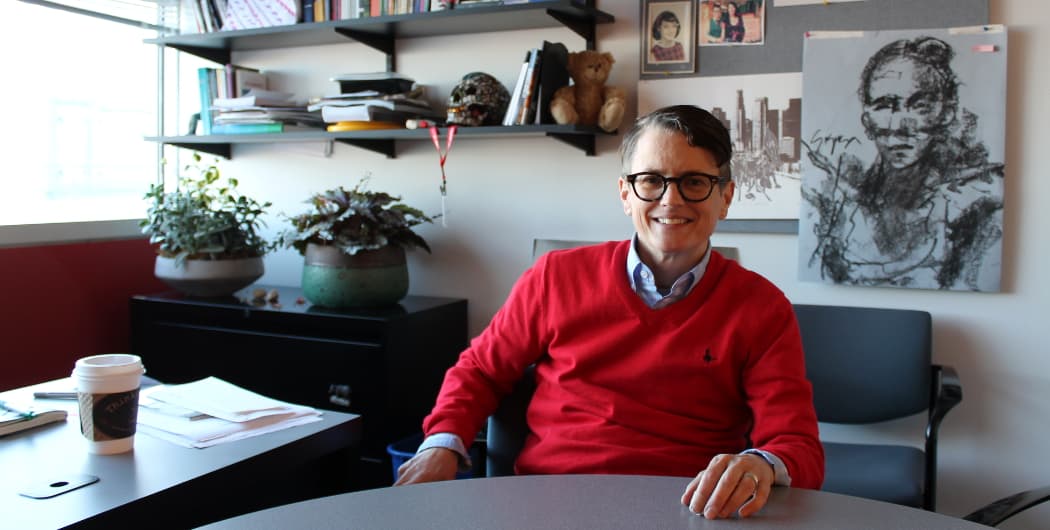 This article is more than 5 years old.
"My interest has never been about 'Oh, I want to make a good play,' or 'Oh, I want to tell a really good story'," says Polly Carl, Boston-based producer and dramaturg whom the National Theatre Conference (NTC) has named Person of the Year.
Might sound a bit odd coming from Carl, who was chosen primarily for work in new play development.
But Carl continues energetically, "Yeah, I want to write a good play. Yeah, I want to tell a good story. But what I really want to do is make people's circumstances a little bit better."
Taking on various roles during nearly 20 years in theater, you could argue that Carl's career so far has been shaped by an effort to make the theater more inclusive.
Currently, s/he's creative director at ArtsEmerson. (Carl, who identifies as transgender, prefers the s/he pronoun.)
Carl's part of a leadership trio with artistic director David Dower and managing director David Howse. The theater was started under Rob Orchard with the goal of bringing the best productions to Boston. The current leadership structure, according to Dower, aims to support a "dedication to diversity and inclusion on all dimensions of our work." Carl works with programming, developing their new Public Dialogue Series and audience engagement teams — and co-artistic directed the last season. Not to mention, s/he's on faculty at Emerson.
Carl also helped found, and continues to lead the development of, HowlRound, a virtual commons for and by people in the theater.
"I have a really eclectic life." And Carl wouldn't have it any other way.
An Accidental Life In The Theater
A few days before s/he headed to New York City to receive the award, I met Carl outside the Cutler Majestic Theatre. With a loud red sweater and smart glasses on, Carl, having no interest in showing off the grandeur of the theater's entrance, brings me up a back stairway to an office in the same building.
With shelves of books on the wall, Carl's office looks like that of a professor. A poster on the bulletin board shows an anachronous sketch of revolutionaries on the outskirts of Los Angeles — something s/he picked up from an artist in LA. Carl says it shows the conquerors victoriously departing from gentrifying east LA and Boyle Heights to start on the neighborhoods.
It's a bit of a hat tip to a primary focus of younger days — the intersection of art and social justice.
After growing up in Elkhart, Indiana, Carl got a bachelor's degree in English literature and a masters in peace studies from Notre Dame. S/he then spent time in Florida working to organize union farm workers, and in south central LA working at a clinic of Central American refugees and doing some political activism.
Continuing in academia, Carl got a doctorate in Comparative Studies in Discourse and Society from the University of Minnesota. S/he entered the Ph.D. program with the intention of studying film theory, queer theory, culture, literature. Theater was only ever on the periphery.
But Carl's always been "obsessed with storytelling," s/he says. (Even Carl's thesis was on Walter Benjamin's "The Storyteller.") "That has always been my gig."
Then s/he was in need of a "job, job," Carl says, something different after years of academia. Carl found a job as the development director of the Playwrights' Center in Minneapolis, intending to write grants for about a year before finding a teaching job at a liberal arts college.
"Then I got there and fell in love with the theater. I immediately connected with the artists there, I immediately started to talk to them about their plays ..." s/he said. "I've built an entire life in the theater pretty much by accident."
Carl spent 11 years at the Playwrights' Center, then a few at the Steppenwolf Theatre in Chicago.
Looking back, Carl says that in a way, everything s/he did was preparation for a career in theater. "I think you could see, in my career, a commitment to social justice and activism. … The questions of equity and inclusion — those questions are the 'whys' of theater. In the career I've put together, I've not lost any of those passions."
'Opening The Door'
About five years ago, Carl helped found the journal part of HowlRound, an online platform that shares information on theater and performing arts.
The NTC cites this project as a leading reason, in addition to work with new play development, for the honor. In a statement, NTC president Risa Brainin says they admire it for the "enormous impact it makes every day communicating to and advocating for the field."
Carl says, "I think it's changed the conversation in the field. I think it's created incredible inclusivity for voices to be together." Not unlike a public library, something Carl admits was a favorite refuge growing up in a small town.
"The public library was the space that anybody could enter, anybody could get a library card, anybody could take books off the shelf and read them. It was a space that I always felt welcome. It was for me. In a way, HowlRound attempts to be in that same spirit of a commons that anyone could enter and be seen and heard," s/he says.
Carl says that there has been a sense in the arts of elitism — "there was always a sense of being chosen." This type of elitism left a lot of voices out, which Carl says HowlRound is now working to bring in.
"When you open the door, when you say anyone's welcome, a lot of people who haven't felt welcome come through," Carl said.
Connection At The Crossroads
During our conversation, Carl stressed at least four times that the work s/he does — with HowlRound, at ArtsEmerson — is highly collaborative.
"It's such a team effort here, which is why it's weird to be the one Person of the Year," Carl said.
Dower, in an email interview, corroborates the collaboration, but says Carl stands out, distinguished by "a deeply rooted commitment to artists, to the forward edge of the form, and to the role of theater in the public arena."
A lot of Carl's work is in engagement and determining how ArtsEmerson intersects with the community and their audiences — one effort was kicking off their new Public Dialogue Series this fall.
Carl says it's important to talk about how major shifts in culture are reflected in theater, and how the theater could help us think about and question those shifts. For example, one event this fall focused on the question of what bodies could play what bodies on stage.
"We're at an incredibly complicated crossroads and finding ways for people to connect in conversation at those crossroads is important right now," s/he said.
'Democratization Of The Arts'
In the three and a half years that Carl has been at ArtsEmerson, s/he says, "I've built upon the notions of the theater being for everyone, the democratization of the arts — I think you see that in the work of ArtsEmerson and Company One — and really trying to be the theater of now."
With a large institution like ArtsEmerson, Carl says their challenge is to tell stories that reach across generations and cultures.
S/he brings up the Isango Ensemble, which just finished performances in Boston, a South African theater company that reimagines Western classics in a South African context.
"They're bridge builders — they speak to those who love opera, those who never go to opera," Carl said. "When we're programming, we're thinking about companies like Isango who have the ability to build a sense of connection across disparate groups — that's one of the challenges in the 21st century."
Carl also talks about ArtsEmerson's responsibility — as a theater of size in Boston — to work toward opening the arts to more people.
"It's a very privileged world and I feel like that's a privilege that should extend to many, many more people and that has to be the work of institutions that have resources and means," Carl said. "It has to be our work to make the world better."
The challenges the American theater is facing these days? Making audiences, stories and especially institutions that are reflective of America today, Carl says.
Ongoing research at the Wellesley Centers for Women is looking into why women don't hold more leadership positions in resident theaters. The researchers have said "the absence of women at the top is clearly a glass ceiling issue."
With a leadership role, Carl says s/he feels like s/he's holding space open for the people around the table to start changing substantially in upcoming years.
"There's business the way we've always done it, and that's the thing we have to overcome," Carl said.