Blue Öyster Cult Finds Itself Tangled In J.K. Rowling's 'Career Of Evil'
Will muggles or millennials start Googling and YouTubing "Dominance and Submission," "(Don't Fear) The Reaper" and "Career of Evil"?
They might — that is, if there's a crossover audience that follows "Harry Potter" author J.K. Rowling anywhere and everywhere. Because lyrics from those aforementioned songs, and many more, are featured in the grisly and gripping "Career of Evil," Rowling's third book written under the pseudonym Robert Galbraith. Woven throughout the book are the lyrics of the American hard rock/heavy metal band Blue Öyster Cult.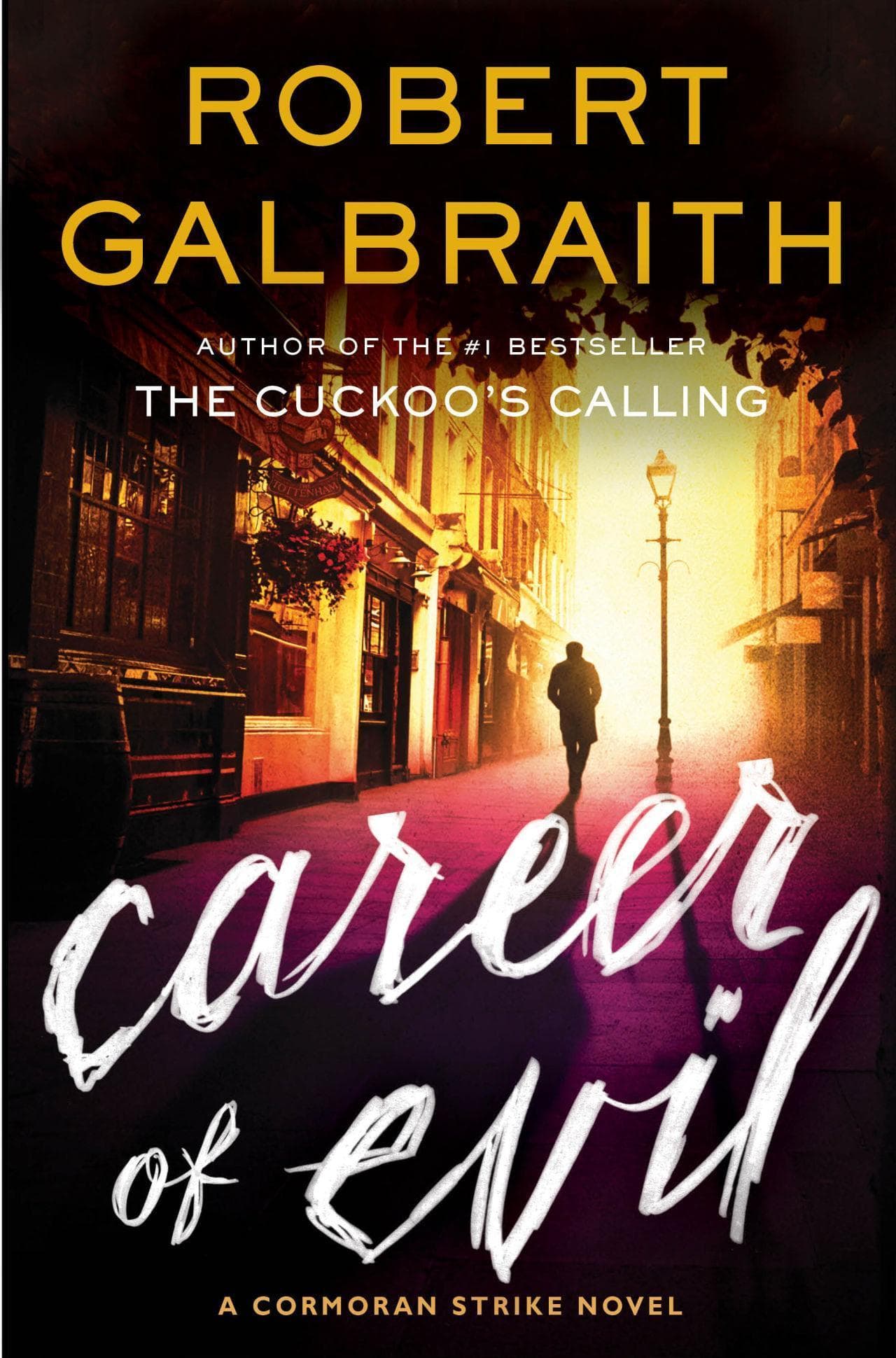 Blue Öyster Cult (BOC) — which played the Bull Run in Shirley last Thursday — has been a favorite of mine dating back to the early 1970s. I wrote this in 1989 about a BOC club show in Boston for the Boston Globe: "They're melodic, they rock hard and lean; they've got a knack for merging mordant wit with sharp storytelling."
Those things must have been what Rowling picked up on, as she features no fewer than 50 Blue Öyster Cult song titles or lyric snatches in the book. And she makes lead singer/guitarist Eric Bloom a character, at least in a brief flashback.
"I can't remember ever enjoying writing a novel more than 'Career of Evil'," writes Rowling in the author's note at the end. Rowling has written more than a few and sold more than 400 million books.
The third novel in this series — and more are planned — features a crusty, one-legged private investigator in London named Cormoran Strike. He lost that leg to an IED, fighting in Afghanistan years ago. His nemesis now is a taunting, misogynistic killer, who Strike suspects is one of three people known to him from past exploits. They all have cruelty in their blood and reason for revenge.
The story is told in the third person from Strike's point of view as well as the unnamed (until the end) killer, who might just be Blue Öyster Cult's biggest fan. Their lyrics are in his head as he contemplates doing his dirty deeds. One of the chapters about his perversions is headlined "Subhuman," after a BOC song. He's playing their music constantly on his iPod.
There's more. Early in the book, Strike and his female investigative partner Robin Ellacott receive a severed leg in the mail. The package is accompanied by a note quoting from an early Blue Öyster Cult song "Mistress of the Salmon Salt (Quicklime Girl)." That happened to be a tattoo that Strike's late mother — a supergroupie back in the day — had inked above her crotch.
Says Strike: "It ['Mistress of the Salmon Salt'] was her favorite song, Blue Öyster Cult were her favorite band. Well 'favorite' is an understatement. Obsession, really. … She wanted Eric Bloom, lead singer of Blue Öyster Cult, but never got him. One of the very few who got away. … I was nearly christened Eric Bloom Strike."
So, I rang up the real Eric Bloom, now 71, and asked how it felt to be a fictional character.
"Well, I'm not really a fictional character," he says, being that he still co-leads the band with co-founding guitarist-singer Donald "Buck Dharma" Roeser. "The book is referencing the real me. Obviously, some character in the book wanted to shtup me but did not succeed."
As to how this all came about, Bloom says, "I don't know the thoughts in Ms. Rowling's head about why she picked me. If I ever meet her, I will ask. I don't know if she's even a BOC fan, but obviously there must be something that she's referencing. I think she's 50, so people who are 50ish, 30 or 35 years ago they were teens and that goes back to our heyday, shall we say. So maybe she had had a BOC-painted jacket or saw us at the Hammersmith Odeon or the Manchester Apollo. Maybe she came to shows as a young lady and saw us play or bought records. She got it from some place. She could have picked any band."
Blue Öyster Cult's longtime manager, Steve Schenck, is more sure about Rowling's affection for the band. "She's a huge Blue Öyster Cult fan," he says, "and you can tell by how deep she went. Besides the obvious [songs on the] Columbia catalog, she plucked stuff from the latter period and even grabbed 'The Girl That Love Made Blind,' which was going to be on the 'Imaginos' album [but was cut]. If you're a fan, you know the song. I've spoken to her agent and clearly [Rowling] knows."
Bloom says he first found out about Blue Öyster Cult's prominence "a few months before the book came out because they had to get permission to use the lyrics. There was a business pipeline that has to come down as far as licensing goes through our management and her agency. I was removed from it. I would get a phone call saying 'This is going on' because I own a publishing company and Buck owns a publishing company and Sony owns our original catalog. All this had to go down in a matter-of-fact fashion. It was a negotiation. There were no huge dollars going on, but it was fair."
Rowling has said serial killer Ted Bundy was a prime inspiration for her antagonist, but has not spoken much about exactly why she chose to feature Blue Öyster Cult and their lyrics.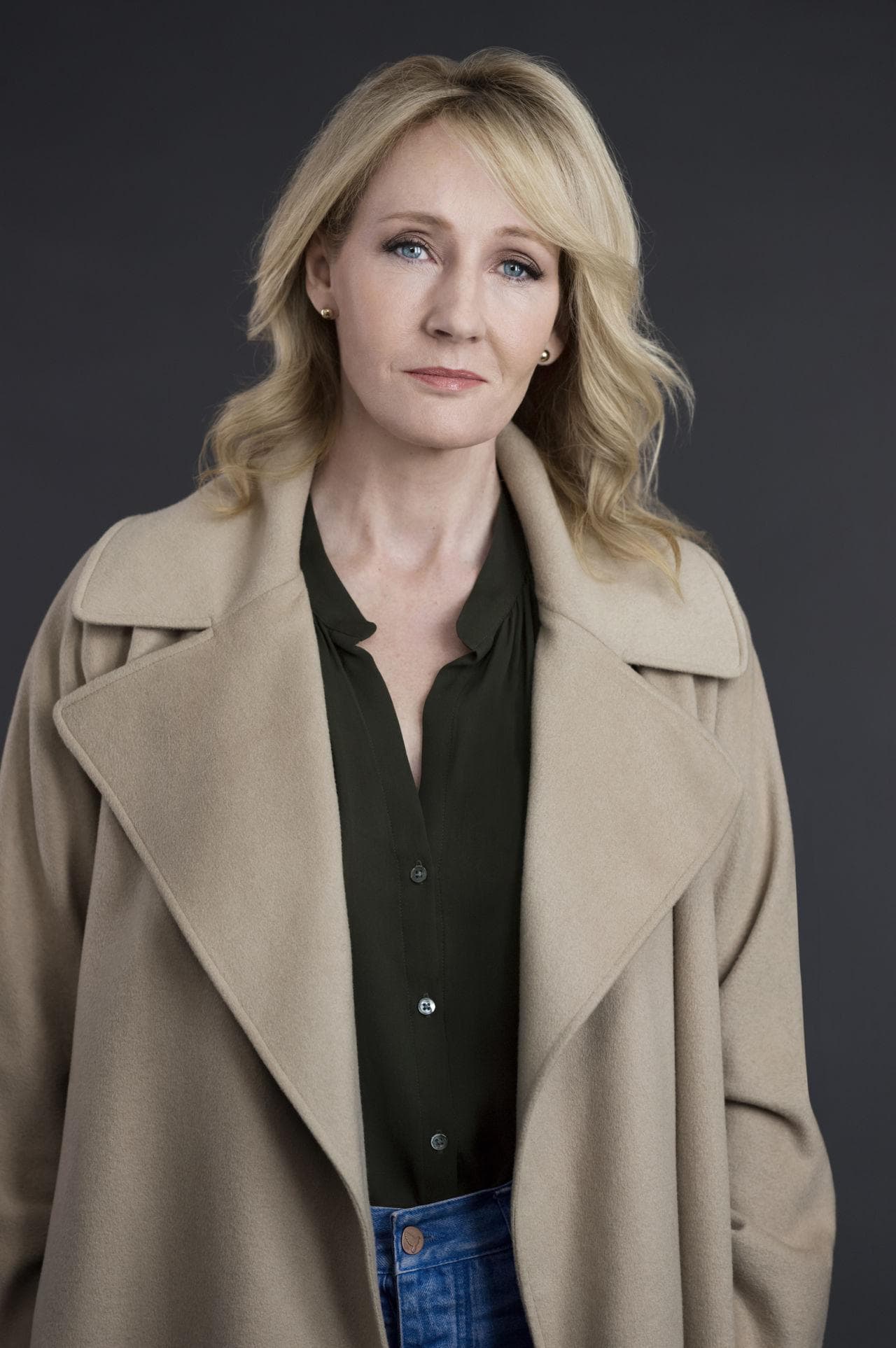 "To be honest," she told NPR's Morning Edition book editor Barrie Hardymon "it's the guitar hook. I'm a real sucker for guitars. I've had a crush on many, many a guitarist." On her own website (or Robert Galbraith's, to be precise): "It was fun weaving in the lyrics of Blue Öyster Cult."
Perhaps, she's more expressive about BOC in the book. She has Strike say, "Their lyrics are insane. Science fiction. Crazy stuff. A voice in his head: She wanted to die. She was the quicklime girl."
The interesting thing about Blue Öyster Cult's lyrics is they often sought outside collaboration, especially in the first few years. And the song Rowling chose as the title of her book was a co-write between Patti Smith and her then-boyfriend, now-deceased BOC keyboardist-guitarist Allen Lanier.
Bloom sings the leering, ominous lines: "I choose to steal what you chose to show/ And you know I will not apologize/ You're mine for the taking/ I'm making a career of evil … I'd like your blue eyed horseshoe/ I'd like your emerald horny toad/ I'd like to do it to your daughter on a dirt road."
It's a catchy, seductive and menacing hard rock song. How did it develop? "In the case of 'Career of Evil,' the poetry existed first so the musical chords came later with access to Patti's lyrics," says Bloom. He notes that many others contributed lyrics to BOC songs along the way, among them science fiction writers Michael Moorcock and John A. Shirley, rock critic R. Meltzer and BOC producer Sandy Pearlman.
"Some songs we wrote ourselves," Bloom says, "but right from the get-go we started writing songs with outside lyricists. Song creation came from a variety of ways. Having lyricists amongst us right from the beginning helped the band get started and gave the band its early flavor."
Blue Öyster Cult was more of an underground hit — the thinking person's metal band — until "(Don't Fear) the Reaper" went huge in 1976. They co-headlined arena tours with Black Sabbath — the Black & Blue Tour. They had subsequent FM radio hits with "This Ain't the Summer of Love," "Godzilla," "Burnin' for You" and "Joan Crawford."
Blue Öyster Cult, says Bloom, has recorded 17 studio albums and sold approximately 14-15 million copies. But they suffered substantial intraband strife over the years. While the lineup has been relatively solid for some time, more than a dozen players have passed through its portals. Their arena days are long gone, but there's a steady business in clubland.
And Blue Öyster Cult has gotten respect from other rock groups and writers over the years. The hardcore punk band the Minutemen covered "The Red and the Black" back in 1985, giving their '70s music new relevancy. Ex-Minutemen bassist Mike Watt joined BOC not long ago, says Bloom — "He was stoked!" — to play the song in concert. Metallica covered "Astronomy" in 1998. Stephen King used "(Don't Fear) the Reaper" in "The Stand," both the novel and TV mini-series. And, of course, that song was the basis for the 2000 "Saturday Night Live" sketch, "More Cowbell" with Will Farrell and Christopher Walken.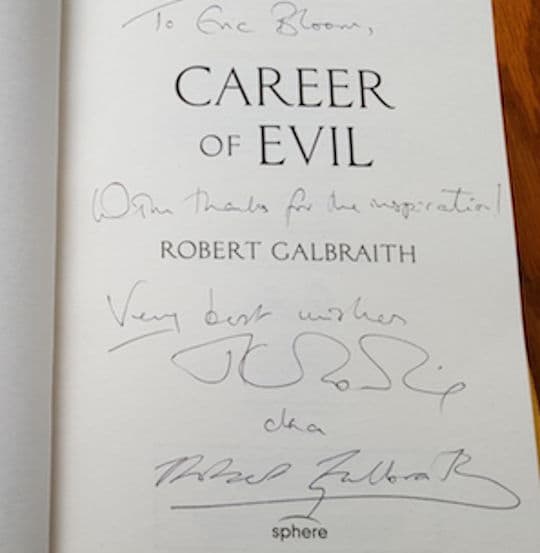 As to any potential bump from the Rowling/Galbraith book, Bloom is sanguine. "I think it helps," he says. "We're very fortunate that Ms. Rowling was inspired by our music. To be mentioned in a book that's on the New York Times bestseller list, it can't do anything but help us." Rowling sent autographed copies to all members of the band, past and present.
"Career of Evil" has gotten mixed reviews, but Barry Forshaw, writing in the English newspaper, the Independent, opines, "Written in an unadorned, non-literary prose, 'Career of Evil' confirms that Rowling's post-Potter initiative is proving to be a very welcome one. Both Strike and Ellacott are multi-dimensional characters (she is stuck in a dying relationship), and there is no gainsaying the sheer relish with which the writer tackles the genre."
The BBC also plans to adapt the ongoing series of Cormoran Strike books for a TV series and Bloom says HBO will also be broadcasting it.
So, might Bloom have a cameo, albeit in a flashback scene with Strike's groupie mother?
"No. It would have to be a 30-year-old Eric Bloom. They'll have to get some 30-year-old curly-haired Jew."
---
Jim Sullivan is a former Boston Globe arts and music staff writer who pens the arts-events website jimsullivanink.com and contributes to various publications, TV and radio outlets. He hosts the monthly music/interview show "Boston Rock/Talk" on Xfinity On Demand.