'Natasha, Pierre' — And A Techno Tolstoy — Light Up The A.R.T.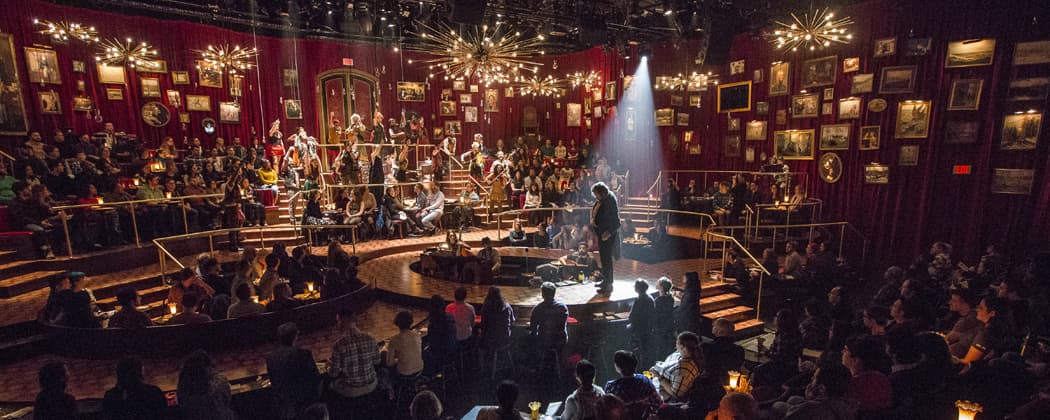 This article is more than 7 years old.
If Dave Malloy decided to make an opera out of "War and Peace" in its entirely, it would probably take a month to sit through. I'd be there.
In "Natasha, Pierre and the Great Comet of 1812," the writer/composer/lyricist — also the musical force behind "Three Pianos" and "Beowulf — A Thousand Years of Baggage" — has turned less than a hundred pages from the middle of Tolstoy's opus into a romantic and driving swirl of music and storytelling that is beyond exhilarating. As war rages outside Moscow, with Napoleon soon to take the town and set it on fire, what's burning are the hearts of various Russian aristos circling one another in what looks like a tony 19th-century Russian nightclub and an urgent melee of romantic entanglements.
At the Loeb Drama Center, where Rachel Chavkin's spectacular production (destined for Broadway in September) continues through Jan. 3, the box office and lobby areas are done up like contemporary war zones, armored with plywood, sandbags and black and while handbills written in Russian. The interior of the theater, though, is a fabulous cocoon of red velvet drapes, framed period paintings (including a familiar one of Napoleon) and sunken banquettes in which love and decadence dance to a rhythmic score that derives from classical influences, rock, folk, techno, Broadway and Russian folk tradition. Overhead are tiny orange bulbs that both power the explosive-looking chandeliers and suggest the firmament.
Set designer Mimi Lien is a recent recipient of a 2015 MacArthur genius grant, and she deserves it. Despite the under-construction (or -deconstruction) look of the lobby, the Loeb has never appeared so lushly stunning as it does for this immersive production, in which part of the audience occupies traditional seating but a good chunk is embedded in the action, either seated in the round, plush banquettes or amid them, with part of the band in a central pit and other musicians, well, everywhere. When the Obie-winning event played two off-Broadway engagements in pop-up tents seating 200 (following a 2012 debut at the 80-seat Ars Nova), the entire space was a cabaret, and spectators were offered Russian snacks and vodka. Here the show opens with a frenzied burst (complete with air-raid siren) as performers, from leads to ensemble members, distribute pierogies to the crowd.

The "Twelve Days of Christmas"-like opening number introduces the characters and their impending predicament in a more abbreviated fashion than was Tolstoy's habit: "Hélène is a slut/ Anatole is hot/ Marya is old-school/ Sonya is good/ Natasha is young/ And Andrey isn't here." So, the hot one will seduce the young one when her fiancé is off fighting a war. Of course, it's more complicated than that, but the program includes a family tree that the audience is urged by milling performers to consult. When admonished to study up, the distinguished Cantabrigian seated in front of me informed the actress playing Hélène that he had read the book. But don't worry: Even if you don't know "War and Peace" from Warren Beatty, you will miss nothing crucial to this rapturous theater experience.
Suffice it to say that, while the plot centers on the handsome cad Anatole's melodramatic seduction of the lovely young innocent Natasha, who is engaged to Andrey, who is off fighting Napoleon, the heart of the show is shlubby bastard-aristocrat Pierre, who longs to be something better than his discontented, drunken self and discovers, along with the meteorological flash of the title, accompanied by a benedictory chorale, a "newly melted heart/ Now blossoming/ Into a new life."
Pierre's anthemic yet reflective solos are more reminiscent of Claude-Michel Schönberg than of Andrew Lloyd Webber — only they're better. At A.R.T., these tunes are yearningly, eloquently performed by an aptly rumpled and bespectacled Scott Stangland (who spells music director Or Matias on piano, often accompanying himself). But when the show hits Broadway in the fall, pop phenomenon Josh Groban will step into Pierre's wrinkled waistcoat, which was filled off-Broadway by creator Malloy.

What is most remarkable about Malloy's score is the way it propels the action forward. Indeed, the prose lyrics comprise as much narration and description, much of it lifted straight from that great humanist Tolstoy, as through-sung dialogue. The show self-identifies as an electropop opera, but the music runs the gamut from touching solos and passionate, story-moving duets, trios and quartets to head-banging rock and full-out Russian-tinged revelry. The galloping second-act showstopper "Balaga" — named for the guy hired to drive the abduction troika — is a raucous Slavic feast, complete with bear-dancing on platforms amid the audience, mad fiddlers in the aisles and a tune as addictive as nose candy.
Some of the cast of "Natasha, Pierre and the Great Comet of 1812" have been with the show since Ars Nova; others are new to this expanded production (intended in part to assure the perpetrators that the Obie-winning work can transfer to a Broadway-size space without losing energy or its immersive soul). It's a large ensemble, and they are all, from Natasha and Pierre to the young woman plucking out violin pizzicato in her 19th-century skivvies, terrific. Ditto the ubiquitous 10-piece band, made up in the main of classically trained players with impressive credentials.
Denée Benton is a waifish, childlike Natasha with a lovely bleat of a soprano. The graceful Lucas Steele mixes preening smugness with genuine, dangerous emotion in his recidivist Anatole (he has been with the show since the beginning) — and, upon his banishment from Moscow to St. Petersburg, he nails the latter locale with such a high note it must be heard there. Brittain Ashford, also reprising her role, brings both unabashed sincerity and quiet beauty to the folky guardian-angel aria, "Sonya Alone." But all of the voices are strong, as is Sam Pinkleton's stomping, whirling choreography.
The multi-talented Malloy has described his goal as less commenting on Tolstoy's novel as putting it (or this small part of it) onstage with all its tempestuous sentiment and questing morality intact. True to that intention, the theater piece never winks at itself. It is great, delirious fun that at once brings a tear to the eye and a thrill to the senses. I say just go ahead and retitle the piece "Natasha, Pierre and the Great Musical of 2015."