What You Need To Know About Boston's First Night Celebrations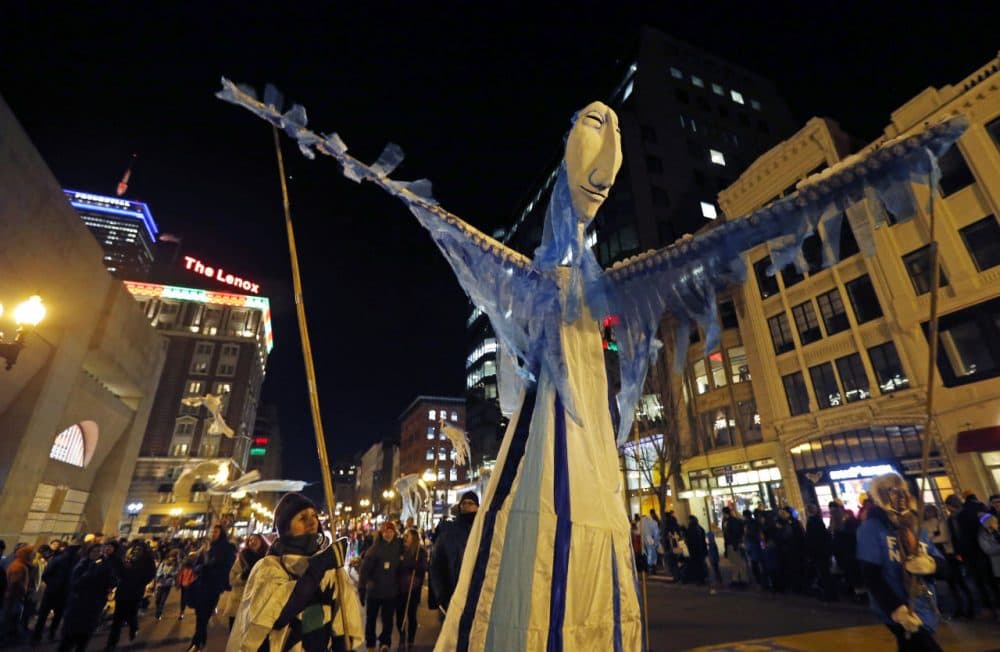 This article is more than 4 years old.
Boston officials urge people to enjoy Thursday's New Year's Eve celebrations in the city. Much of that centers around First Night Boston — arts and entertainment programs happening throughout Boston from noon on Thursday, Dec. 31, through 4 p.m. on Friday, Jan. 1.
This year's event differs a little from last year's. One difference — it's no longer run by the City of Boston (still, they're still one of the event's main sponsors). That means this year's activities are scaled back from the 200 plus events last year.
But fear not, there are still over 60 offerings. And with the smaller cluster of outdoor events, they're all free.
Here's what you need to know:
Basically, It's All Free
All outdoor events are free and open to the public. The majority of activities will be held in Boston's Copley Square. Other events take place simultaneously at the Prudential Center, Boston Public Library, the Old South Church, Copley Place and Boston Common.
There will be a parade, dancing, music, magic, arts and crafts, ice skating and even a pyrotechnics show. Check out the full list of free events here.
Two Chances For Fireworks
You read that right. A family-friendly fireworks display will take place on the Boston Common at 7 p.m. on New Year's Eve. There will be another opportunity to ring in the New Year with the a midnight fireworks display over Boston Harbor or with a pyrotechnics show in Copley Square.
Leave The Car At Home
To accommodate First Night celebrations, numerous streets will be closed and addition parking restrictions will be in place. See the Boston Police Department's list of closures for more information.
Keeping with tradition, the MBTA will cost nothing for all partygoers (and other public transportation users, too) after 8 p.m. on New Year's Eve until 2 a.m. New Year's Day.
Transit Police Chief Kenneth Green says the consumption of alcohol and unruly behavior will not be tolerated.
Green says there are no credible threats to the transit system, but urges revelers to use precautions. He also says officers are prepared for anything that might occur.
"We will have additional police officers both plain clothes and in uniform throughout the system," Green told WBUR's Newscast Unit. "We are asking all of our riders to act responsibly and be respectful to one another."
And he says if you see something please say something.
Full MBTA schedules and information — including some commuter lines that will operate until 1 a.m. — are available here.
Staying Safe
Mayor Marty Walsh says he's confident that First Night celebrations will go off without a hitch.
At a Wednesday press conference with Boston Police Commissioner Bill Evans, Walsh said the celebrations would be closely guarded with police officers and bomb-sniffing dogs. Walsh reminds revelers that public drinking is prohibited at the family-friendly celebration. Backpacks are also being discouraged.
City officials urge people to call 617-222-1212 or 911 to report anything out of the ordinary.
But Evans says he's also keeping a close eye on less central Boston neighborhoods.
"Myself and the mayor's top priority is to try to prevent young kids from getting shot," Evans said. "So we talk about this plan, but most importantly I'm concerned with what happens in other neighborhoods, believe it or not."
This article was originally published on December 30, 2015.