Michelle Wu Elected Boston City Council President
The Boston City Council voted unanimously Monday afternoon to make Councilor Michelle Wu its new president.
Wu is the first Asian-American to lead the council, and the third woman.
In her acceptance speech, the 30-year-old from Roslindale stressed the council's role in creating policies that reflect councilors' own lives.
"In this chamber, every debate is informed by our families' lives and those of our constituents," she said. "We don't just think and talk about policy here, but feel the challenges and impacts."
Wu added that her primary goal as president is transparency. She said it's important for the public to know what the council is doing and has an opportunity to become more engaged.
Wu, who was re-elected to an at-large seat in November, is a former student of Sen. Elizabeth Warren's at Harvard Law School, and she worked on Warren's Senate campaign. After the vote, the senator joined Mayor Marty Walsh in the council's City Hall chamber to congratulate Wu.
"I knew there was something special about her," Warren said. "What I learned over time is that she's not just a woman full of good ideas and a passionate heart, but a woman who gets out and does the hard work that needs to be done to make a difference."
Wu echoed the populist themes of Warren in her first speech as president, calling for an end to income inequality, for criminal justice reform and for improved education opportunities.
Before Monday's vote, the council — including two new members — was sworn in at Faneuil Hall.
Annissa Essaibi George, 41, and Andrea Campbell, 33, unseated the two longest-serving council members in November's election, with Essaibi George taking an at-large seat from Stephen Murphy and Campbell besting Charles Yancey to represent District 4.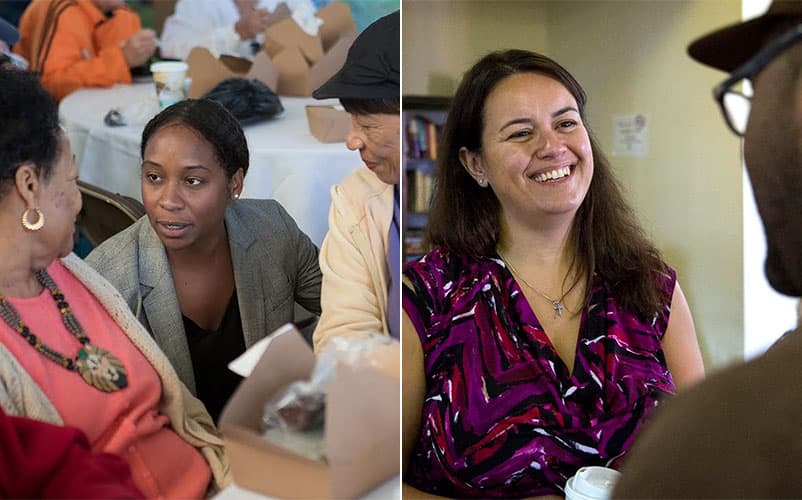 With four women serving, At-Large Councilor Ayanna Pressley says the council now has the highest number of women since 1997.
"Each one of us has our own unique lens and strong point of view, and I look forward to seeing how each one of us uniquely and collectively brings that to bear to strengthen the council, and to better our city," Pressley said.
Mayor Walsh also took note of the council's diversity.
"A big part of the council is your diversity," Walsh said during the swearing-in ceremony. "It's something that's very important to our city."
Wu replaces South Boston Councilor Bill Linehan, who was term limited from seeking the body's presidency again.
Councilors Mark Ciommo and Matt O'Malley had originally sought the post. Ciommo withdrew earlier, and O'Malley decided to withdraw over the weekend and support Wu.
"While I'm obviously disappointed I don't have the votes, in the spirit of a unified council and hopefully bringing the body together that's been fractured quite badly, I'll be supporting her for president on Monday," O'Malley, a West Roxbury councilor, told WBUR before Monday's vote.
With reporting by WBUR's Delores Handy
This article was originally published on January 04, 2016.