Boston Police Officer Shot In Dorchester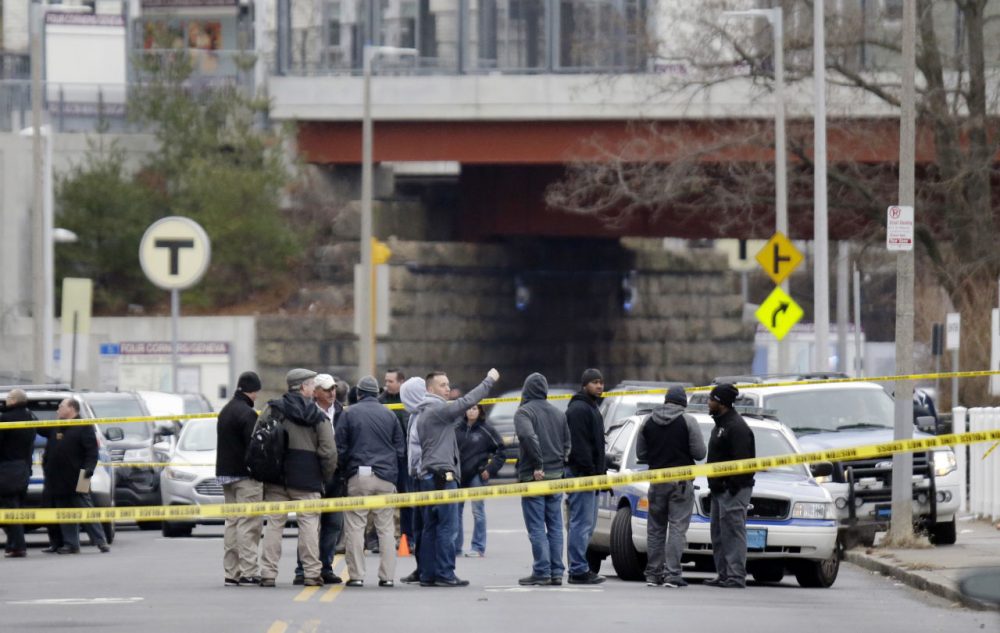 A nine-year veteran of the Boston Police Department was shot in the leg Friday morning after confronting a suspect in Dorchester.
The officer, who has not been identified, has a non-life-threatening injury and is expected to be OK. He is being treated at Boston Medical Center.
The suspect, 27-year-old Grant Headley of Dorchester, is in custody.
At media briefing outside the hospital Friday afternoon, Boston Police Commissioner William Evans said officers from a Mattapan drug unit were investigating Headley, who was "known to officers to be a drug dealer."
Evans said the officers knew Headley was driving with a suspended license when they pulled him over near Mount Bowdoin Terrace in Dorchester around 10:20 a.m.
Officers had boxed in Headley's car and were getting out of their vehicle when Headley "began to fire unprovoked," Evans said. The officer who was shot returned fire as the suspect took off on foot. Evans said other officers who were with the injured officer followed Headley, tackled him and brought him into custody without injuring him.
"I want to commend my officers," Evans said. "I think we're fortunate that we don't have an officer who suffered a more severe injury."
Officers also confiscated the automatic handgun Headley was using, Evans said.
"This gives us a good idea of the restraint our officers use," Evans said. "Our officers were able to tackle him and not use deadly force."
Boston Mayor Marty Walsh echoed that sentiment.
"I commend the men and women of the Boston Police Department for their incredible restraint here in this situation," Walsh said at the press conference. "There's a lot of stuff that goes on around the country, a lot of criticism of police departments, and here in the city of Boston our police department certainly is the best in the nation."
Walsh also said there are too many guns on city streets.
"We're working very hard. The Boston Police Department took 800 guns off the street last year, took 1,000 guns of the street the year before, but we still have too many guns," he said.
Residents of the neighborhood where the shooting took place were taken by surprise.
Gary Bell says he looked out the window when he heard shots fired.
"The guy was running down the hill. He fell. He got up and he kept on going," Bell said. "Police was not shooting him, they were just chasing him."
The shooting happened not far from the Bowdoin-Geneva intersection that has been a hotspot for violence over the years.
But Iris Dupont, president of the Mount Bowdoin Terrace neighborhood association, says they have not seen a lot of crime in the area lately.
"It's been very quiet, it's very pleasant, everybody feels safe," Dupont said. "A lot of the people up here have lived here a long time."
Commissioner Evans said the injured officer was "highly decorated" and that he was about to be given a commendation for a recent gun arrest.
According to a spokesman for the Suffolk County district attorney, Headley was on probation after serving a five-year prison sentence for drug and gun charges. He's expected to be arraigned on Monday.
With reporting by WBUR's Delores Handy
This article was originally published on January 08, 2016.