MBTA Update: Decision On Green Line Extension Likely This Spring, A Bit Of Good Budget News
This article is more than 7 years old.
State transportation officials will likely decide this spring whether or not to move forward with the costly Green Line Extension project.
MBTA General Manager Frank DePaola told the T's fiscal control board during a meeting on Monday that the agency plans to have a scaled-down project design and a new budget estimate ready by April 7.
DePaola said the agency would then create a new finance plan by May 6, with a discussion on next steps expected at the May 11 joint meeting of the T's control board and the board of the state's Department of Transportation.
The future of the project, which would take the Green Line into Somerville and Medford, has been in question ever since officials revealed that its projected cost had ballooned by about $1 billion.
In December, the T cancelled all contracts associated with the project and said it was restructuring the team overseeing it.
A new interim team was announced Monday, and includes interim project manager Jack Wright, with the firm Weston & Sampson. DePaola told reporters after the meeting that Wright worked for the T for 10 years as a design and construction project manager, before being transferred to work on the Big Dig. He said Wright had the "big project experience" needed to manage the Green Line Extension.
"We have several moving parts here we have to deal with — design, budgeting, scheduling and ongoing construction," DePaola said. "So we needed someone who had that requisite experience who start essentially today."
The new team will oversee the continuing construction and work to get the extension to a place where it could move forward.
DePaola said the team was working on a short term basis, about five to six months, as the T looks to hire a permanent team. He said contracts for the cost of their work had not been finalized.
Here are more highlights from Monday's meeting:
A Bit Of Good Budget News
Chief Administrator Brian Shortsleeve told the board on Monday that a slowdown in the growth of operating expenses and an increase in revenue means the T's structural deficit for the first five months of fiscal year 2016 (July 2015 to November 2015) was $53 million less than projected.
(The T had projected a $170 million budget deficit for this fiscal year, which is being paid for by the state through a one-time discretionary allocation in the state budget.)
Shortsleeve called the better budget numbers a "positive trend," but cautioned that the agency is still facing "a very significant headwind" as it looks to close a projected $242 million budget shortfall for next fiscal year.
"I want to be very cautious about this, because five months doesn't make a year ... and we have winter ahead of us," Shortsleeve said.
"Cost control is not fun, but the organization I think is more focused than it's ever been on limiting the rate of growth in [operating expenses]."

MBTA Chief Administrator Brian Shortsleeve
He said operating expenses over the period were $44 million lower than expected. "Cost control is not fun, but the organization I think is more focused than it's ever been on limiting the rate of growth in [operating expenses]," he said.
Revenue growth was also $6 million higher than expected, and payments the T makes on its debt service were $3 million lower than expected.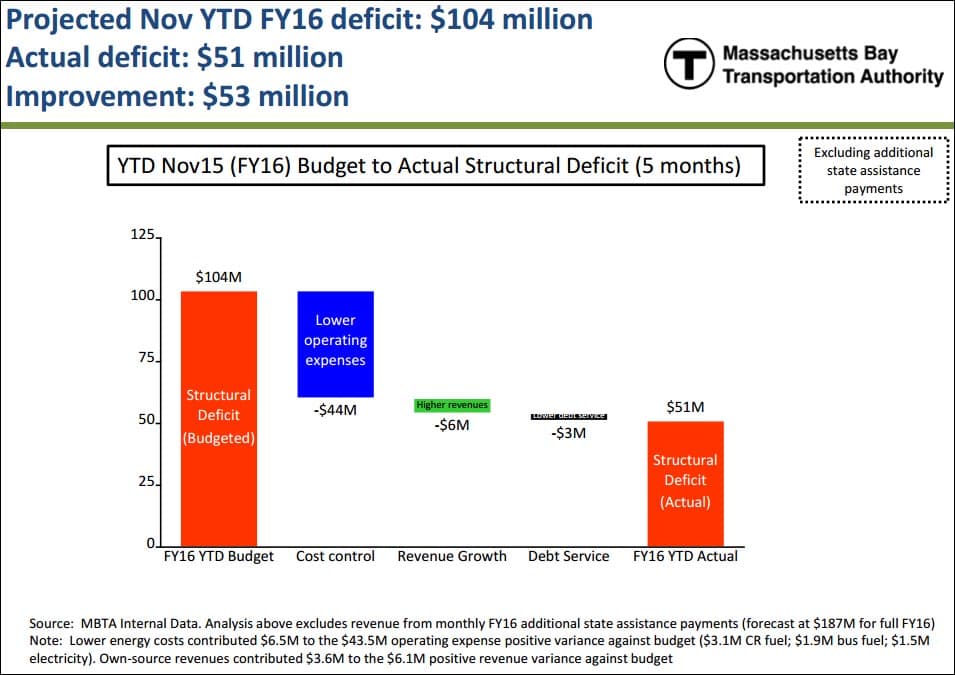 Shortsleeve said if the trend continues, any extra money would be invested into the T's infrastructure and reducing the state of good repair backlog -- a number recently estimated at $7.3 billion.
"It's worth it to take that pain on the operating side so that we can put money into the system," Shortsleeve said. "Our view is that it's capital investment over time that will really make the difference for our riders."
Retirement Incentive Program 
Speaking of savings, the T is eyeing a retirement incentive program aimed at reducing its workforce.
Shortsleeve told reporters before Monday's meeting that the goal of the program would be to get 400 employees who are currently eligible to retire to do so, and in turn only fill 100 of the positions — reducing the agency's total headcount by 300.
The T estimates that would save the agency $30 million to $36 million in fiscal year 2017.
Shortsleeve said about 1,000 T employees are currently eligible to retire and that the program would target administrative employees, not subway operators or bus drivers. He said the agency had not yet decided on an incentive for the program.
Focus On Absenteeism, Overtime
Shortsleeve also said the T is focusing on cutting overtime costs and reducing absenteeism, which was identified as a contributor to last winter's service woes.
Shortsleeve said he would begin publishing biweekly stats on absenteeism later this week, including how many trips were dropped as a result of unscheduled operator absence.