'Revenant' Leads Oscar Nominations With 12, Only White Actors Again
This article is more than 7 years old.
The brutal frontier saga "The Revenant" landed a leading 12 nominations for the 88th annual Academy, while the acting categories were again filled entirely by white performers.
The strong showing for "The Revenant," including a best actor nod for Leonardo DiCaprio, follows its win at the Golden Globes. It sets director Alejandro Inarritu for a possible back-to-back win following his sweep for best picture, director and screenplay for "Birdman" last year.
"We gave it our all on this film and this appreciation from the Academy means a lot to me and my colleagues who made it possible," said Inarritu in a statement. "Champagne and mezcal will run tonight!"
George Miller's post-apocalyptic sequel "Mad Max: Fury Road" followed with 10 nominations, including best picture and best director for Miller. Ridley Scott's sci-fi epic "The Martian" landed 7 nominations, including best picture and best actor for Matt Damon, but, surprisingly, no best director nod for Scott.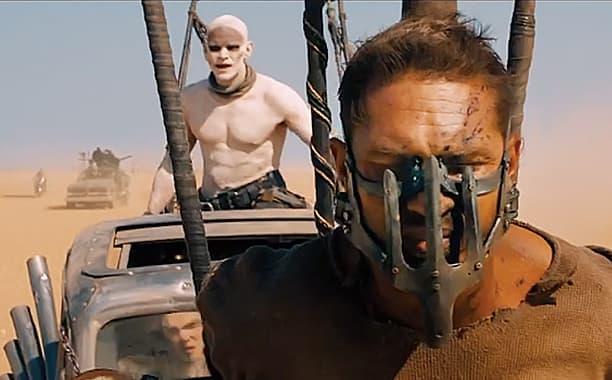 Eight films were nominated for best picture. The other five were: Tom McCarthy's investigative journalistic procedural "Spotlight," Steven Spielberg's Cold War thriller "Bridge of Spies," Adam McKay's Michael Lewis adaptation "The Big Short," the mother-son captive drama "Room" and the `50s Irish immigrant tale "Brooklyn."
Left on the outside were Todd Haynes' lesbian romance "Carol" and the N.W.A biopic "Straight Outta Compton." The miss for "Carol" meant one usual Oscar heavyweight - Harvey Weinstein - won't have a horse in the best picture race for the first time since 2007.
The acting nominees, which notably omitted Idris Elba for "Beasts of No Nation" and Benicio Del Toro for "Sicario," gave the Academy of Motion Pictures, Arts and Sciences an awkward repeat of the "OscarsSoWhite" backlash that followed last year's acting nominees.
Academy president Cheryl Boone Isaacs has since redoubled efforts to diversify the academy's membership, and slated Chris Rock - who a year ago labeled Hollywood a "white industry" - to host this year's Feb. 28 ceremony.
Alongside DiCaprio, the nominees for best actor are: Matt Damon ("The Martian"), Michael Fassbender ("Steve Jobs"), Eddie Redmayne ("The Danish Girl") and Bryan Cranston ("Trumbo"). One big name omitted was Johnny Depp for his icy Whitey Bulger in "Black Mass."
The best actress field is led by favorite Brie Larson for "Room," along with Jennifer Lawrence (for "Joy," making her, at 25, the youngest four-time nominee), Cate Blanchett (her seventh nod, for "Carol"), Saoirse Ronan ("Brooklyn") and Charlotte Rampling ("45 Years").
After seemingly slipping in an unpredictable awards season, "Spotlight" showed particular strength Thursday, landing six nominations including best director for McCarthy, best screenplay for McCarthy and Josh Singer, best supporting actress for Rachel McAdams and best supporting actor for Mark Ruffalo.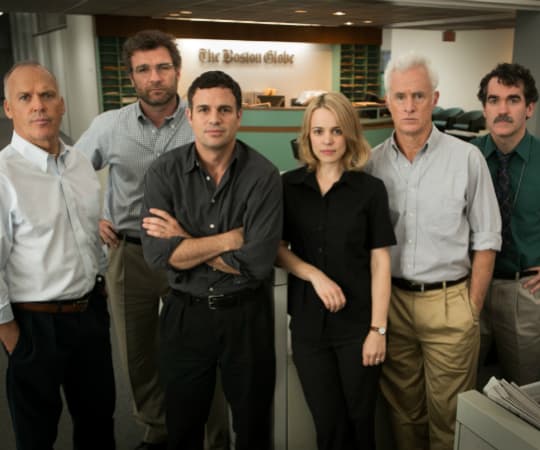 Sylvester Stallone, reprising his role as Rocky Balboa in "Creed," looms large in the supporting actor category. His stiffest competition is seen as Mark Rylance, best known for his legendary stage work, for "Bridge of Spies." Also nominated were Tom Hardy ("The Revenant") and Christian Bale ("The Big Short").
"I am incredibly humbled by this honor," Stallone, first nominated for the role in 1976 for "Rocky," wrote in an email. "I was not expecting it ... especially at this time in my life. I am certainly grateful to the artists and collaborators who helped make it possible."
Nominees for best director shunned not just one filmmaking legend in Scott, but also Spielberg. Instead, Lenny Abrahamson for "Room" was the unexpected addition along with Adam McKay, former known for his broader Will Ferrell comedies, for "The Big Short."
As expected, Pixar's "Inside Out" landed a best animated feature nod, as did the Charlie Kaufman-penned "Anomalisa," "Shaun the Sheep Movie," "Boy and the World" and "When Marnie Was There."
The foreign language category drew films from Hungary ("Son Of Saul"), France ("Mustang"), Jordan ("Theeb"), Denmark ("A War") and Colombia ("Embrace the Serpent").
Though some fans had hoped for a better showing, the box-office behemoth "Star Wars: The Force Awakens" failed to land a best picture nomination. It instead scored five technical nods for editing, score, visual effects, sound mixing and sound editing.
Since the best picture field was expanded from five nominees to up to 10, in 2010, every year has delivered nine nominations until this year's eight. The original reasoning was partly to make room for bigger, more populist films like Christopher Nolan's "The Dark Knight" alongside acclaimed independent releases.
But the chances for "The Force Awakens" were hurt because the category already has one sci-fi blockbuster ("The Martian"), as well as a number of major studio releases. 20th Century Fox had an especially good day, led by "The Revenant" and "The Martian."
Netflix, which has previously scored nominations for documentaries, fell short in its first bid for fiction film nods. Its first original feature, Cary Fukunaga's West African child war film "Beasts of No Nation," was shut out.
Netflix did, however, again break into the documentary category with "What Happened, Miss Simone" and "Winter on Fire: Ukraine's Fight for Freedom." The other nominees were "Amy," "Cartel Land" and "The Look of Silence."
Nominations were announced Thursday shortly after the passing of Alan Rickman, famed for "Die Hard" and "Harry Potter" but never Oscar-nominated, at 69.
Watch the trailers for the eight films nominated for Best Picture: