BRA Approves 2 Towers On Site Of Government Center Garage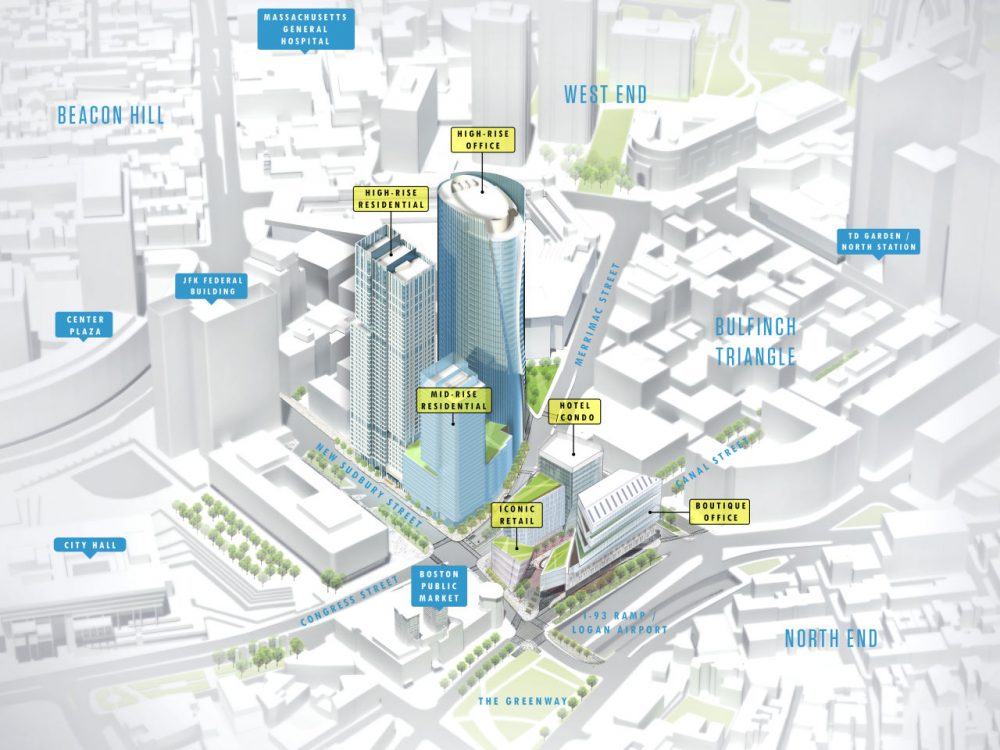 This article is more than 6 years old.
After years of planning, the Boston Redevelopment Authority gave its final stamp of approval Thursday night to two towers that are part of a massive overhaul planned for the site of the Government Center Garage.
The 480-foot, 486-unit luxury apartment building and the 43-story office tower are the first phase of National Real Estate Advisors and The HYM Investment Group's larger $1.5 billion, six-building plan to replace the Brutalist style garage, which stretches over Congress Street near Faneuil Hall.
Sixty-four units in the residential tower will be designed as affordable, the BRA said Friday, in accordance with city development policy.
The larger plan includes four moderate-sized buildings — a hotel and condo building, a mid-rise residential building, a boutique office and a multi-story retail space — all surrounding a new public plaza. At completion, the project would include 812 residential units, 196 hotel rooms, 1.1 million square feet of office space and 85,000 square feet of new retail space, according to a statement from National and HYM.
"This project will reconnect four of Boston's greatest neighborhoods — the North End, the West End, Beacon Hill and Downtown — that have been divided by this hulking concrete structure for decades," Thomas O'Brien, HYM founding partner and managing director, said in the statement.
Developers are expected to break ground on the high-rise apartment building in the spring, according to the statement. Construction of the office tower will begin once a major tenant is found.
When construction on the office tower starts, the existing garage will be demolished. About half of the current 2,300 parking spaces will remain in the completed six-building plan. The statement from National and HYM highlighted that the project is a "sustainable and transit-oriented redevelopment" — centrally located near the Green and Orange Line trains with large areas for bicycle storage planned.
This article was originally published on January 15, 2016.