At ArtsEmerson, A 'Twelfth Night' To Rock With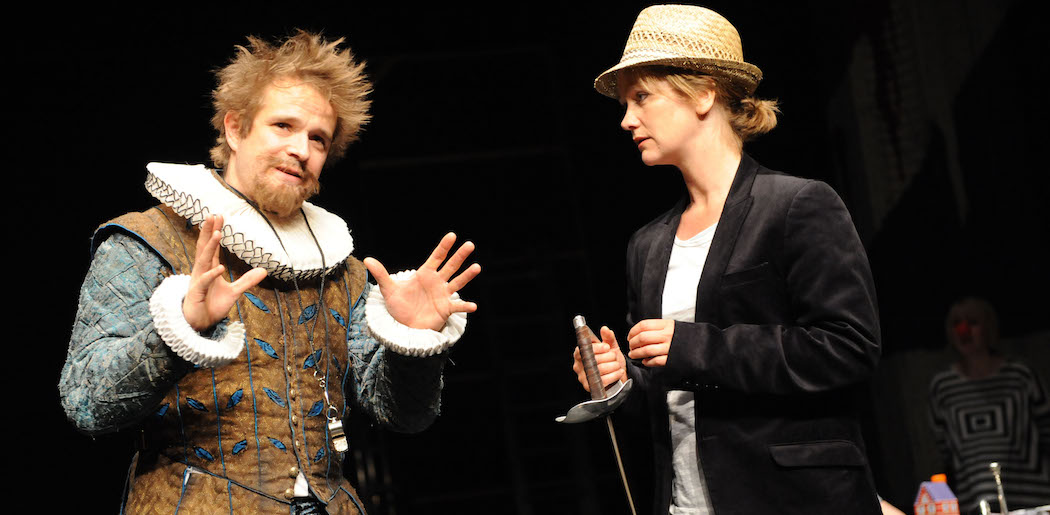 This article is more than 5 years old.
As they've come down to us, Shakespeare's plays are very short on stage directions or other production notes, rife with ambiguities and dense with interwoven themes. You can hold them up to the light at different angles to cast different shapes upon the canvas.
So if you want to do an underwater "Romeo and Juliet" or set "Richard III" in outer space, that's fine by me — just keep it rooted in the text, and have something to say. I'll have two questions afterward. Does it work on its own terms as a theatrical experience? And: Are its interpretive liberties merely novel, or do they somehow illuminate or comment upon the text?
Which brings us to the "Twelfth Night" at The Paramount through Jan. 30 courtesy of ArtsEmerson, created by Filter Theatre with the imprimatur of the Royal Shakespeare Company. It's a 90-minute cut directed by Sean Holmes — I won't call it fast-paced, as there are some stubbornly slow points — performed with minimal production elements aside from lots of amplified live music.
I found it to be a riot (most of the time), paced by very charismatic performers and spiked with frequently weird music that happened to be to my taste. But it essentially bypasses the poetry of Shakespeare's sweet-and-sour comedy to make way for a series of comedic bits, some of which land with more force than others. Rather than a condensed version of the play, it's more of a "Twelfth Night"-themed revue.
Theatergoers familiar with the original will find much that delights, but newbies who are intent on following the story might be bewildered. And as for the poetry in the highly lyrical verse… not so much. The words are not the point here.
"Twelfth Night" is one of The Bard's most musical plays, from its famous opening line — "If music be the food of love, play on" — to the songs embedded within it. So it makes perfect sense to have an onstage band, which in this case includes drummer Alan Pagan, electric bassist Fred Thomas and other performers creating sundry electronic effects.
In this production, the last two words of that memorable opening line serve as a cue to the band, as Harry Jardine, functioning as master of ceremonies as well as playing Duke Orsino and Sir Andrew Aguecheek, darts up and down the aisles, yelling out instructions. ("Give me excess of it" becomes a directive to crank up the volume.) The music here is pretty jazzy; later it'll be spacy, and when the stern steward Malvolio (Fergus O'Donnell) crows over what he thinks is a victorious moment, it turns to heavy rock while he headbangs, plays air guitar and strips to his yellow socks and underwear.
Here's a trailer for a previous production (with different actors):
The show is performed with the house lights on and almost no set or props. The conceits are inventive. When the lovelorn Duke Orsino receives the first report of his messenger being turned away from the house of Olivia, object of his unrequited affections, it comes via a mobile phone held up to a microphone. The shipwrecked Viola wonders where she's landed and the familiar answer — "This is Illyria, lady" — comes from a radio weather report. When Olivia's debauched relation and houseguest Sir Toby Belch (Dan Poole, in comically overdone Elizabethan dress) parties all night, a stack of pizzas are delivered to the stage and then passed around the audience.
As Sir Toby says: I smell a device.
There are many strong performances here, and I'd like to see these actors perform a Shakespeare cut that includes more of the verse. Amy Marchant is eminently winning as Viola, who disguises herself as a man, falls in love with Orsino and inadvertently arouses the amorous interests of Olivia. Jardine is a charismatic audience guide, and his face is wonderfully expressive while he clowns as the foppish Sir Andrew. O'Donnell gives Malvolio the expected over-the-top reading. Sandy Foster is an energetic clown as the court Fool, Feste. Poole hits only one note as the drunken Sir Toby, but hits it soundly. Ronke Adekoluejo has less to do, but is a sultry Olivia — particularly when drawing a bow across a bass string as a low-frequency mating call.
Puzzlingly, there's no attempt made to get across to the audience that Viola was separated from a twin brother in the shipwreck, making some later scenes — especially the one in which the siblings finally reunite — completely inexplicable if you don't already know the story.
It's a choice that speaks to the problematic nature of this production. In its frenetic urge to show how contemporary and relevant Shakespeare can be, it makes its point moot by leaving out too much of the Shakespeare. What remains is fun, but barely gestures at the strengths of the material, which is concerned with love's melancholy tinge as well as its pleasing intoxication.
As another character from the canon would have it, this adaptation could use more matter, with less art.
---
Jeremy D. Goodwin contributes regularly to The Boston Globe, The ARTery (where he is also an editor), Berkshire Magazine and many other publications. See more of his work here. Follow him on Twitter here.