Blizzard Continues Extreme Southern Massachusetts, Lighter Snow North
This article is more than 7 years old.
Evening Update
All is on target for the snow this evening. If you live in Boston expect the snow to end near midnight. If you are north of Route 495 and Route 2, you will likely not see anything except flurries.
The biggest part of the snowstorm is over the south coast with a foot or more of snow there.
I have updated the snowfall map a bit, but most you will not see any changes to early forecasts.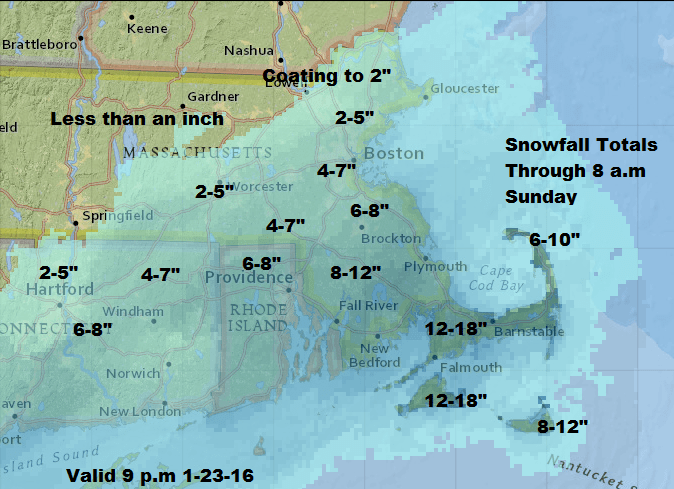 Morning Blog
A major snowstorm is underway in areas to the south of New England, and while we will see snow here in the Boston area and much of Connecticut, Rhode Island and Massachusetts, the impacts will generally be light. The exception will be the extreme south coast where a more significant storm is in the cards along with winter storm warnings and even a blizzard warning for Block Island and Martha's Vineyard.
There will be snow showers in the Boston area the rest of the day, but the steadiest snow won't occur until this evening in a five- to eight-hour window. After midnight the snow will begin to lighten and by Sunday morning at sunrise the snow in Boston should be ending or have ended.
When all is said and done a 1-3 inch snowfall at Logan Airport seems most likely. That number could be an inch higher if the storm moves a bit further north or lasts a bit longer, but presently the heavier snow will be south of a line from Plymouth to Providence.
Along the extreme southern side of Cape Cod I have put snow amounts up to a foot. If the storm lasts a bit longer or moves further north, it's not out of the question that number could be higher and I'll update the forecast if conditions change.
There is going to be some minor coastal flooding, but minor means splash over and water on those shore roads which typically flood. We won't see devastating damage from this storm, in spite of the major impact it's having to our south.
Power Outages
I am concerned about the heavy wet snow and power outages across Nantucket, Martha's Vineyard and parts of Cape Cod. The weight of the snow in combination with the wind may cause widespread outages this evening and overnight. I would have my power outage plans in place in those areas.

The storm ends Sunday and sunshine returns in the afternoon. Monday and Tuesday are nice days with above average temperatures and some melting of the snow.
You can follow my updates on Twitter @growingwisdom.
---
Today: Snow developing south to north. Becoming blustery. Highs 28-34
Tonight: Snow overnight ending northwest to southeast by morning. Windy. Lows 22-33
Sunday: Mostly sunny, with a high just above freezing.
Monday: Sunny, with a high near 35.
Tuesday: Partly sunny, with a high 40-45.