Unmasking Identity In Company One's 'An Octoroon'
This article is more than 7 years old.
For Company One Theatre co-founder and director Summer L. Williams, making the decision to include playwright Branden Jacobs-Jenkins' incendiary work "An Octoroon" in her company's 17th season was a no-brainer.
The two had collaborated before on a previous production of his play "Neighbors" — Williams was drawn by the compelling, dangerous thematic undertones that simmer throughout his works.
"His voice is so unique in terms of the way he manipulates form, the way he uses his style and his voice to talk to us about history in a way that's palatable and difficult and kind of messy and ugly and confrontational… It's unapologetic," she says.
Co-producing with ArtsEmerson was a natural decision, Williams says — "An Octoroon" will be performed in the Paramount's intimate, versatile Jackie Liebergott Black Box — as she thinks of the company as a valued partner in daring to challenge the limits of Boston's theater scene. The venue is especially perfect for this production, Williams says, because of its ability to be transformed in ways far beyond the capabilities of a typical mainstage.
That transformation is vital to understanding "An Octoroon," a performance that requires the participation of an audience that leaves all expectations and predictions at the door.
But audiences aren't the only ones who need to arrive ready for anything. Even before the production hit rehearsals, members of the cast were hit with surprises of their own.
"When you read stage directions like, 'I don't know what slaves sounded like and neither do you,' it kind of puts on a level of sheer honesty that clicks with me," explains actor Harsh Gagoomal. "Or even the character list; [Jacobs-Jenkins] delineates preferences based on ethnicities. I've never seen that before."
A blatant, at times uncomfortable, but always (albeit darkly) comedic look at race and identity in the United States, "An Octoroon" draws its roots from "The Octoroon," a mid-1850s drama about an impossible interracial love between a white plantation owner and a young woman named Zoe who is one-eighth black.
At its core, Jacobs-Jenkins' redux is a searing examination of the construction of race and the fragility of identity — much of the cast, all of varying ethnic and racial backgrounds, wear blackface, redface and white paint in order to assume the roles of characters with differently colored skin than their own. It begs the question: When entire histories of oppression, degradation and cruelty can be worn and then simply wiped away, what does that say about race as we understand it? It's a tough concept to unpack within a premise that's already challenging on its own.
"There's a deep, deep, deep humanity that I think is often lost when we say we're going to talk about race," Williams says. "You want to talk about it in a way that honors how necessary the conversation is, but also how difficult it is."
Still deep in the trenches of nightly rehearsals, Williams doesn't yet know what her breakthrough will look like, but she has an idea of how she wants that moment to feel. She hopes to create something that loosens the white-knuckled grip on the veil we pull over our eyes to avoid confrontation with the truth.
"When I see these three faces that I have come to know and love as these three faces, and then we layer on this paint, and we say, 'You are now this thing,' … That in and of itself rings your brain a little bit," she says, referring to the fluidity of the three male leads' identities.
"I'm looking at you and you are visually telling me that you are a white man, but what does it mean that you have brown skin underneath? And what does it mean in terms of the marrow of who you are? All of a sudden, there are all of these layers that are being visually expressed," Williams says.
This brash approach to tackling the complicated nuances of representation strikes a chord with Williams and actor Brandon Green (who ironically assumes the role of Jacobs-Jenkins himself onstage); they admire the many microaggressions the play satirizes in its very literal caricature of the way we construct race.
"I've been told a few times in my life, 'I don't see you as black!' You should, because that's what I am. I think putting on someone else's color, or someone else's identity, really brings to life that 'Oh, wait, these are people!'" Green says. "I am this and I am so much more. The 'this' that I am encompasses so much, and it's so different from so many other 'thises.'"
Williams echoes Green's desire to be witnessed as more than the color of her skin. To her, blackness is, of course, a defining aspect of her identity. Yet many people turn a blind eye to the other traits and qualities that make up who people of color are, and consciously refuse to see past the fact of one's race.
"What else is there?" Williams emphasizes. "Why can't I acknowledge that I could be potentially more than just black when I walk into a room? Why don't we acknowledge it?"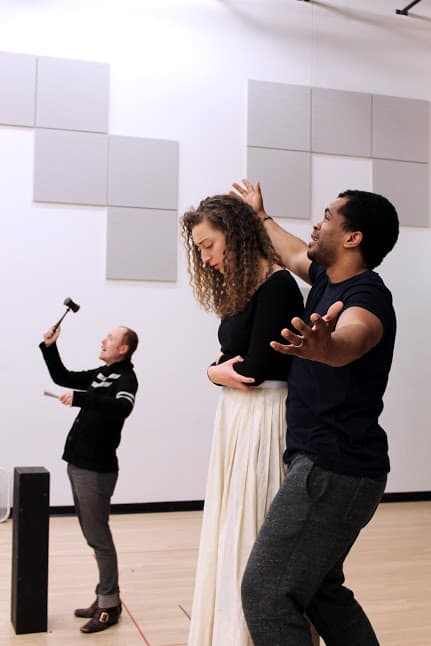 Master of surprises that Jacobs-Jenkins is, it's fitting that "An Octoroon" seeks to catalyze this excavation of internalized prejudice through humor, the great equalizer. Laughter, whether it's nervous or joyful, often spills out as a response to the unexpected, actor Brooks Reeves emphasizes. It's why we find comedic delight in the punch lines of jokes, why gasps of shock are often followed by relieved chuckles. The production thrives on an individual's natural tendency to react first, and think later.
"The great slight of hand of the play is that it makes you forget that it's set on a plantation, where slavery is active. You see it, but you don't see it. And I think that speaks volumes to ideas of privilege, ideas of justice, ideas of who gets to have and who doesn't have … You're aware of it, but you can easily walk by it," Williams says.
"Should I be laughing?" and "Is this appropriate?" are questions that don't belong in the instant emotion of the moment. Those are meant to come later, paired with the sobering reality that what's being witnessed onstage is a stylized dramatization, sure — but one steeped in a generations-long history of suffering.
"When you think of slavery and slaves, you don't think about who the individual person was, or what their constitution was about, or what their relationships were and how full their lives may have been," Williams says. "[These characters] sound like people you know and love, or see on the train, or go to school or work with … you're confronted with their reality. I think it's chilling."
In theater, unlike on the big screen, the proximity is impossible to deny. There is no refuge from what's unfolding before you. And there's a value to that — to embracing the discomfort that comes along with tackling art like this. Company One is confident that attendees will be able to handle everything their production throws out at them.
When asked what they hope to inspire in viewers, the casts' answers are instantaneous: Awareness. Introspection.
"I think Tennessee Williams said, 'Good playwrights pose questions, not answers,'" Gagoomal says. "I don't know if [audiences] need answers at all. But I hope they come out with a s---ton of questions."
Yet for Williams, the hope for internal examination is tied to another, more candid desire: "Mostly, I just want a lot of laughs," she says.
Company One and ArtsEmerson's co-production of "An Octoroon" begins Friday, Jan. 29 and ends Saturday, Feb. 27. 
---
Spencer Icasiano is a copywriter and freelance journalist whose work has also appeared in DigBoston and on Howlround.com.